Jan 14, 2010 — by Eric Brown — from the LinuxDevices Archive — 39 views
At CES, OpenPeak unveiled a prototype of its Intel Atom- and Moblin Linux-based Home Energy Manager (HEM) energy monitoring device, and announced partnerships with Direct Energy and GE. OpenPeak also announced that the OpenFrame IP phone upon which the HEM is based was certified with the ZigBee Alliance's Smart Energy Certification.
At last year's CES, OpenPeak showed versions of its Linux-based OpenFrame IP desktop phone reference design, which combined an Intel Atom with WiFi, Ethernet, an 8-inch, 800 x 480 touchscreen, and a detachable DECT 6.0 cordless phone.
OpenFrame still offers only limited information on its devices, aside from the above information and the fact that they run on Intel Atom processors. According to a story on Smart-grid.tmcnet.com, however, the new energy monitoring devices, like all the OpenFrame devices, run Moblin Linux, which makes sense, as Moblin is optimized for the Atom.
The original OpenFrame device, which has since been upgraded to the OpenFrame 7 device pictured below, came to market in February as the Verizon Hub. However, Verizon Wireless discontinued the product in September. Judging from the name change, the OpenFrame may have also scaled down to a seven-inch touchscreen.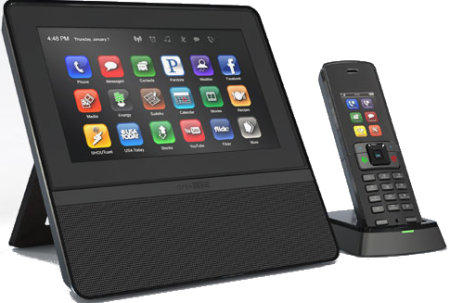 OpenFrame 7
OpenPeak now appears to be focusing more on home energy management. The OpenFrame 7 itself offers energy monitoring capabilities, adding a ZigBee short-range radio, a technology that can be affordably integrated into "smart" appliances.
OpenPeak has also launched two similar devices based on the OpenFrame that are more focused on energy monitoring. At CES, the company made two separate announcements for testing or deploying OpenFrame-based energy products.

The first partnership involves energy provider Direct Energy, along with secondary partners Whirlpool Corp., Best Buy, and Lennox International. At CES, the partners showed a prototype Home Energy Manager (HEM) device (pictured at right), and announced plans for a 12-month residential pilot in Houston, starting later this year. Meanwhile, a second, unnamed OpenFrame-based product was also announced, and is now said to be available to utilities from GE (see farther below).
The Direct Energy HEM device aims to "demystify energy management, enable consumers to easily control their home energy use and costs, and receive the necessary information to change consumption behavior," according to OpenPeak. The company claims that the HEM prototype could save consumers up to 25 percent on energy costs.
The HEM will be deployed with residential "smart grid" monitors, and will interact with the devices to enable users to track and control energy use via a touchscreen user interface (UI), says OpenPeak. The "open" platform can integrated with a variety of home appliances, such as dishwashers, washers and dryers, water heaters, thermostats, and heating and air conditioning units, says the company.
As the device includes applications available with the general-purpose OpenFrame, the HEM is also designed as an information and entertainment kitchen computer, providing access to news, weather, health, social networking, music and movie applications. In addition, OpenPeak and its partners plan to offer an online application store for the platform. It is not clear whether the OpenFrame's VoIP phone is also part of the package.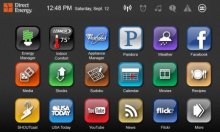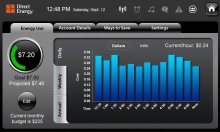 HEM energy management interface


(Click on either to enlarge)
HEM features include the ability to set pre-determined budget limits, "ensuring that appliances operate within specific parameters," says the company. Alerts can warn consumers when they are close to reaching their monthly budget threshold, and then offer personalized recommendations for energy reduction. Users can also program the system directly or remotely to avoid energy consumption during peak periods, says OpenPeak.
Direct Energy will manage the pilot project and conduct consumer research, says OpenPeak, which will supply the HEM devices, and provide application development assistance. Meanwhile, Whirlpool will supply "smart" appliances, including dryers and water heaters, and Lennox will furnish wireless thermostats, as well as "full zone control High Efficiency HVAC" in new construction homes. Finally, Best Buy will offer up its Geek Squad for home installation and integration duties.
GE's OpenFrame-based monitor
OpenPeak also announced a collaboration between GE and OpenPeak with a device that appears to be based on the OpenFrame, and similar to the HEM. Said to be available from GE for utilities today, the touchscreen panel device wirelessly connects to a household's smart meter, appliances, and thermostats, via ZigBee or WiFi.
OpenFrame energy management capabilities
The panels will work with GE smart meters and be deployed with utilities' dynamic pricing programs, with prices fluctuating according to peak-energy usage. The panel will alert consumers to the best times to perform high-energy-consumption tasks, says OpenPeak. The panel can also be programmed to control smart appliances, thermostats, and heating and cooling devices, and can react to pricing and demand changes instantly, say the companies.
GE's OpenFrame-based smart panels will also connect with Internet news, sports, music, weather services, and social networks like Facebook and IM services, say the companies. Consumers are said to be able to opt in to social networking services to compare their consumption to neighborhood and city averages, as well as see how they compare to similar households.
OpenFrame gets ZigBee certified
OpenPeak also announced that the latest version of the OpenFrame, the OpenFrame 7 VoIP (pictured farther above), has achieved ZigBee Smart Energy Certification by the ZigBee Alliance.
The ZigBee Alliance Certification Program recognizes products using the ZigBee Smart Energy public application profile, built upon a ZigBee Compliant Platform. Certification shows that the product meets the Alliance's stringent certification and compliance-testing requirements for the short-range wireless standard, says OpenPeak.
Also at CES, as we reported on Tuesday, Intel CEO Paul Otellini demonstrated a tablet reference design from OpenPeak based on Intel's upcoming Moorestown processor, the next-generation heir to the Intel Atom. One of OpenPeak's current designs, the OpenTablet 7 (pictured below), features a detachable tablet.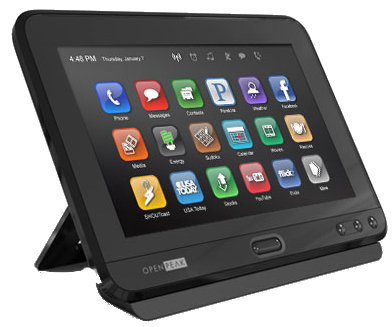 OpenPeak's OpenTablet 7
Stated Ryan Parker, director of marketing, Intel Embedded and Communications Group, "Intel's Open Energy initiative encourages the industry to advance the implementation of technologies and open standards that accelerate the global transition to smart energy. OpenPeak's OpenFrame 7E platform ZigBee Smart Energy certification is a great example of this."
Stated David Dollihite, VP of product development at Direct Energy, "The Home Energy Manager is the first solution that will make the energy-cost connection real for consumers, helping them convert kilowatts on their energy bill into dollars in their pocket."
Stated Bob Gilligan, VP transmission and distribution for GE Energy, "As part of our smart grid suite of offerings, the panels will empower consumers to better manage their energy usage based on real-time information. The panels will connect consumers with the knowledge they need to be better energy stewards and take charge of their energy use and carbon footprint."
Availability
More information on OpenPeak's HEM may be found here, and more on the Direct Energy program may be found here. Information on GE's Smart Grid program should be here.
The Smart-grid.tmcnet.com item on OpenPeak may be found here.
---
This article was originally published on LinuxDevices.com and has been donated to the open source community by QuinStreet Inc. Please visit LinuxToday.com for up-to-date news and articles about Linux and open source.