Jan 12, 2010 — by Eric Brown — from the LinuxDevices Archive — views
At CES, LG Electronics showed a "GW990" prototype said to be the first mobile phone to run Intel's upcoming Moorestown processor — and the first to run the Linux-based Moblin distribution. Meanwhile, LG also demonstrated a new mid-scale Android phone called the GT540, say reports.
As shown in the Intel photo and video farther below, the 4.8-inch display GW990 is quite large, perhaps reflecting its genesis as a mobile Internet device (MID). The Moorestown/Moblin prototype was first announced by LG last February as a MID. (In a similar vein, Nokia's N900, the first phone to run Maemo Linux, the newly related cousin to Moblin Linux, was also on the hefty side, due in part to Maemo's origins with the MID-like Nokia N800 Internet Tablets.)
LG's GW990


Source: Intel
(Click to enlarge)
The large size may also be due to the larger size of Intel processors, compared to the typical ARM processors found in mobile phones. While Moorestown is said to be smaller and use less power than the Intel Atom processor it is designed to succeed, it is still unlikely to keep up with the latest ARM processors in this regard. (See farther below for more on the initial prototype, Moorestown, and Moblin v.2.1 for Handhelds.)
Neither LG or Intel posted further details on the phone, but Intel announced that "Moorestown" is scheduled to launch during the first half of the year, with devices coming to market in the second half. At a CES event last week, CEO Paul Otellini showed off the GW990 and also demonstrated a smartphone reference design from Aava Mobile and a tablet reference design from OpenPeak, says Intel.
According to a hands-on review of the device on Engadget, posted from the CES show in Las Vegas last week, the GW990 features a 4.8-inch, 1024 x 480 display, 512MB RAM, 16GB of flash, and microSD expansion. The phone is also said to be capable of 720p video.
In a PC story, meanwhile, Sascha Segan opines that despite the GW990 being a "thick brick," the display is "positively gorgeous." According to the story, LG is claiming four hours of talk time and 300 hours of standby from the phone's 1850 mAh battery. Segan also mentions a five-megapixel camera, and other reports have noted the unsurprising presence of WiFi and GPS.
The GW990 offers an enhanced version of Moblin that integrates LG's cross-platform S-Class user interface, says the story. According to Segan, "Moblin multitasks beautifully" on the device, adding that he could play a movie while simultaneously editing a text message and checking the calendar. LG plans to release the GW990 in Korea in the second half of this year, says the story.

LG GW990 on YouTube
Source: Intel
(click to play)
Moorestown and Moblin background
In February of last year, LG and Intel announced they were working on a new line of MIDs based on the latter's energy-efficient "Moorestown" processor. The MID prototype (pictured below, at right) was to run Moblin V2, and offer cellular voice capability.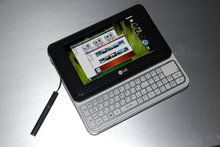 In September, the Intel-backed Moblin project announced a version of Moblin called Moblin 2.1 for Handhelds designed to run on the device. Originally intended to be called Moblin v2.1 for MIDs, the name changed apparently to reflect new telephony capabilities (and perhaps the falling stock of the term "MID.")
The open source Moblin for Handhelds appears to be closely based on Moblin v2.1 for Netbooks, and shares the same icon-driven interface (see screen below). However, it also adds telephony features, such as a dialer and notification of missed calls. The project did not offer a roadmap for the Moblin v2.1 for Handhelds, but Intel has stated that the final version will arrive in the second half of 2010, the same timetable now mentioned for the GW990.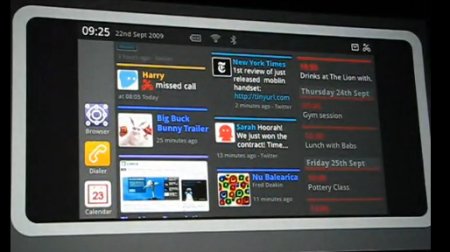 Screenshot from video of Moblin v2 for Handhelds demo at September's Intel Developers Forum, showing dialer on left


Source: UMPC Portal
(Click to enlarge)
Moorestown consists of a system-on-chip (SoC) and an I/O hub. Codenamed "Lincroft," the SoC will integrate a 45nm core, graphics, video, and memory controller onto a single chip, says Intel, greatly decreasing size and power consumption compared to the Atom. The I/O hub, codenamed "Langwell," is said to support a range of I/O blocks such as storage and display, and to provide interfaces to third-party PMICs (power management ICs) and wireless products.
Moorestown-based MIDs are expected to draw as little as one tenth the idle power consumed by today's Atom-based MIDs, says Intel, addressing an area in which x86 has historically trailed far behind RISC architectures such as ARM.
LG GT540
Several sites also previewed a new mid-range Android phone from LG called the GT540, nicknamed the "Swift." As with the GW990, LG demonstrated the device at CES, but has declined to post any information on the phone on its website.

SlashGear, which ran the photo at left, reports that the GT540 offers a 480 x 320 resistive touchscreen and 3G HSDPA connectivity. The story by Daniel Lim also notes the presence of WiFi, Bluetooth, GPS, a microSD slot, and a 3.5mm headphone jack. A three-megapixel camera is said to offer face detection and geotagging capabilities.
As with the GW990, the phone is said to integrate LG's S-Class UI buttons, although this time it works with Android instead of Moblin. Software features include a new media player app with native DivX support, a "social media manager," and "Motion UI" software for mapping media and speed-dial shortcuts to various motions and gestures, writes Lim.
According to an Electronista hands-on report, the GT540 appears to be a step above LG's first Android phone, the Eve GW620, which is now available on Rogers Wireless' network in Canada. Unlike the Eve, it lacks a physical keyboard, and offers a more responsive touchscreen, although it still "requires some pressure for certain tasks," says the story.
According to SlashGear, the GT540 is due for a global release in April, and Electronista says it is likely to first appear in Europe, with possibly a Canadian release to follow.
Availability
The Engadget story on the LG GW990 may be found here, and the PC story should be here.
The SlashGear story on the LG GT540 Android phone may be found here, and the Electronista story may be found here.
---
This article was originally published on LinuxDevices.com and has been donated to the open source community by QuinStreet Inc. Please visit LinuxToday.com for up-to-date news and articles about Linux and open source.