Feb 25, 2011 — by Eric Brown — from the LinuxDevices Archive — 1 views
Verizon Wireless launched the Motorola Xoom Feb. 24 for $600 with a two-year contract, and the dual-core Android 3.0 tablet has earned solid reviews — although with concerns over the high price and lack of apps. Android tablets certainly have a long way to go, however, since Apple's iPad represented 93 percent of the 4.5 million tablet PCs sold in 3Q 2010, says ABI Research.
As expected, Verizon Wireless started selling the 10.1-inch Motorola Xoom on Feb. 24, thereby launching the first device with Android 3.0 ("Honeycomb") pre-installed, reports Clint Boulton in our sister publication eWEEK.

Motorola Mobility's Xoom (pictured) is built around an Nvidia Tegra 2 processor with dual 1GHz Cortex-A9 cores, and offers dual cameras, an HDMI port, and a full slate of wireless features and sensors. Several other tablets arriving this spring and summer will more or less mirror those specs, right down to the same Tegra 2 chip, including the Toshiba Tablet and Samsung Galaxy Tab 10.1.
Considering the Xoom's high-powered hardware and tablet-optimized Honeycomb operating system, the $600 Xoom price tag at first appears fairly reasonable. Yet, the data plans, starting at $20 a month for 1GB of data, will push the cost of owning and operating the tablet to at least $1,040 over the life of the contract, reports Boulton. The Xoom costs $800 without a contract, and a Wi-Fi only version is expected later this year for around $600.
By comparison, consumers can purchase a Wi-Fi only iPad for $500 for the 16GB version, while the comparable 32GB version of the iPad costs $730 for the Wi-Fi+3G model. AT&T data plans start at $15 a month for 250MB.
Meanwhile, with timing that seems too close for coincidence, Apple is expected to unveil the new, thinner iPad 2 tablet with dual cameras on Mar. 2 in San Francisco.
A painstaking 4G upgrade
The Xoom, which is expected to receive an Adobe Flash upgrade next month, will also be upgradable to support Verizon's 4G LTE (Long-Term Evolution) network later this year. While free, the process of upgrading the Xoom to LTE is a tad painstaking, judging from this Verizon support web page, reports eWEEK.
Verizon will give users a shipping box and prepaid FedEx envelope to send the device back to Motorola for the LTE bump, and it will take six business days from the time it's shipped. In addition, users must back up all of their data from the Xoom.
Early Xoom reviews favorable
So far, reviews of the Xoom have been quite favorable, with the high price and the lack of apps the only stumbling blocks for most, writes Boulton in a separate eWEEK report.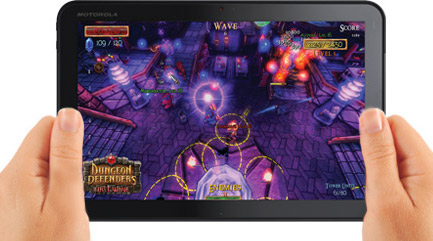 Motorola Xoom, showing off its 3D rendering chops
Boulton quotes Forrester Research analyst Sarah Rotman Epps, as writing, "There are no awkward moments, as there were with earlier Android tablets like the Samsung Galaxy Tab and Dell Streak."
Rotman Epps also notes, "When you use the camera, for example, it anticipates that you'll be holding it in landscape mode with your right thumb on the screen, and it simulates the radial control dial of a real camera under your thumb."
Blogger and devout Apple iPad fan Robert Scoble praised the Xoom on Scobleizer.com, in a story that included a video demo (see later). He noted that the Xoom's multitasking capabilities, notifications, and resolution are all superior to the first-generation iPad. Scoble also liked the Xoom's solid battery life, dual cameras, HDMI connector, and speakers, which he says are superior to the sound system offered by the iPad.
The Honeycomb versions of Google apps such as Gmail, Google Maps, and Google Calendar "are way better than the ones on iPad," writes Scoble.
However, he also critiques the general paucity of apps written for Android 3.0. "There aren't any apps that are designed for it yet," Scoble writes. "I have three 'secret' apps that will be out soon, but three goes against, what, 30,000+ for iPad?"
Robert Scoble's Motorola Xoom demo on YouTube


Source: Building 43
(Click to play)
Like Scoble,
GigaOm'
s Kevin Tofel
found a lot to like about the Xoom
, especially regarding performance, as well as Honeycomb UI touches, including notifications. However, he, too, hits on the app gap.
"Current Android apps aren't all suited for the big screen," writes Tofel. "The size of icons in Facebook, for example, appears to be the same size used on my Android smartphone, leaving vast amounts of empty space. It's going to take time before true tablet apps appear on Honeycomb. Even Angry Birds looks a little blocky up close at the moment."
Industry analyst Jack Gold dismissed the dearth of Honeycomb-optimized apps on the Xoom, telling eWEEK's Boulton that most Android apps can be ported/optimized for Honeycomb. "They just haven't been [ported] yet, since the [software development kit] has not been available until recently," Gold was quoted as saying.
"It is premature, in my opinion, to say there are few apps available for Honeycomb/Xoom," Gold added. "It's true today, but I'll bet you'll see a very steep ramp of apps targeted at Honeycomb in the next few weeks running up to the actual release of the device, and the app wars — Android vs. Apple — will escalate."
Motorola's Atrix 4G gets high marks too
A separate eWEEK report this week by Michelle Mais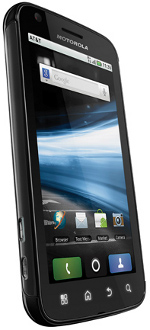 to sums up recent reviews of Motorola's four-inch, Tegra 2-based Atrix 4G smartphone (pictured), and finds an even more favorable response. Reviewers at the New York Times and Wall Street Journal, for example, had high praise for the Android 2.2 phone, although there were mixed feelings about the "laptop" accessory that enables users to plug in the phone to expand the display onto a larger screen.
Maisto followed up on Feb. 23 with a story on a recent iFixit teardown of the Atrix 4G. According to the story, iFixit found the Atrix 4G to be the most repairable smartphone they've ever deconstructed. The iFixit team praised the build quality of the phone and revealed some inner secrets. The Atrix 4G motherboard, for example, is said to include an Elpida chip that contains 1GB of DDR2 RAM, as well as an Ericsson chip, along with technology from Qualcomm supporting HSPA+ 4G.
The Atrix 4G is expected to go on sale Mar. 6 on AT&T.
ABI Research: iPad stayed dominant through 3Q
The Apple iPad, grabbing 93 percent market share, led the "media tablet" market to 4.5 million units during the third quarter of 2010, according to a recent ABI Research study. The Feb. 23 report did not reveal what other operating systems represented the remaining seven percent.
By the

end of the third quarter, there were few high-profile Android tablets on the scene. The seven-inch, Android 2.2 Samsung Galaxy Tab (pictured) did not reach market until November, but was said to have sold well after that. The Xoom and other Android 3.0 tablets, meanwhile, are expected to increase those numbers significantly this spring.
"Over time, Apple's first-to-market iPad advantage will inevitably erode to some extent," stated ABI Senior Practice Director Jeff Orr.
Without offering statistics, ABI also said that ebook readers continued to sell well in the third quarter. "The U.S. continues to be the leading market for e-book readers," writes Orr, "and the three top vendors, Amazon, Barnes & Noble, and Sony, are comfortably maintaining their top positions in it."
After a slow first half of 2010, the netbook market also improved in the third quarter, ABI said, although once again without revealing numbers.
A story on the ABI study by eWEEK's Maisto noted a recent DisplaySearch report saying that Apple was the top-selling mobile PC shipper during the fourth quarter. This came from factoring tablets in with netbooks and notebooks, says the story. More than 10.2 million such devices were said to have been shipped by Apple during the quarter.
eWEEK's Maisto also notes that Morgan Stanley recently raised its forecast for 2012 tablet sales to 100 million units. Morgan Stanley now projects that during the next 12 months, China will come to account for 41 percent of tablet shipments, while the U.S. — behind Japan and much of Europe — will only account for 11 percent.
The same story noted that Lenovo recently revealed that it will start selling its long-delayed Lenovo LePad Android tablet in China starting in June.
---
This article was originally published on LinuxDevices.com and has been donated to the open source community by QuinStreet Inc. Please visit LinuxToday.com for up-to-date news and articles about Linux and open source.