Dec 16, 2010 — by LinuxDevices Staff — from the LinuxDevices Archive — views
Google's Samsung-built Nexus S smartphone began shipping today for $200 with a two-year T-Mobile contract or $530 unlocked, officially launching the Android 2.3 ("Gingerbread") era. According to this review, it's the best Android phone on T-Mobile, and — while the cameras need work — the beautiful screen, fast performance, and Android 2.3 make it one of the best on the market overall.
Google last week sent me the Samsung Nexus S, the first Android 2.3 based smartphone. It's a follow-up to the ambitious but ill-fated Nexus One, an HTC-manufactured phone that Google launched under its own brand at the beginning of the year.
With hardware built by Samsung, and software built and or assigned by Google, the Nexus S launched from Best Buy's online and brick-and-mortar stores in the U.S. Dec. 16. The device costs $200 with a two year T-Mobile service plan, but as with the Nexus One, users may buy it unlocked for $530.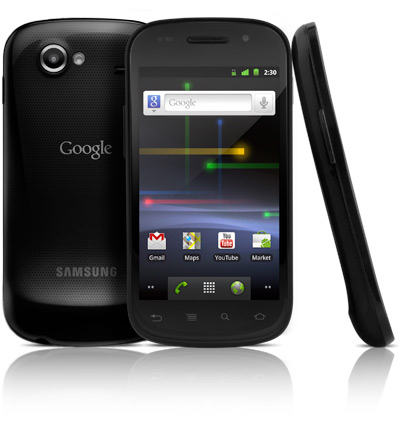 Google's Nexus S
I've tested every Droid phone from Verizon since the original Motorola Droid last November, as well as the Samsung Fascinate and Continuum, so I'm very comfortable with Android handsets. I tested my Android 2.2-based
Droid X
side-by-side with the Android 2.3-based Nexus S to discern any speed changes.
Seeing as how Google boasts that every new Android build is noticeably faster, I was anxious to put Gingerbread to the test with the Nexus S. This device was powered by T-Mobile's network, which runs well in this neck of Fairfield County, Conn.
Gorgeous display, so-so cameras
The Nexus S is a gorgeous piece of hardware, but I feel like I say that about every Android handset Samsung pumps out. As with the Galaxy S line, the Nexus S uses black bezeled plastic behind a glass display.
The Nexus S display and touchscreen is four inches of bright, crisp Super AMOLED, sporting 800 x 480 resolution. While the Samsung Fascinate and Continuum are flat, the Nexus S is slightly contoured. Google alleges this makes it more comfortable to hold, but I didn't notice any comfort boost.
What I did notice was that the device, which is 4.8 inches long, 2.5 inches wide and less than half an inch thick, feels great in the hand. I tend to like a heavier phone, but the Nexus S has a nice 4.5 ounce weight.
The camera is a five-megapixel, rear-facing auto-focus gizmo of average quality, with some blurriness. The camera software was overhauled for Android 2.3, providing a nice, framed user experience for picture-taking. Picture management icons let users adjust the feature functionality. Video capabilities, taken at 720 x 480 resolution, were subpar, however, compared to my HD Droid X shoots.
There is also a front-facing VGA camera for video chats, but this capability proved grainy. Video chat on mobile devices really needs work.
Battery life, which purports to support 6.7 hours of talk time on 3G (14 hours on 2G), proved great, as the 1500mAh unit lasted a full day with heavy use. I played a lot of Angry Birds on this phone and was pleased with the juice.
The Nexus S has a 1GHz Hummingbird processor like other Samsung Galaxy S variants. There's also 16GB of iNAND internal storage, but there is no external memory option, so you could really put your phone to test with enough downloads.
Android 2.3 offers subtle UI enhancements, new keyboard
The Nexus S is the first smartphone to run Android 2.3, which in addition to the faster performance of a new OS build allegedly has a better user interface. I tested this UI against my Droid X. Some differences were very obvious, some were subtle.
Android 2.3 was redesigned to provide crisper contrast of letters and menus against the black background, which was readily apparent in the notification bar, menus and the phone's dialer, where the numbers are smaller and farther apart.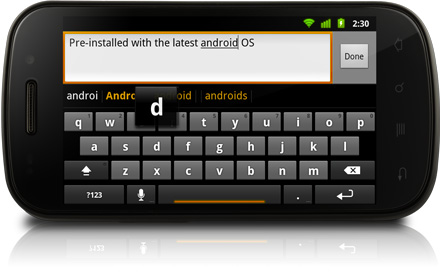 Nexus S, with Android 2.3's new virtual keyboard
The Android 2.3 soft keyboard (pictured above) is redesigned for faster text input and editing. The keys have been reshaped, as well, Whereas the Droid X has longer, narrower keys, the keys in Android 2.3 have been shortened and given a tad more space. It's supposed to provide better typing, but I'm so used to the Droid X, I couldn't tell the difference.
There is one-touch copy and paste. When entering text or viewing a web page, you can select a word by press-hold, then copy to the clipboard and paste. Pressing on a word enters a mode where you can move arrows that bracket the word to new positions, then copy the bounded area by pressing anywhere in the selection area. You can then slide-press to enter a cursor mode, and navigate by dragging the cursor arrow.
Google has also provided Android 2.3 with more control over power management. To save battery life, the OS manages apps that are keeping the device awake for too long or that are consuming CPU while running in the background. There is a Manage Applications button in the options menu in the home screen and app launcher that shows users applications on their phone, and the storage and memory being used by each.
This being a Nexus phone, it has all of the Google Mobile apps preloaded, including Google Search and Voice Search, Voice Actions, Gmail, Google Calendar, Google Earth, Google Maps with Navigation, Google Voice, Google Talk, and YouTube. There is of course Android Market, with over 100,000 free and paid applications to choose from.
What there isn't is the bloatware associated with the Verizon Wireless Droid line and other carrier-commanded devices. That saves some space on the phone. Moreover, Google does all the over-the-air upgrades, so you don't have to wait on carriers to send software updates.
The app launcher button has a 3G scroll-thing going on for trivial eye candy. I used the Facebook for Android app, receiving the upgrade to version 1.5 pushed over the air as I was testing it yesterday, as well as the Twitter for Android app.
Voice Search and zippy web browsing
I also downloaded the latest version of Voice Search, which is now using personalized recognition to link to my Google account, hopefully to improve the functionality of the hit-and-miss accuracy and not siphon my data. (Just kidding, Google.) Voice Search worked reasonably well. It has definitely improved since I started using it on Android phones months ago.
Android 2.3 and the Nexus S provided the fastest web surfing, browsing and app consuming device I've used since my Eee PC. The Nexus S loaded Facebook, Twitter, Angry Birds, YouTube, ESPN, Google Search, Google Reader, Google News, and the other dozen or so games and destinations I trekked to faster than my Android 2.2-based Droid X. Not much faster — half a second to one second almost every time — but enough that I noticed it.
That speed bump is a big deal for Google. I realize a new OS build is supposed to be fast but I didn't expect to notice the difference as much as as I did with the jump between Android 2.1 and Android 2.2, which Google stressed was a big deal because of the new JIT compiler and faster browser.
I don't know if T-Mobile's network was just screaming for the last six days or what, but the Nexus S performed beautifully. As a web surfing handset, there is no Android gadget that matches the Nexus S in speed today.
NFC opens new short-range horizons
Google also included in my test unit a Recommended on Google decal (pictured) from it

s Google Places service for local businesses. But it was no ordinary sticker. This decal was equipped with near field communication (NFC) sensors, those gizmos that enable wireless communications between devices from short distances.
Android 2.3 supports NFC, and the Nexus S itself is equipped with an NFC controller chip and software from NXP Semiconductor. When I held the back of the Nexus S up to the sticker, its tag registered on the phone, serving up a link to a YouTube video. Clicking on this video revealed a Nexus S Android 2.3 primer from Google's Android developers. Nothing special, but it definitely worked.
But almost no one else is doing NFC these days. What will be key is whether mobile apps makers will build mobile payment apps to let users swipe their phones across contact terminals to make purchases. Imagine the Nexus S as a wallet. Cool and a little scary. What if you lose it?
By the way, this is a phone even if it feels like a little laptop in the hand. Calls were clear, thanks to the noise cancellation software. As for T-Mobile, I saw no droppage here in my neck of the woods, but to be fair I did not travel out of town with it.
Conclusion: Good as it gets on T-Mobile
If you're a T-Mobile customer and you've wanted an Android phone, this is the device for you. Well worth the $200 and contract. After using the Nexus S, Nexus One, and the litany of Android phones from Sprint, Verizon Wireless, and T-Mobile, it's clear this is one of the better handsets of its kind.
NFC will be a game-changer once apps get built and retailers and credit card companies support it. But there will be many more NFC-enabled devices on the market by then, so don't let this make or break your decision because you can't do much with NFC on the Nexus S today. As it is now, almost no one else is supporting NFC, though that as changing as Apple, RIM, and carriers ramp up their efforts.
If you're not on T-Mobile, you may want to think harder about buying the Nexus S to run on the No. 4 U.S. network — unless you're in dire need of a new phone and you want to switch to T-Mobile's network. No phone is worth $530 to take it to another carrier and then pay them to service it — unless you have the disposable income. Of course, I bought my Droid X for a penny from Amazon Wireless, so maybe I'm just super cheap.
Availability
The Google Nexus S, built by Samsung, is now available at locations including Best Buy for $530 without contract, or $200 with a two-year T-Mobile contract. More information may be found at Google's Nexus S page.
For a closer look at the world's first Gingerbread phone, check out this eWEEK Nexus S slide show.
---
This article was originally published on LinuxDevices.com and has been donated to the open source community by QuinStreet Inc. Please visit LinuxToday.com for up-to-date news and articles about Linux and open source.