Jan 27, 2011 — by LinuxDevices Staff — from the LinuxDevices Archive — views
Motorola Mobility reaffirmed launch timing for three upcoming Android-based devices: the Motorola Xoom tablet and Atrix 4G and Droid Bionic smartphones. Meanwhile, the company's Q4 smartphone shipments missed expectations, despite overall positive results, including 4Q revenues of $3.4 billion, up 21 percent from 4Q 2009.

Motorola Mobility CEO Sanjay Jha reaffirmed launch timing for the Motorola Xoom tablet (pictured at right), as well as the Atrix 4G and Droid Bionic smartphones, three weeks after wowing the Consumer Electronics Show crowds with the gadgets. Jha said the Atrix 4G smartphone will launch from AT&T by the end of February.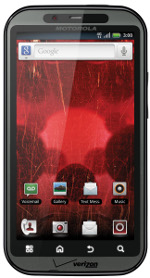 Jha currently expects the initial 3G version of the Motorola Xoom tablet will arrive from Verizon Wireless in the same time frame. However, he allowed during the earnings call that the Android 3.0 ("Honeycomb") tablet, which sports improved graphics capabilities optimized for larger touchscreens, could slip to March.
The Droid Bionic (pictured at left), which like the Atrix 4G and Xoom, features a dual-core, 1GHz Nvidia Tegra 2 processor, will arrive from Verizon at the end of the second quarter. The 4G LTE version of the Xoom is also due at that time, Jha reaffirmed, thereby meshing with the target times he offered for the products at CES.
The update follows a Jan. 16 report from Android Central that the Atrix 4G, which offers the ability to dock to a barebones notebook computer accessory, was coming March 1. The blog cited an internal AT&T screen showing Mar. 1 as the launch date for the device.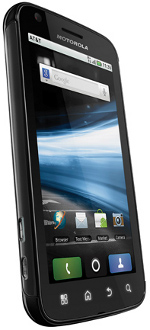 However, the blog noted that Mar. 1 falls on a Tuesday this year, and AT&T typically launches phones on Sunday. Given Jha's firmer target date of late February, perhaps the Atrix 4G (pictured at right) will launch Sunday, Feb. 27.
Meanwhile, Engadget received an internal Best Buy document pegging the Xoom 3G launch date at Feb. 17, ahead of Jha's latest target time. The 3G-enabled Xooms will be upgradeable to Verizon's snappier 4G LTE network.
Mot earnings up, but smartphone sales miss targets
Jha's latest updates will be encouraging to Motorola watchers and Android gadget fans, particularly after the company shipped only 4.9 million smartphones compared to analyst consensus of 5.2 million for the fourth quarter.
Jha said Motorola is weathering the news hit that Verizon, its main Android carrier, would launch the iPhone 4 Feb. 10. Motorola's first-quarter phone sales, which typically fall seven percent to 10 percent from Q4 holiday sales, will fall even more with the Verizon iPhone coming, added the Motorola Mobility CEO.
Some analysts aren't as nervous. Susquehanna Research's Jeffrey Fidacaro said in a Jan. 27 research note: "We believe consumer interest in 4G, and the launch of the Xoom tablet, could help offset the impact from the [Verizon] iPhone."
Despite the lower-than-expected smartphone sales, Motorola Mobility's 4Q earnings continued their recent positive trend, following years of sagging financials for Motorola that were dragged down by the smartphone division. Motorola Mobility Jan. 4 officially split into two publicly-traded companies. Jha's company sells smartphones and tablets, while Motorola Solutions sells enterprise products.
Motorola Mobility reported net revenues of $3.4 billion in the fourth quarter of 2010, up 21 percent from the fourth quarter of 2009. The GAAP earnings in the fourth quarter of 2010 were $80 million, or .27 per share, compared to a loss of $204 million, or .69 per share, in the fourth quarter of 2009, says the company.
HTC Flyer tablet may arrive in March
Several Android 3.0 tablets were announced at CES in addition to the Xoom, including models from Toshiba, Asus, and LG. Late to the Honeycomb tablet party will be Samsung and HTC, although more information emerged this week about the latter's rumored HTC Flyer line of tablets.
The first seven-inch Flyer tablet will launch with Android 2.3 as early as March, according to Norwegian site Amobil. The Flyer will offer a Qualcomm Snapdragon processor, 1GB of RAM, and 4GB of flash, says the story. The seven-inch capacitive display is said to offer a resolution of 1,025 x 600 pixels, and the tablet will include a five-megapixel primary camera and 1.3-megapixel secondary camera.
Availability
Motorola's 4Q 2010 earnings report may be found here.
Clint Boulton is a writer for our sister publication eWEEK.
---
This article was originally published on LinuxDevices.com and has been donated to the open source community by QuinStreet Inc. Please visit LinuxToday.com for up-to-date news and articles about Linux and open source.