Oct 14, 2008 — by Eric Brown — from the LinuxDevices Archive — views

The tenth-annual Linux.conf.au conference will host an Open Source in Mobile Devices & Embedded System Miniconf. The Open Mobile Miniconf is scheduled on January 19-20, prior to the Linux.conf.au show, which will be held at the University of Tasmania in Hobart, Australia, Jan. 21-24.
(Click for larger view of Tuz, the tuxified Tasmanian Devil)
Presentations for the tenth-annual Linux.conf.au have already been set, but the Open Mobile Miniconf is offering a call for papers now (see farther below for details).
The Linux.conf.au conference organizers expect that 100 presenters will address some 700 attendees this year at the event. Although presentations largely cover enterprise and desktop Linux development issues, there appears to be larger number of embedded Linux sessions compared with the typical general-purpose Linux show.

Jonathan Corbet
Here are just a few of the sessions that may be of interest to embedded Linux developers, with a few links to related coverage:
"Joining the mob: the kernel development process" — Jonathan Corbet, co-founder of LWN.net
"HW-Accelerated HD video playback under Linux" — Zou Nanhai, senior software engineer, Intel Open Source Technology Center
"The Sugar learning platform" — Walter Bender, founder of Sugar Labs
"Embedded Linux solar hot water balloon" — Wookey, "professional Linux geek"
"Arduino: Open Software, Open Hardware" — Jonathan Oxer, founder and technical director of Internet Vision Technologies
"The Linux-powered Robot Clarinet" (see image below) — Mark Sheahan, engineering masters student at UNSW
"OLPC in Australia and the Pacific" — Pia Waugh, director of OLPC Australia and president of Software Freedom International
"Building a Medical Endo-Microscope using open source software" — Janaka Subhawickrama, embedded software engineer, Optiscan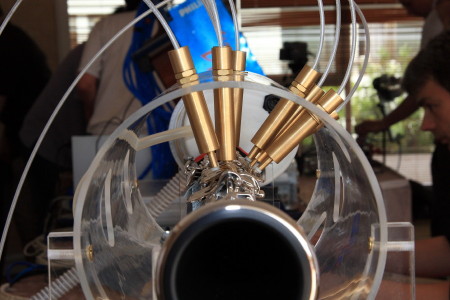 UNSW's Robo-Clarinet
(Click to enlarge)
Open Mobile Miniconf call for papers
The Open Mobile Miniconf has issued a call for papers for tutorials, demos, or technical presentations. The conference will cover the "full spectrum of embedded computing," including micro-controllers, sensor networks, robotics, mobile phones, payment terminals, and laboratory equipment, say the organizers. Speakers are encouraged to cover "anything at the intersection of open source software and embedded systems," including software related topics ranging from low-level kernel implementation to advanced user interfaces and applications.
Potential topics for the presentations are said to include:
Experience using Linux or other open source software to design an embedded system
Tutorial on how to use a particular piece of open source software or an open source framework to develop an embedded system
Presentations discussing legal aspects related to mobile development
Demonstration of a device that uses open source software
In-depth technical presentation on new software or techniques being used in embedded systems development
Presentation on how specific software (e.g: GNOME, Linux kernel, Webkit), has been improved for use in mobile devices
Technical presentations on aspects of software development relevant to embedded developers, such as cross-compilers, memory usage, power management, security, etc.
Presentation length can range from five-minute lightning talks to two-hour tutorials. There is no firm deadline, but it is unlikely that proposals sent after Nov. 1 will be considered, say the organizers. Registration for the event requires registration at Linux.conf.au as well.
Availability
The Open Source in Mobile Devices & Embedded System Miniconf will be held Jan 19-20. The Linux.conf.au conference will be held January 21-24. Both events will be held at the University of Tasmania's Sandy Bay campus in Hobart, Australia.
More information on Linux.conf.au may be found here, and more on the Open Source in Mobile Devices & Embedded System Miniconf, including links for paper proposal submission, should be available here. Registration for both events is $635 (Australian dollars), or $450 U.S. for the early bird registration (until Nov. 3). Regular registration is $785 Australian ($556 US), with discounts available for hobbyists and students.
---

This article was originally published on LinuxDevices.com and has been donated to the open source community by QuinStreet Inc. Please visit LinuxToday.com for up-to-date news and articles about Linux and open source.