Jan 21, 2011 — by LinuxDevices Staff — from the LinuxDevices Archive — 5 views
Congatec announced a COM Express module based on AMD's new, embedded-specific G-Series processors. The Conga-BAF accepts up to 8GB of memory, supports dual independent displays, and provides expansion that includes six PCI Express x1 lanes, eight USB 2.0 ports, and four SATA ports, according to the company.
AMD's "Fusion" line of processors incorporates multi-core x86 CPUs and DirectX 11-capable GPUs (graphics processing units) on a single die. The embedded-specific G-Series offerings announced earlier this week range from 1.0GHz to 1.6GHz, provide adept multimedia performance, and occupy up to 60 percent less space than Intel's Atom chipsets, the chipmaker says.
We've already covered two devices employing G-Series CPUs: CompuLab's fit-PC3 mini-PC, and Sintrones Technology's VBOX-3200. Now, Congatec steps in with the first G-Series COM (computer-on-module) in the form of its new Conga-BAF.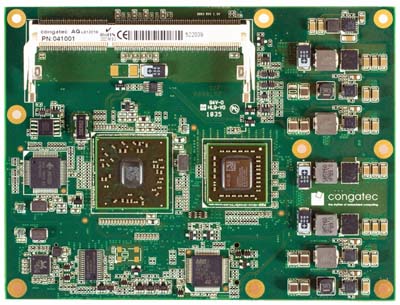 Congatec's Conga-BAF
The Conga-BAF (above) is said to use a COM Express Basic (4.9 x 3.7 inches) form factor. Although the company's data sheet didn't spell it out, we're presuming it also employs a Type 2 pinout, with the usual dual 220-pin A-B and C-D connectors for interfacing with a carrier board.
According to Congatec, the Conga-BAF will be offered with all five of AMD's G-Series processors, as listed in the table below. Featuring single or dual cores and TDPs of nine or 18 Watts, the "APUs" (accelerated processing units) have clock speeds up to 1.6GHz, says AMD.
| | | | | |
| --- | --- | --- | --- | --- |
| Model | Clock speed | Cores | Graphics | TDP max |
| T56N | 1.6GHz | 2 | HD6310 | 18W |
| T48N | 1.4GHz | 2 | HD6310 | 18W |
| T40N | 1.0GHz | 2 | HD6250 | 9W |
| T52R | 1.5GHz | 1 | HD6310 | 18W |
| T44R | 1.2GHz | 1 | HD6250 | 9W |
AMD's embedded G-series processors
Other features listed by Congatec for the Conga-BAF are as follows:
up to 8GB of DDR3 RAM via two DIMM slots
support for VGA, LVDS, DisplayPort, and DVI/HDMI displays, any two of which can be independent
six PCI Express x1 lanes
eight USB 2.0 ports
four SATA ports
one EIDE port
one gigabit Ethernet interface
ACPI 3.0 power management with battery support
According to Congatec, the Conga-BAF also features an I2C bus and a watchdog timer. Operating range is from 32 to 140 deg. F, while supported operating systems include Windows 7, Windows XP, Windows Embedded Standard, Linux, and QNX, the company adds.
Congatec CEO Gerhard Edi stated, "We expect AMD Fusion technology to be a great addition to our computer-on-module family and will be ideally suited for graphics demanding embedded computing applications. Our customers will get a wide range of performance on a single platform. That makes designing the system to meet the demands of customer specific applications particularly easy."
The Fusion in more detail
AMD's Fusion devices all incorporate the x86 CPU core codenamed "Bobcat." Illustrated below, this features an out-of-order execution engine — which breaks data apart and allows for instructions to run in parallel — plus clock and power gating that can extend battery life, according to the company.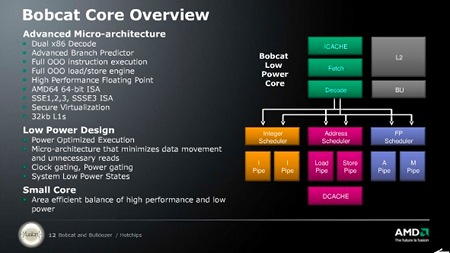 AMD's Bobcat
(Click to enlarge)
According to AMD, its "2011 mainstream platform" — to be available by the middle of this year — will feature the A-series "Llano" processor, including up to four Bobcat cores. This will deliver performance of more than 500 gigaflops, says the chipmaker.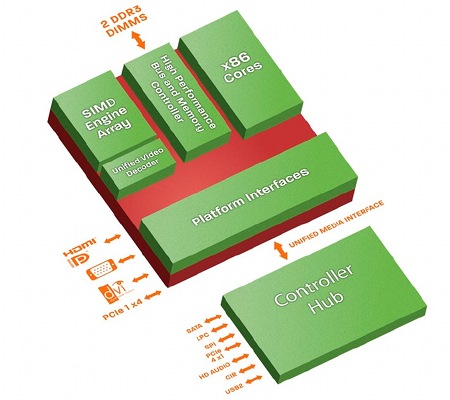 AMD's 2011 low power platform
(Click to enlarge)
The first implementation of Bobcat, however, is the "2011 low power platform" (formerly codenamed "Brazos" for the mobile version and "e-Brazos" in the embedded version) pictured above. When it announced the four mobile APUs listed below, AMD said the E-series chips would be for mainstream notebooks, all-in-one computers, and small form factor desktops, while the C-series would be for "HD netbooks and other emerging form factors."
| | | | | | |
| --- | --- | --- | --- | --- | --- |
| Model | CPU Cores | CPU Clock Speed | Number of GPU Cores | GPU clock Speed | TDP |
| AMD E-350 | 2 | 1.6GHz | 80 | 500MHz | 18W |
| AMD E-240 | 1 | 1.5GHz | 80 | 500MHz | 18W |
| AMD C-50 | 2 | 1.0GHz | 80 | 280MHz | 9W |
| AMD C-30 | 1 | 1.2GHz | 80 | 280MHz | 9W |

AMD's E-series and C-series processors
The G-Series processors listed earlier in this story are pretty similar to the E-Series and C-Series, though there's a new "halfway house" 1.4GHz option. All feature 64KB of L1 cache, plus 512KB of L2 cache per processor core, according to AMD. They're designed to work with DDR3 memory, except for the T40N, which instead employs LVDDR3, the company adds.
According to AMD, each G-series device offers 4×1 or 1×4 PCI Express lanes on the APU, six SATA ports (6Gbps), 14 USB 2.0 ports, HD audio, plus SPI, LPC, and SMBus interfaces. One of two pin-compatible, "Hudson" I/O controllers may be employed, the company adds: either the A50M (also used by the E-series and C-series) or the new, embedded-specific A55E.
AMD says the A55E provides added functionality including a gigabit Ethernet MAC, RAID (0/1/5/10) support with FIS (frame information structure)-based switching, and a 32-bit PCI interface. The A55E also is said to use PCI Express Gen 2 for its UMI (unified media interface) connection to the G-series APU, presumably offering a dollop of extra speed thereby.
Further information
Congatec did not specify pricing or availability for the Conga-BAF. Further information may be found on the Conga-BAF product page.
---
This article was originally published on LinuxDevices.com and has been donated to the open source community by QuinStreet Inc. Please visit LinuxToday.com for up-to-date news and articles about Linux and open source.