Sep 13, 2011 — by Eric Brown — from the LinuxDevices Archive — 5 views
[Updated: Sept. 14] — Kontron announced three low-end versions of its COM Express-compliant Kontron ETXexpress-SC computer-on-module (COM) product line. Available with both Type 2 and Type 6 pinouts, the modules are equipped with new single- or dual-core Celeron processors based on Intel's "Sandy Bridge" architecture, with clock rates up to 1.6GHz, SATA 3 storage, and simultaneous multi-display capabilities, according to the company.
Kontron's COM Express form-factor ETXexpress-SC product line was announced in January in conjunction with the "Sandy Bridge" version of Intel's Core processors. The new dual-core Celeron versions are focused on cost-conscious and graphics-intensive applications in markets such as digital signage, gaming, medical, and industrial automation, according to the company.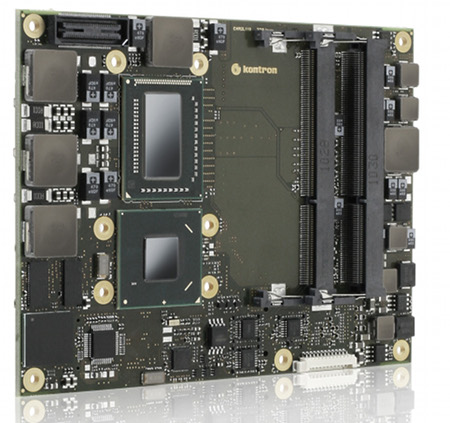 Kontron's ETXexpress-SC
(Click to enlarge)
A key selling point for the modules was the availability of separate Type 2 and Type 6 pinout versions for each module. The new Celeron modules continue this tradition, once again offering a choice of the newer Type 6 or legacy Type 2 interfaces, and bringing the product line to nine members, says Kontron.
The company's ETXexpress-SC web page indicates only two new Celeron models, each each dual-core CPUs available with Type 2 or Type 6, for a total of four SKUs. However, a Kontron spokesperson tipped us to the identity of the third module, which runs on a single-core, 1.4GHz Intel Celeron 827E. Like the dual-core models, the 827E version is based on Intel's "Sandy Bridge" architecture.
The dual-core models are the ETXexpress-SC T2 B810E (Type 2) and ETXexpress-SC T6 B810E (Type 6), each of which run on the dual-core, 1.6GHz Celeron B810E processor. Also available are the ETXexpress-SC T2 847E (Type 2) and ETXexpress-SC T6 847E (Type 6), which both run on the dual-core, 1.1GHz Celeron 847E. All these processors ship with 2MB of L2 Cache, and are accompanied with an Intel HM65 Platform Controller Hub, says Kontron.
Intel announced the Celeron B8xx line of processors in July along with several other dual- and single-core Celeron models. All these Celerons are built on the same 32nm manufacturing process and "Sandy Bridge" architecture used in the chipmaker's latest Core CPUs. The dual-core G5xx and single-core G4xx are aimed at desktops, while the dual-core B8xx and the single-core B7xx target laptops.
The Celeron 847E didn't show up in that list, nor did it appear on a new batch of souped-up "Sandy Bridge" Celerons tipped earlier this month. However, as indicated on the Intel 847E product page linked to above, it appears to be another "Sandy Bridge" infused model, and a close cousin to the 1.2GHz Celeron 857, which Intel had previously said would ship during the third quarter.
Of the new Celeron-based modules, the Type 6 SKUs are recommended for new designs, whereas the Type 2 SKUs support PCI and IDE interfaces "for a hassle-free upgrade of existing applications," says Kontron. The modules are said to be supported by the Kontron COM Express Starterkit Type 6 baseboard and Kontron's Embedded Application Interface (KEAPI).
Like the earlier ETXexpress-SC modules, the Celeron versions feature Digital Display Interfaces (DDI) for SDVO, DisplayPort, and DVI/HDMI output. They also support a single VGA/CRT interface (2048 x1536 pixels) and one dual-channel 18/24 bit LVDS output with (1600 x 1200), says Kontron.
Simultaneous multi-display solutions are said to be supported across several displays. Connected displays are identified automatically via VESA DisplayID to help streamline integration, says the company.
DDR3 and SATA 3, but no USB 3.0
Aside from lacking Core-specific processor features such as hyperthreading, turbo boost, and VPro, the Celeron modules are identical to the earlier ETXexpress-SC products, with one exception, said the Kontron spokesperson. The Celeron modules lack support for USB 3.0.
Like their Core-based siblings, the Celeron modules support up to 16GB dual-channel DDR3 SODIMM ECC RAM. They all similarly feature four SATA ports, including two SATA 3 ports offering transfer rates of up to 6Gbps, says Kontron.
Like the previous Core-based models, the new Celeron modules offer eight USB ports, but whereas the Core models featured two of those that support USB 3.0, the Celeron models do not.
The modules provide up to seven PCI Express x1 lanes and one PCI Express Graphics x16 lane. They also offer a gigabit Ethernet interface, and high-definition audio, said Kontron.
The modules all offer Sanyo Poscap capacitors for higher reliability and thermal resistance, says Kontron. They also provide the power-off state S5 Eco microampere mode, which minimizes power consumption by a factor of at least 200, as compared to the regular S5 state, claims the company. The modules are said to support a wide-range 8.5 VDC to 18 VDC power inputs, and feature a trusted platform module for security. (For more details and a spec list, see our previous ETXexpress-SC coverage.)
Operating system support for the new Celeron modules includes Linux, Windows 7, Windows Vista, Windows XP, Windows Embedded Standard 7, and VxWorks, says Kontron. Board support packages (BSPs) are also said to be available.
Availability
All versions of the Celeron-based ETXexpress-SC modules in both Type 2 and Type 6 pin-outs are available for evaluation today, says Kontron, which did not list pricing. Further Intel Celeron modules are also planned.
More information may be found at the Kontron ETXexpress-SC product page.
---
This article was originally published on LinuxDevices.com and has been donated to the open source community by QuinStreet Inc. Please visit LinuxToday.com for up-to-date news and articles about Linux and open source.