Jan 7, 2011 — by LinuxDevices Staff — from the LinuxDevices Archive — 4 views
Kontron announced a COM Express module sporting one of Intel's new "Sandy Bridge" Core processors along with a USB 3.0 interface. The ETXexpress-SC includes a 2.1GHz, quad-core Core i7-2715QE CPU, up to 16GB of DDR3 memory with ECC support, and either Type 2 or Type 6 pinouts, according to the company.
This week Intel announced a bevy of what it calls — rather misleadingly, as we've pointed out — its "second-generation Core products," previously known by their collective "Sandy Bridge" code name. The processors include a new microarchitecture, a 256-bit instruction set known as AVX (advanced vector extensions), enhanced GPUs (graphics processing units), and dedicated silicon for tasks such as transcoding video from one format to another, according to the chipmaker.
Among the many new processors (31 in all, by our latest count) is an embedded-specific CPU known as the Core i7-2715QE. This has a 2.1GHz clock speed, 3GHz TurboBoost frequency, four cores, 6MB of cache, and a 35 Watt TDP.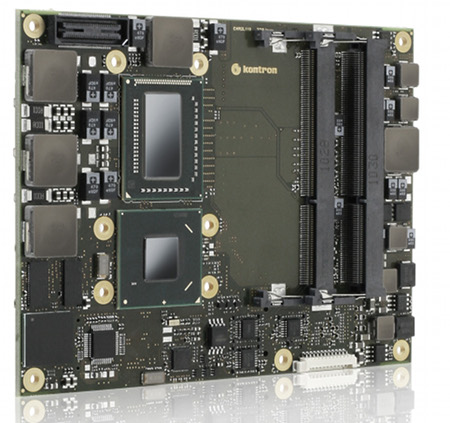 Kontron's ETXexpress-SC
(Click to enlarge)
Adopting the Core i7-2715QE (and QM67 Express chipset) for its new ETXexpress-SC (above), Kontron says first benchmarks show a performance gain of 205 percent for the CPU (Dhrystone Alu MIPS) and a 170 percent graphics performance improvement (3DMark06), as compared to platforms with the previous Intel Core i7 processor and comparable core speed. The obvious point of comparison would be Kontron's ETXexpress-AI, offered with four different previous-generation Core i7 CPUs.
As we reported last September, the ETXexpress-AI was recently revised to include a COM Express Type 6 pinout (see later in this story for background). The new, faster ETXexpess-SC is offered in a Type 6 version too, or may also be ordered with a Type 2 pinout, according to Kontron.
Kontron says the Type 6 ETXexpress-SC provides three Digital Display Interfaces (DisplayPort/HDMI/DVI), one CRT interface, and one dual-channel LVDS interface. It also delivers eight USB ports, two of which can optionally be USB 3.0 ports, plus seven PCI Express x1 lanes and one PCI Express Graphics x16 lane, the company adds.
Going with Type 2 instead gets you one DisplayPort/SDVO/HDMI/DVI interface, one CRT interface, and the dual-channel LVDS interface, but loses the USB 3.0 option. In addition, Type 2 gives up two PCI Express x1 lanes, though it does provide a 32-bit PCI interface, according to Kontron.
The otherwise-identical Type 2 and Type 6 versions of the ETXexpress-SC accept up to 16GB of DDR3 memory (with ECC support) via two slots, have four SATA ports (2 x SATA 3 and 2 x SATA II), include gigabit Ethernet, and offer high-definition audio, Kontron says. They operate on power supplies ranging from 8.5 to 18 Volts and in temperatures from 32 to 140 deg. F, the company adds.
Dirk Finstel, Kontron's CTO, stated, "The new Kontron ETXexpress-SC is now the most powerful COM Express module available. Without exceeding the thermal boundaries of comparable forerunners, it offers more capacity, especially for applications that are graphics- and compute-intensive."
Features and specifications listed by Kontron for its ETXexpress-SC include the following:
Processor — Core i7-2715QE, with 2.1GHz clock speed, 3GHz TurboBoost frequency, four cores, 6MB of cache, and a 35 Watt TDP
Chipset — QM67
Memory — Up to 16GB of DDR3 RAM
Display:

Type 2 version — 1 x DP/SDVO/HDMI/DVI, 1 x CRT, 1 x dual-channel LVDS
Type 6 version — 3 x DDI, 1 x CRT, 1 x dual-channel LVDS

Expansion:

Type 2 version — 5 x PCI Express x1, 1 x PCI Express Graphics x16, 32-bit PCI
Type 6 version — 7 x PCI Express x1, 1 x PCI Express Graphics x16

Networking — Gigabit Ethernet
Other I/O (also via COM Express):

4 x SATA (2 x SATA 3 and 2 x SATA II)
8 x USB 2.0, or (Type 6 version only) 6 x USB 2.0 and 2 x USB 3.0
HD audio

Power:

Consumption — tbd
8.5 to 18VDC input range

Operating temperature — 32 to 140 deg. F (0 to 60 deg. C)
Dimensions — 4.92 x 3.75 inches (125 x 95mm)
According to Kontron, it plans to release multiple additional Sandy Bridge devices, including, during the first quarter, mini-ITX and Flex-ATX motherboards as well as a 6U CompactPCI blade. Others planned for 2011 include 3U CompactPCI, 3U VPX, AdvancedMC, PCIe/104, ATX embedded motherboards, and several industrial PCs, the company says.
Background on pinouts
The COM Express Type 1 pinout features one 220-pin connector — the A-B connector — and supports up to eight USB 2.0 ports, up to four SATA or SAS ports, and up to six PCI Express Gen1/Gen2 lanes. It supports dual 24-bit LVDS, an HD audio interface, gigabyte Ethernet, plus eight GPIO pins and SPI,according to Kontron.
COM Express Type 2, also a common visitor to LinuxDevices, has all the above functionality, but adds a second 220-pin connector (C-D). This allows a 32-bit PCI interface plus IDE ports to support legacy PATA devices such as PATA HDD and CompactFlash memory cards. There are a total of 22 PCI Express lanes (six on the A-B connector and up to 16 on the C-D connector), 16 lanes on the second connector being intended for PCI Express Graphics (PEG), Kontron adds.
Last September, the PCI Industrial Computer Manufacturers Group (PICMG) adopted the COM Express revision 2.0 spec, ratifying the 3.75 x 3.75 inch COM Express Compact Module size and adding Digital Display Interfaces (DDIs). It also approved new Type 6 and Type 10 pinouts.
Type 6 addresses the need for digital display and USB 3.0 interfaces and offers a simple upgrade path for existing Type 2-based designs. The Type 6 pinout can support up to three DDIs, including SDVO, DisplayPort, and HDMI/DVI. It also adds support for USB 3.0 and two additional PCI Express Lanes, for a total of 23, according to Kontron.
Kontron adds that the DDIs are now separated from the PCI Express Graphics (PEG) port, allowing for parallel use of the integrated graphics on Intel processors and an external graphics card. Such a graphics card can be used either for connecting additional displays or as a GPGPU (general purpose computation on graphics processing unit) for high-performance data processing, the company notes.
Type 10, a single-connector pinout similar to Type 1, retains a 220-pin connector but no longer reserves pins for SATA 2 and SATA 3. These pins can now be used for new technologies such as USB 3.0, according to Kontron.
An informative whitepaper providing more information about the Type 6 and Type 10 pinouts is available in PDF format from the Kontron website, here.
Further information
The ETXexpress-SC is said to support Linux (including Red Hat Enterprise, SuSE, Red Flag and Wind River Linux), as well as Windows 7, Windows XP, Windows XP Embedded, Windows Vista, Windows CE, and VxWorks. The Type 2 version will begin sampling during the first quarter, while the Type 6 version will being sampling during the second quarter, according to the company.
Further information may be accessed on the ETXexpress-SC product page.
---
This article was originally published on LinuxDevices.com and has been donated to the open source community by QuinStreet Inc. Please visit LinuxToday.com for up-to-date news and articles about Linux and open source.