Mar 12, 2009 — by Eric Brown — from the LinuxDevices Archive — views
A community effort to create a mainstream open-source Linux distribution for tablets based on the Nokia-specific Maemo 5.0 environment is gaining momentum, says LWN.net. The "Mer" project, which targets older Nokia tablets as well as generic devices, has already passed major milestones, says the story.
(Click for larger view of Mer 0.9's home page)
When the Nokia-sponsored, and largely Nokia-run, Maemo project announced that it would not provide backward compatibility to existing Nokia N800 and N810 Internet Tablets on its Maemo 5.0 release, Maemo community members decided to do something about it. As reported by Nathan Willis in "Mer: Remastering Maemo," a "Maemo Reconstructed" project was launched last year to port as many of the new components as was possible back to the earlier Nokia tablets. The project has now evolved into Mer, which aims to "flesh out the tablet-centric operating system into a full-fledged Linux distribution suitable for embedded and desktop systems of all description," writes Willis.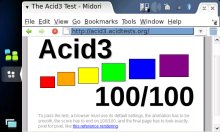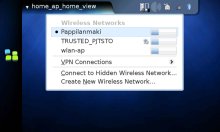 Mer 0.9 Midori browser (left) and WiFi set-up screen
(Click on either to enlarge)
As a result, Mer hopes to offer most of the significant "free" new features of the Maemo 5 SDK, codenamed Fremantle, which was recently released in
alpha form
. Mer runs not only on the earlier N800 and
N810 Internet Tablets
, but on the Texas Instruments (TI) OMAP3x-based
BeagleBoard
, as well as embedded navigation devices like the
Fujitsu-Siemens Pocket LOOX
, and standard x86 hardware, says the story.
The Maemo 5.0 SDK, which is expected to see a final release by the end of the year, is specifically targeted at upcoming versions of the Internet Tablet. The new tablets will add cellular 3G data transport and HD cameras, as well as TI's more powerful ARM Cortex-A8-based OMAP3x system-on-chip (SoC). The switch from OMAP2x to OMAP3x was the chief reason for not attempting backward compatibility, although Nokia continues to support Mer's efforts to do so, says the story.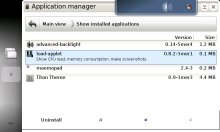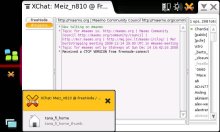 Mer Application Manager (left) and XChat screen
(Click on either to enlarge)
Nokia has attempted to synchronize the platform with standard PC Linux distributions, using technologies such as Upstart, PulseAudio, and Open Hardware Manager, says the story. These changes have helped Mer grow closer to achieving its goal of building a "proper" distribution that will eventually include package repositories and regular releases.
Mer is aligning the distro with Ubuntu, and incorporates the same packages included in the Ubuntu desktop distribution, rather than using low-resource alternatives such as BusyBox. The distro makes heavy use of the Hildon application toolkit developed for Maemo tablets, but also hopes to support GTK+ and Qt, as well, says the story.
The most recent release, Mer 0.9, runs Linux kernel 2.6.28 and ships with a working Hildon desktop environment, writes Hillis. The core is said to be stable,with input, display, and networking all functioning well, but there are still no stable applications beyond the WebKit-based Midori browser (pictured above). A 0.10 release should include improvements to battery management, theme support, and wireless networking.
Lengthening the long tail
Willis quotes Mer lead developer Carsten Munk as saying that Nokia has "offered to relicense components wherever possible, and even provide firmware images for closed-source drivers such as the tablets' power management system." He also Nokia's Maemo open-source spokesman Quim Gil as saying that having two Maemo operating systems is better for the platform, and that Mer helps "make Maemo's long tail longer and stronger."
Gil points to the group's feedback as a particular benefit, and says that Mer improvements have looped back to improve Maemo 5.0 as well. Nokia is said to be helping Mer request community editions of TI's closed-source graphics acceleration drivers for OMAP2x processors, including firmware images installable on existing Nokia tablets.
Concludes Willis, "As the first independent, noncommercial deployment of Maemo, Mer, if successful, could anticipate further blurring of the lines between handheld devices and mainstream distributions."
Availability
The full LWN.net story by Nathan Willis, "Mer: Remastering Maemo," should be here, but currently appears to be available for registered subscribers only.
---

This article was originally published on LinuxDevices.com and has been donated to the open source community by QuinStreet Inc. Please visit LinuxToday.com for up-to-date news and articles about Linux and open source.