Jun 9, 2009 — by LinuxDevices Staff — from the LinuxDevices Archive — 1 views

MEN Micro has announced a new COM (computer-on-module) format and an Intel Atom-based module to go with it. The ESMini format, MM1 module (left), and available XC4 carrier board target "aggressive designs" for commercial vehicles, railways, avionics, and industrial automation, the company says.
(Click here for a larger view of MEN Micro's MM1)
MEN Micro's new ESMini format measures 3.75 x 2.16 inches (95 x 55mm), and is said to be a smaller complement to the 4.9 x 3.75-inch ESMexpress format the company introduced last year. According to the company, ESMexpress is poised to be designated as an American National Standards Institute (ANSI) standard by the VME Industry Trade Association (VITA), and will be dubbed ANSI-VITA 59 RSE (rugged system-on-module express).
The design of both the ESMini and ESMexpress formats had the following goals, according to the company:
Extreme resistance against shock and vibration

Power dissipation of up to 35 watts

Cooling by both conduction and convection

An open processor architecture
To achieve these goals, modules are screwed into a frame (below) and then optionally enclosed in an aluminum housing. The high pressure caused by the screw joints between the housing and the PCB supports the thermal connection of the components. If additional cooling is required, the housing can be connected to a heat sink or other external heat dissipation system; at the same time, the housing ensures optimal EMC (electrmagnetic compatibility) protection for the electronic parts, says MEN Micro.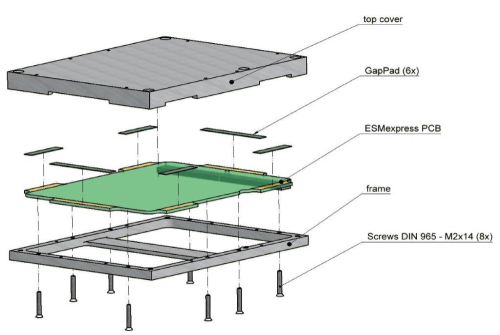 ESMini and ESMexpress (pictured) modules are screwed tightly into a frame
(Click to enlarge)
Noting that all ESMini components are soldered into place, ensuring extensive resistance to shock and vibration, MEN Micro says the format includes modern serial I/O connection options such as a PCI Express x1 link, LVDS, SDVO, high-definition audio, SATA, and USB. It also includes legacy I/O interfaces, including CAN, COM, fast Ethernet, I2C, and up to 120 general purpose I/Os (GPIOs), the company adds.
MEN Micro's MM1 module, shown at the top of our story, includes an Intel Atom Z5xx processor, which can be either the 1.1GHz Z510 or 1.5GHz Z530, along with the expected "Poulsbo" SCH US15W companion chip. Also prominently visible on the module is an Altera FPGA (field programmable gate array), which is apparently used to provide the device with its second Ethernet port and legacy I/O features.
MEN Micro did not detail or picture the connectors used by the MM1, but it appears that ESMini modules have at least two 60-pin connectors that snap on to carrier boards, relaying all signals to the outside world. According to the company, the MM1 comes with up to 1GB of soldered-on DDR2 memory, plus a full complement of interfaces that, as diagrammed below, includes IDE, SATA, SDVO, LVDS, eight USB ports, two UARTs, HD audio, and two 10/100 Ethernet ports.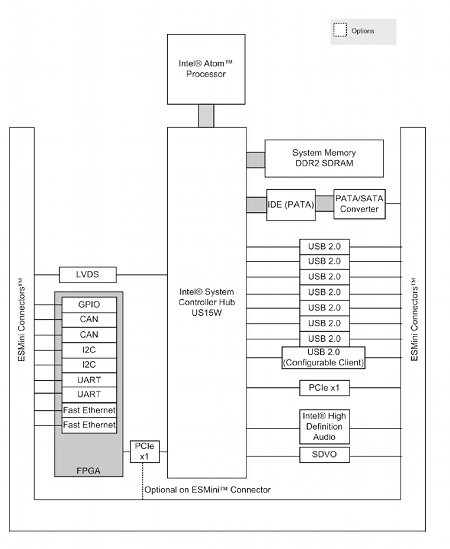 A block diagram of the MM1
(Click to enlarge)
The MM1 consumes a maximum of seven Watts, and has a broad operating temperature range of -40 to 185 deg. F (-40 to 85 deg. C), MEN Micro says. The module includes a real-time clock and board management controller with watchdog timer, the company adds.
Features and specifications listed by MEN Micro for the MM1 include the following:
Processor — Intel Atom Z510 (1.1GHz) or Z530 (1.6GHz)

Memory — Up to 1GB of soldered-on DDR2 RAM

Display — Supports SDVO and LVDS displays

Networking — 1 or 2 x 10/100 Ethernet interfaces

Other I/O (all via connectors to carrier board):

1 x IDE

1 x SATA

8 x USB 2.0

2 x UARTs (RS232 or RS422/485)

HD audio

Expansion (all via connectors to carrier board):

Up to 2 x CAN bus channels

I2C

2 x PCI Express x1 links

Up to 120 GPIO lines

Operating temperature — -40 to 185 deg. F (-40 to 85 deg. C)

Power requirements — +5VDC; consumption "tbd"

Dimensions — 3.75 x 2.16 inches (95 x 55mm)
XC4 carrier board
MEN Micro offers a carrier board for the MM1 that uses the 9.6 x 9.6-inch microATX form factor. The XC4, pictured below, includes an ESMini slot, two PCI Express x1 connectors, 4GB of onboard flash storage, and a variety of real-world connectors, according to the company.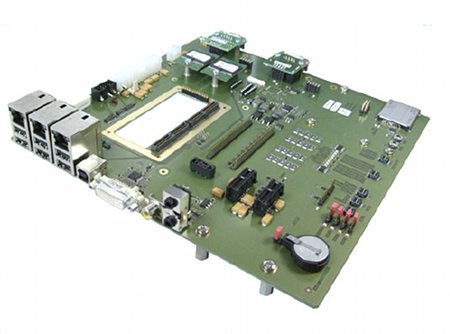 The XC4 carrier board
(Click to enlarge)
Real-world connectors on the XC4 include two 10/100 Ethernet ports, a DVI port, six USB 2.0 host connectors, a USB 2.0 device port, analog audio I/O, and an S/PDIF digital audio output. In addition, the carrier board is designed to accept MEN Micro's
SA Adapters
, which can be used to add CAN Bus and dual RS232 connectors, the company says.
Availability
According to MEN Micro, the MM1 runs Linux, Windows, VXWorks, and QNX. The module will be available in about six weeks, priced at $497 in single quantities, the company says.
More information on the MM1 may be found on the MEN Micro website, here, and on the XC4, here.
---

This article was originally published on LinuxDevices.com and has been donated to the open source community by QuinStreet Inc. Please visit LinuxToday.com for up-to-date news and articles about Linux and open source.