Aug 24, 2007 — by LinuxDevices Staff — from the LinuxDevices Archive — 10 views

A startup hopes to challenge Soekris and PC Engines, among others, in the market for compact, customizable computing platforms for networking devices. HeroLogic's first system, the HL-463, is based on a 333MHz AMD GX466 processor, and lets users choose from several supported software options, including Linux.
HeroLogic cofounder and CTO Tony Fader, who previously spent a year at Soekris, explained, "Lots of its products are EOLed [end-of-lifed], and Soekris doesn't do any software support. [HeroLogic] can pre-install, say, BSD on 100 units and deliver them in two days."
The other principal behind HeroLogic is Doug Cross, formerly with wireless Internet service provider Ricochet Networks. The company is privately held. In addition to selling hardware platforms, it plans to offer professional services. It employs four full-time developers, Fader said.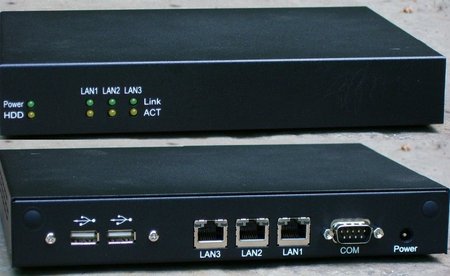 HeroLogic HL-463 — note the two punch-outs for optional WiFi antennas
(Click to enlarge)
HL-463
The HL-463 is based on an AMD Geode GX466 processor clocked at 333MHz. It comes with 256MB of SDRAM soldered onboard. A single CompactFlash slot provides storage. A mounting bracket and cable are also provided for a 2.5-inch hard drive.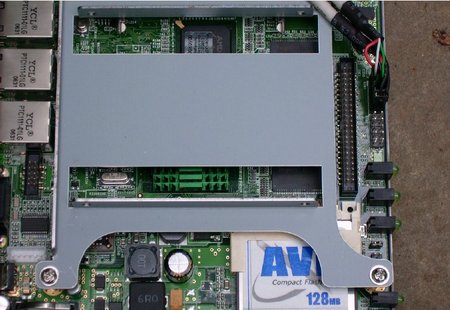 HL-463's hard drive mount
(Click to enlarge)
I/O includes:
4 x USB 1.1 ports (2 on rear panel, 2 on internal pin
RS-232 console port on 9-pin connector
3 x 10/100 Ethernet ports on RJ-45 connectors, each with LEDs on the front and back
VGA output (on pin headers)
PS/2 (on pin headers)
Expansion is provided via a miniPCI slot. HereLogic offers several WiFi cards for this slot, along with a selection of pigtail cables and antennas.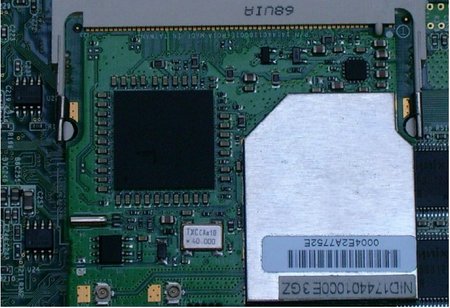 HL-463 with miniPCI WiFi card installed
(Click to enlarge)
The HL-463 requires 12VDC, and comes with a 110/220VAC adapter. The system does not appear to support PoE (power-over-Ethernet), however. (Fader commented, "Soekris's most popular board, the 4801, doesn't support PoE either.")
Software and support
OSes supported initially on the HL-463 include Linux — Debian, Fedora, and "others" — and the BSDs, including Free-, Open-, and Net-BSD variants. And, the company is in the process of working out partnership agreements with third-party software providers, Fader said, citing:
m0n0wall, a slick, free, BSD-based firewall appliance OS popular with router hobbyists
pfSense, described by Fader as "a more modern fork of m0n0wall"
AskoziaPBX, a port of the Asterisk open source PBX (private branch exchange) server to m0n0wall
One basic goal is to make an "inclusive" as opposed to an "exclusive" product, Fader said. "PS/2 and VGA are pinned out on the board, so if you don't want to do a serial line, you don't have to. And, we include a hard drive mounting kit."
Most users, Fader admits, will likely boot from CompactFlash, and leave out VGA and input device functions to save on footprint. But features familiar to desktop PC users are there, if needed.
Another key similarity to desktop PCs, of course, is the instruction set. Fader said, "Cross-compiling sucks. That's the bottom line. The open source stuff is all really x86."
So far, HeroLogic's HL-463 system is finding its way into firewalls, access gateways, VPN routers, IP-PBXs, robotic control systems, and server appliances. However, Fader expects customer uses for the system to diversify. "Our users are creative. I look forward to seeing what they come up with."
Fader adds, "Most customers are doing in-house projects, so we haven't seen requests for pre-loads of Debian, for example. But we think that's coming."
Also yet to develop are user communities devoted to the new platform, which became available in mid-May. Fader notes, "I'm really looking forward to that. I hope to set up a mailing list this month. And the website does offer customers the ability to post reviews on the hardware."
Availability
The HL-463 is available now, priced at $300 without software, WiFi, or a hard drive, from HeroLogic's online store. The store also carries flash modules, antennas, cables, hard drives, wireless cards, and "kits" comprised of an HL-463 and all of the above.
The HL-463 is also available in volume, with "aggressive" discounts, Fader said.
---

This article was originally published on LinuxDevices.com and has been donated to the open source community by QuinStreet Inc. Please visit LinuxToday.com for up-to-date news and articles about Linux and open source.