Jun 2, 2011 — by LinuxDevices Staff — from the LinuxDevices Archive — 14 views
Texas Instruments (TI) has goosed the clock speed and graphics of its ARM Cortex-A9 SoCs (systems on chip), offering dual CPU cores running at up to 1.8GHz. The OMAP4470 DirectX 9-capable Powervr SGX544 graphics, can run three displays at up to 2048 x 1546 pixel resolution, and supports Android, Linux, and the newly announced Windows 8, the company says.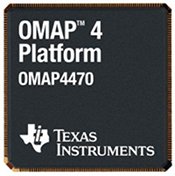 TI's new OMAP4470 (right) is similar to the OMAP4430 and OMAP4460 (reviewed later in this story), enough so that this punctilious vendor did not find it necessary to provide a refreshed block diagram. Where the OMAP4460 tops out at 1.5GHz, however, the OMAP4470 pushes its dual Cortex-A9 cores to 1.8GHz.
According to TI, the OMAP4470 also includes two ARM Cortex-M3 cores to speed I/O. And, significantly, it also gains a GPU (graphics processing unit) based on Imagination Technologies' Powervr SGX544 IP.
First announced last June, SGX544 provides "maximum hardware acceleration," full support for DirectX 9 Feature Level 3, plus support for desktop OpenGL 2.1 (including X11 integration with DRI2, EXA and DRM support), OpenGL ES 1.1 & 2.0, OpenVG 1.1 and OpenCL 1.1 Embedded Profile, according to Imagination Technologies.
TI says the OMAP4470 will allow "customers to deliver a new set of applications to end-users, including DirectX-driven games and videos." Compared to the OMAP4430, overall graphics performance on the new SoC is 250 percent better, the company adds.
Hinting at future ARM-based notebook or desktop PCs, the OMAP4470 also boasts a dramatic improvement in potential screen resolutions. Where the earlier OMAP 4 SoCs were said to support resolutions up to 1920 x 1200 pixels, the OMAP4470 will support up to three displays at up to 2048 x 1546 pixels, says TI.
TI specifically mentioned support for Android, Linux, and Windows 8 operating systems. As reported by our sister site WindowsForDevices, Microsoft staged demos of a major operating system upgrade code-named Windows 8 yesterday in California, and earlier today in Taiwan. Offering both a new tile-based user interface and the ability to run old-style Windows applications such as Microsoft Office, Windows 8 was shown off both on a range of x86 devices and on ARM-based reference systems using chips from Nvidia, Qualcomm, and TI. We haven't seen information on specifically which TI SoC was involved in the demos, but it would appear to be the OMAP4470.
The OMAP4470 is said to be pin-to-pin hardware- and software-compatible with the earlier OMAP 4 processors, which means it will also run Windows Embedded Compact 7 (thanks to support that was announced by Adeneo early last month).
Background on the OMAP 4 processors
TI was an early adopter of ARM's Cortex-A9 processor core, which implements the same ARMv7 used on the Cortex-A8 and adds an MPCore interconnect layer for multiple processor support. While as many as four cores are possible with MPCore (see block diagram, here), TI's OMAP4430 and OMAP4440 were announced in February 2009 with two cores apiece, as depicted below.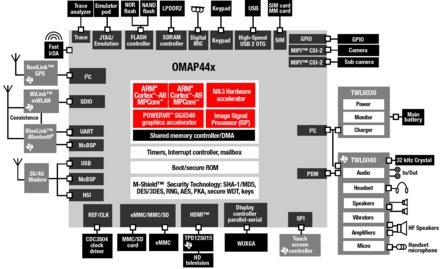 OMAP44x function block diagram
(Click to enlarge)
In its 2009 Mobile World Congress (MWC) announcement, TI said it would begin sampling the OMAP4430 and OMAP4440 during the second half of 2009. That clearly didn't come to pass, and the company's February 2010 description of the OMAP44xx SoCs as "sampling today" was perhaps over-ambitious as well.
Last December, meanwhile, the chipmaker announced that the OMAP4430 and OMAP4440 — originally said to be clocked at 720MHz and 1GHz, respectively — would henceforward be clocked at 1GHz and 1.5GHz. (The 1GHz OMAP4430 since found a home in RIM's BlackBerry PlayBook tablet.) And this March, TI quietly renamed the OMAP4440 as the OMAP4460.
TI says both the OMAP4430 and OMAP4460 provide both hardware accelerated 2D and 3D graphics, support for 20-megapixel imaging, and 1080p HD video playback. The OMAP4430 supports dual (stereoscopic) five megapixel video cameras, taking 3D movies at up to 720p, while the OMAP4460 supports dual 12 megapixel cameras and takes 1080p 3D videos, the chipmaker adds.
Availability
TI says the OMAP4470 will start sampling in the second half of 2011, with complete devices based on it cropping up in the first half of 2012. The chipmaker doesn't yet have a specific OMAP4470 product page, but its website does offer overall OMAP 4 information.
TI announced OMAP 5 SoCs in February that will employ ARM's more powerful Cortex-A15 core, along with the same Powervr SGX544 graphics promised for the OMAP4470. TI has said the OMAP 5 SOCs will also sample in the second half of this year, with complete devices becoming available during the second half of 2012.
Jonathan Angel can be followed at www.twitter.com/gadgetsense.
---
This article was originally published on LinuxDevices.com and has been donated to the open source community by QuinStreet Inc. Please visit LinuxToday.com for up-to-date news and articles about Linux and open source.