Feb 11, 2011 — by LinuxDevices Staff — from the LinuxDevices Archive — 1 views
More than half of American and British consumers say they're frustrated with electronic devices that crash or otherwise fail to perform as they were hoped to. Meanwhile, just under half would pay from five to 30 percent more if products could work more automatically or autonomously, says Accenture Research.
The global consulting and services company performed an online survey of 2,006 consumers in the U.S. and U.K. in November and December of last year. The sample is representative of the general population in terms of gender, age and income in both countries, claims Accenture.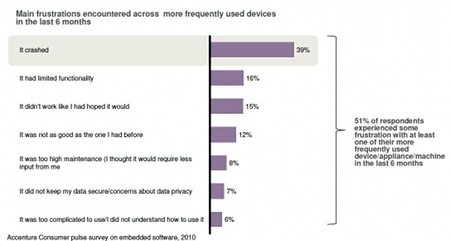 Frustrations by device type
Source: Accenture
(Click to enlarge)
More than half of those surveyed expressed dissatisfaction with their electronic devices, including mobile phones, TVs, computers, digital cameras, GPS systems and household appliances, Accenture says. For example, 39 percent of respondents said their devices had crashed during the last six months.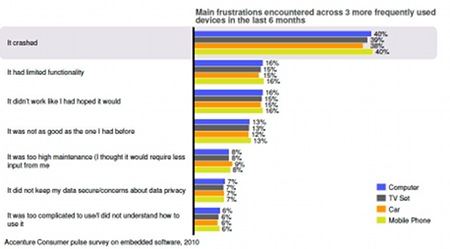 Frustrations across multiple device types
Source: Accenture
(Click to enlarge)
Those reporting crashes were given the opportunity to specify the devices they occurred with, listing more than one type of product if necessary. As expected, computer and mobile phones ranked high, with 40 percent apiece, but TV sets scored a surprisingly high 39 percent, and cars (!) 38 percent.
According to Accenture, its survey refuted the notion that crashes are caused by users who are uncomfortable with technology. The overall 39 percent percentage of those reporting crashes increased to 49 percent among those aged 18-24, suggesting that younger people have less patience when it comes to devices not functioning properly, the company says.
Of those who did report crashes — defined as an instance when a device froze, stopped responding, and had to be restarted — 44 percent said they happen "sometimes" and 14 percent said they happen "very often." Here, mobile phones and those pesty TV sets were said to crash "very often" 14 percent of the time, while computers and cars crashed 12 percent and 10 percent of the time, respectively. (Mercifully perhaps, there's no word about what happened in the case of the latter.)
Participants were asked to select from a list of at least six statements representing the advice they'd like to give to the engineers who designed their devices/appliances/machines. The top three were as follows, according to Accenture:
to keep it simple — 53 percent
I prefer to be surprised and wait for the next great innovation — 53 percent
to focus on a limited number of functionalities/applications which are useful (rather than a thousand I will never use — 43 percent
The survey also asked how much respondents would be willing to pay to get devices that could do more things automatically and autonomously. Almost half (49 percent) said they'd pay more, divided as follows:
up to five percent more — 20 percent
between five and ten percent more — 17 percent
between 11 and 20 percent — 8 percent
between 21 and 30 percent — 2 percent
over 30 percent
Among other questions, participants were also asked if the emergence of e-readers and tablet PCs would result in them reading fewer hard-copy books, magazines, and maps in the next two to three years. Of those responding, 41 percent said they'd "probably or certainly" use maps less; 28 percent said the same about magazines, and 28 percent said it about books.
According to Accenture, a narrow minority (49 percent) said they'd be comfortable using autonomous/driverless cars. But of the 51 percent saying they wouldn't, a hardcore 32 percent added that even if computer-controlled guidance systems were absolutely infallible, they wouldn't give up driving.
Jean-Laurent Poitou, global managing director of Accenture Embedded Software, stated, "As consumers accumulate and rely on more devices to help manage their lives, they are becoming increasingly frustrated with devices that frequently crash or don't work as well as expected. The 'cool factor' is no longer enough. Consumers, especially younger ones, seek simpler, more intelligent devices with just the right number of useful functionalities."
Poitou added:
Users are increasingly interested in the prospect that smarter collection and processing of individual information could lead to them paying lower prices. For example, they could pay less on car insurance if 'black box' data proves they drive more safely than average drivers; and they could pay less for electricity if they modify the timing of use of various household appliances, to better align with the needs of power supply companies. The challenge for the industry is to find ways to engineer these innovative uses of embedded technology to deliver cost savings in ways that are reliable and easy-to-understand.
Further information
Accenture is making more detailed survey results available in PDF format as follows: overall results and results highlighting difference between U.S. and U.K. respondents.
---
This article was originally published on LinuxDevices.com and has been donated to the open source community by QuinStreet Inc. Please visit LinuxToday.com for up-to-date news and articles about Linux and open source.