Feb 18, 2010 — by Eric Brown — from the LinuxDevices Archive — 214 views
Bug Labs announced a second-generation version of its modular Linux-based hardware system, adding a Texas Instruments OMAP3x system-on-chip (SoC) and support for Android. The new version of the BugBase embedded computer runs the Bug 2.0 software stack on an OMAP3530, enabling it to run any app designed for TI's BeagleBoard development board, says the company.
The BugBase 2.0 platform is primarily designed for conceptualizing, prototyping, testing, and building wireless, networked, and headless devices, says Bug Labs. Now, Android applications can be ported directly to the BugBase, enabling Android developers to build consumer electronics devices, as well as devices that expand into healthcare, M2M, and automotive telematics applications, says the New York City-based company.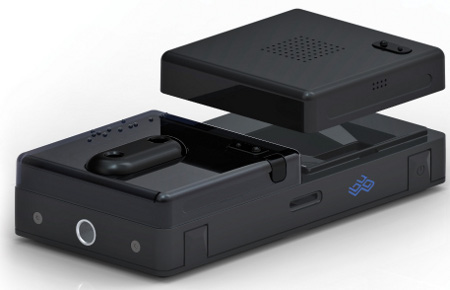 BugBase 2.0


(Click to enlarge)
Bug Labs offered few technical details on the new BugBase 2.0, but it posted an
Engadget
hands-on story about the pre-production unit. The story lists details such as the inclusion of the ARM Cortex-A8-based OMAP3530 SoC instead of an ARM11 processor. The new system loses its tiny LCD (a separate module offers a larger LCD), but adds on-board audio out and HD video out (via a new module), says the story. The BugBase 2.0 also offers a second microSD slot, for making it easier to load new programs on the fly, says the story.
According to Engadget, Android had already been ported to the Bug platform, but the formal support — not to mention the more powerful Cortex-A8-based processor — should greatly accelerate Android development on the platform. The original Bug modules, as well as existing BugBase applications, will be compatible with the upcoming BugBase 2.0, says the story.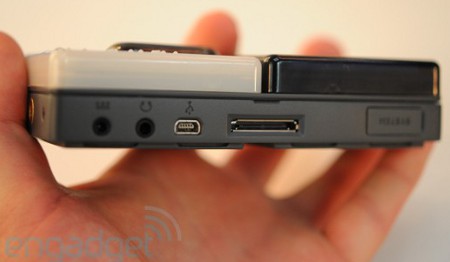 BugBase 2.0 ports
(Source: Engadget)
The
OMAP3530
, which also populates the BeagleBoard, is the high-end model in TI's OMAP35xx portfolio of SoCs. The OMAP3530 is based on ARM's Cortex-A8 processor core, which offers superscalar processing and is clocked at 600MHz. The OMAP3530 incorporates Imagination Technologies' SGX 2D/3D graphics processor and a TI TMS320C64x DSP core clocked at 430MHz.

Bug background
Bug Labs announced its Linux-based, open source embedded Bug platform and BugBase computer (pictured at right) back in 2007. After numerous delays, the Lego-like BugBase system finally shipped along with several expansion modules in late 2008.
Billing the system as a completely hackable open source platform, Bug Labs continues to invite hardware and software developers to contribute to the open source project, designing hardware and software modules, and sharing their work back into the community. The devices come with a Java- and Eclipse-based "Dragonfly" development software that runs on Linux, Mac OS X, or Windows desktops.
The original BugBase weighed about a quarter pound and was equipped with a 532MHz ARM1136JF-S CPU and 128MB of RAM. The compact computer also offered a rechargeable battery, USB, Ethernet, and a tiny LCD with button controls.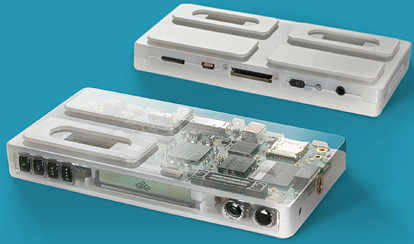 The BugBase WiFi embedded computer costs $450 without modules.
In September of last year, the BugBase was superseded by the BugBase WiFi (pictured above, and below with several several modules). The BugBase WiFi is only slightly larger at 5.10 x 2.55 x 0.765 inches, and adds 32MB flash, a MicroSD interface that supports up to 16GB, plus Bluetooth 2.0 +EDR, and most importantly for the Bug development community, 802.11b/g WiFi.
Compared to the original, it appeared to have added four UART serial links, a four-channel SPI interface, I2C and I2S interfaces, and a serial debug port with JTAG/ICE support. Like the original, the BugBase WiFi continues to run Poky Linux (version 1.4, based on a 2.6.29 kernel), and supports up to four modules.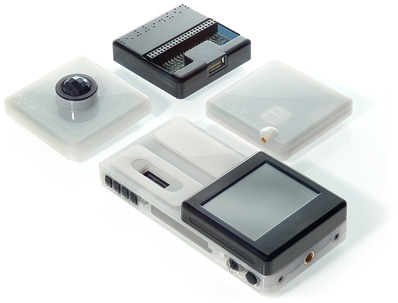 The BugBundle with BugBase WiFi, as well as LCD, motion, GPS, and breakout-board modules, costs $750.
In addition to the original plug-in modules - the BugView (display), BugMotion (motion detector and accelerometer), and BugLocate (GPS) — the BugBase WiFi can also attach a BugBee module (ZigBee/802.15.4), BugSounds (audio I/O), and a BugVonHippel breakout board module that offers additional interfaces and power options. Except for the 2.5-inch, 320 x 240 LCD BugView module, which costs $130, each of the modules costs under $100, and can be had for less as part of a $750 BugBundle deal (pictured above).
The long-promised BugCam2MP camera module has yet to materialize, but appears to be close, and the company is now working on a Bug3G module for 3G GSM communications, as well as a BugSense module with a variety of interactive sensors.
The alignment with the BeagleBoard and its larger embedded hobbyist and development community greatly expands the applications available to Bug devices while enriching both platforms. Developed by Texas Instruments (TI) employees as a way to expand OMAP3530 development, the 3.0 x 3.0-inch BeagleBoard shipped in July 2008 for $150, distributed by Digi-Key. A BeagleBoard Revision C version (pictured above, at left), was released last May, doubling memory to 256MB, adding a second high-speed USB port and an LCD expansion connector. As with the original BeagleBoard, it ships with a Linux board support package (BSP).

Bug Labs Test Kitchen
Bug Labs, which hosts various public outreach programs in New York City, including classes for children, has supported the BeagleBoard in its Test Kitchen (pictured above). Here, embedded hardware developers can sign up to try out the Bug platform, the BeagleBoard, and various other hackable embedded platforms. These include the Ant,
Arduino
, Bluetooth Arduino,
Gumstix
,
Phidgets
, and the
Tin Can Tools Hammer Kit
.
Accenture deal steers Bug into health, automotive, automation
Despite its garage geek persona, Bug Labs is now reaching out into the enterprise world to see if it can expand its horizons. At Mobile World Congress Bug Labs and its partner Accenture are jointly demonstrating "next-generation mobility applications in the fields of health care monitoring, vehicle fleet tracking, and home automation," based on the Bug 2.0 technology. Also, the consultant giant's Accenture Mobility Operated Services division is working to use the BugBase as a prototyping tool to help "enterprises develop and deploy new, revenue-generating mobile applications to their customers," Bug Labs says.
Stated Fabio Mungo, CTO, Accenture Mobility Operated Services, "The Bug components and platform helps enable our developers bring revolutionary ideas to market in a fraction of the time that it takes for standard prototyping."
Stated Peter Semmelhack, founder and CEO of Bug Labs, "Bug is now a part of the growing OMAP community supporting open development, and TI has been a pioneer in open source hardware."
Stated Russell Crane, high-performance ARM marketing manager, TI, "We are very excited that the next generation of BUG devices support TI platforms and even more excited to see the hardware innovations that will come from developers, given a new vehicle to quickly and affordably bring their visions to life."
Availability
The Bug 2.0 platform should be available this summer, says Bug Labs. Pricing was not available. More information on Bug 2.0 may be found here, and more about the current Bug platform should be here.
---
This article was originally published on LinuxDevices.com and has been donated to the open source community by QuinStreet Inc. Please visit LinuxToday.com for up-to-date news and articles about Linux and open source.