Jan 25, 2011 — by Eric Brown — from the LinuxDevices Archive — views
A joint survey of 2,235 developers published by Appcelerator and IDC shows the emergence of tablet computers has caused developers to refocus their development strategies, with Android interest catching up with the iPad. Meanwhile, a Deloitte study says that businesses will account for 25 percent of tablets sold in 2011.
The latest in a series of developer surveys jointly published by IDC and Accelerator focuses on the tablet market — and it finds the fast-emerging segment is quickly drawing the attention of developers.
The jointly developed "Appcelerator-IDC Q1 2011 Mobile Developer Report," taken on Jan. 10-12 (after the Consumer Electronics Show), interviewed 2,235 developers worldwide. According to a writeup by Darryl Taft in our sister publication eWEEK, the survey shows that tablet interest has spiked across the board.

Percent of developers "very interested" in developing for major tablet platforms, Q1 2011


Source: Appcelerator and IDC
(Click to enlarge)
When asked which tablet platform would draw their interest in developing applications, 87 percent of respondents said they preferred the Apple iPad. However, the iPad only garnered a three percent increase since the same question was asked in September.
Android came in second with 74 percent, up 12 points since September. Yet for sheer momentum, the new BlackBerry Playbook took the prize, nearly doubling from 16 percent to 28 percent. Meanwhile, interest in the upcoming WebOS-based tablets from HP-owned Palm remained flat at 16 percent, says the survey.

While the iPad was well established by September, very little was known about the Playbook, and only a few major Android tablets — notably the Samsung Galaxy Tab — had appeared by then. In the latest survey, interest surged for Android and the Playbook, no doubt due to the activity at CES earlier this month. The Playbook and several high-profile Android 3.0 tablets, led by the Motorola Xoom pictured at right, dominated the CES headlines.
Mean

while, there is still very little known about the WebOS tablets that HP is expected to show off on Feb. 9, so the flat-line interest might be considered a plus. Reports have suggested that HP will announce a nine-inch "Topaz" and seven-inch "Opal" tablet running the Linux-based WebOS under the Palm brand. The Topaz is allegedly shown at left in an Engadget render.
As for MeeGo, it generated so little interest in a question that widened the scope to include major smartphones (see below), that it was left off the tablet comparison. MeeGo dropped to six percent, down from a high of about 10 percent in March, shortly after the Linux-based platform was announced, says the survey.
A few MeeGo tablets have been announced, such as the WeTab, despite the fact that the Intel and Nokia-backed open source project has yet to release a formal MeeGo "user experience" aimed at the devices. As reported in another eWEEK report yesterday, grainy images of an unidentified Nokia tablet running MeeGo have recently appeared on the web. There appears to be scant information on the device so far, however.
A separate series of survey questions focused in on the Android tablet market, revealing that 57 percent of developers said price will be the most important factor for Android tablet success. This was said to be followed by minimized fragmentation (49 percent), and the impact of Android Honeycomb ("Android 3.0") OS capabilities (33 percent).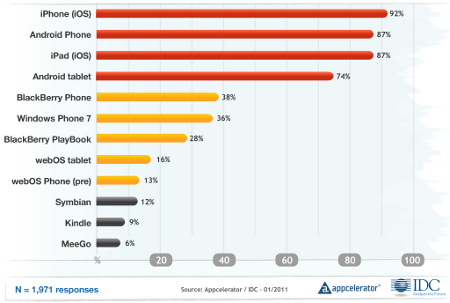 Percent of developers "very interested" in developing for major phone or tablet platforms, Q1 2011


Source: Appcelerator and IDC
(Click to enlarge)
While the Appcelerator/IDC study did not appear to quantify developer interest in tablets vs. smartphones directly, the charts above and below suggest that the more established smartphone market continues to draw the most interest. Still, tablets are coming on strong, especially for the iPad and Android tablets.
Among phones, meanwhile, the iPad still barely edges out Android in developer interest at 92 percent and 87 percent, respectively, although Android grew at a faster, five percent rate, says the survey. This was said to be followed by the BlackBerry (38 percent) and Windows Phone 7, whose surprisingly large 36 percent score — up seven points — was nearly triple that of either the WebOS "Pre" phones or Symbian.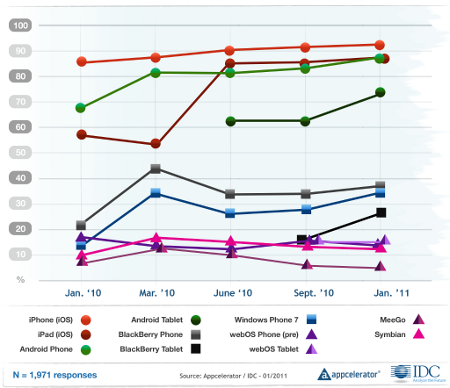 Percent change of developers "very interested" in developing for major phone or tablet platforms over last year; Q1 2011


Source: Appcelerator and IDC
(Click to enlarge)
The latest results show that Google has nearly caught up to Apple in smartphone popularity and is closing the gap in tablets, according to Scott Schwarzhoff, vice president of marketing at Appcelerator, who was interviewed by
eWEEK
's Taft.
Schwarzhoff also told eWEEK that the days of mobile app experimentation are over. This year, developers expect to triple their mobile app development, and the average developer is now building for four different devices, the survey showed.
Meanwhile, a dramatic increase in the integration of geolocation, social, and cloud-connectivity services underscores new focus on sustaining user engagement. In addition, increased plans to integrate advertising and in-app purchase business models point to a new focus on longer-term financial viability over free brand affinity apps, Schwarzhoff told eWEEK.
Developers lose interest in IPTV
If interest in mobile devices was up across the board, interest in building mobile apps for connected IPTVs has sharply decreased, according to the survey. Google TV interest slumped 11 points to 33 percent, while Apple iTV dropped 10 points to 30 percent. Developer interest in other alternatives like Yahoo TV, Boxee, and Roku was also minimal, the survey showed.
One of the key problems seen with Google TV was the move by TV networks to block access to their content, says the survey.
Much more on the Appcelerator/IDC study may be found in their summary linked to at the end of the article. The survey also covers app market preferences, and explores a new "Mobile Maturity Model" for identifying three phases of mobility adoption: "exploration," "acceleration" and "innovation."
Deloitte: Enterprises are ready to jump for tablets
According to a recent Deloitte study, more than 25 percent of all tablet computers will be purchased by enterprises. This growth is "an incredible figure for a market that only established credibility with Apple's successful launch of its iPad last April," writes Clint Boulton in eWEEK. The consulting firm also found that the 25 percent figure could well rise in 2012 and beyond, he adds.
The figures were part of an annual list of predictions released by Deloitte Jan. 18. "Although some commentators view tablets as underpowered media-consumption toys suitable only for consumers, more than ten million of the devices will likely be purchased by enterprises in 2011," states the Deloitte report.
IDC, meanwhile, recently released a report projecting that the computing industry will ship nearly 45 million tablets in 2011, notes Boulton.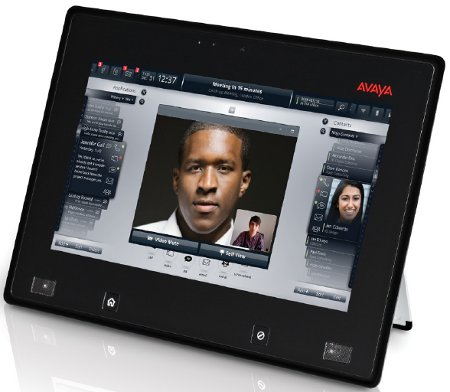 Like Cisco's Cius, Avaya's Desktop Video Device is an Android tablet aimed directly at the corporate user
Deloitte offered four reasons for the corporate tablet surge this year, led by "the consumerization of IT," says the story. In other words, enterprise workers are buying tablets for their personal use, and then realizing they work well for their daily work tasks as well.
In addition, some retail, manufacturing, and health-care industries are actively testing tablet use for their employees. Deloitte projects that some five million tablets could be deployed in retail and health-care this year alone.
Third, Deloitte believes enterprise software providers are receiving requests for iPad apps and other tablet-tailored programs. In addition, large players in ERP, ECM, and CRM enterprise software, such as Oracle, Salesforce.com, SAP, and Microsoft, are said to be writing secure mobile apps that can be provisioned across an entire company.
Finally, the tablet form factor is driving adoption in the boardroom. In other words, execs like the sleek look and cool factor of the tablet. (After all, typing is for peons.)
According to Deloitte some 70 to 80 percent of Fortune 500 companies will support at least one tablet variant for some portion of their work force, says the story.
The study also projects that tablets might closely mirror OS market shares in smartphones and PCs. One unknown, says the story, is whether enterprises will be able to standardize on a single tablet platform or be forced to support multiple types of tablets. Supporting more tablets would likely make their workers happier, but incur greater support costs.
Availability
The "Appcelerator-IDC Q1 2011 Mobile Developer Report" summary, including many more stats and charts, may be found at this Q1 2011 Mobile Developer Report page.
Deloitte's announcement of its 2011 technology trend predictions may be found here.
---
This article was originally published on LinuxDevices.com and has been donated to the open source community by QuinStreet Inc. Please visit LinuxToday.com for up-to-date news and articles about Linux and open source.