Nov 29, 2010 — by LinuxDevices Staff — from the LinuxDevices Archive — 1 views
Samsung's Continuum has a lot going for it, but the phone is essentially the same as the previously released Samsung Fascinate, but with screen size sacrificed for a largely useless secondary ticker display, says this eWEEK review. The Continuum is said to be the latest example of Android phone manufacturers taking iteration to the extreme.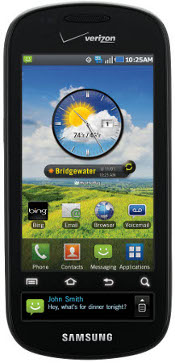 One of the key differences between Apple's iOS and Google's Android mobile operating systems is the pace of iteration. Apple does one major upgrade to iOS and the hardware it runs each year, most recently with the excellent iPhone 4 and iOS 4.2. Android, on the other hand, is open source, so things flow a little faster, if not a little willy-nilly.
Since January 2010, there have been two major OS builds — Android 2.1 and Android 2.2 — with Android 2.3 on the way soon. Google's last count had more than 60 handsets running on Android. After this holiday season, that number must be more than 70.
Carriers and phone makers are free to build, release, and iterate, which is exactly what I feel Samsung and Verizon Wireless did in releasing the Continuum (pictured above right).
I tested the similar, Android 2.1-based Fascinate in September, and have been using the Continuum for the past 10 days. Also running Android 2.1, the Continuum itself is fine, as gorgeous as its Samsung Galaxy S class predecessors with its Super AMOLED screen. But let's be honest; it's more or less the Fascinate, with some cosmetic changes.
eWEEK slide shows reinforce the similarities between the two phones, with the Fascinate pictures shown here and the Continuum slide show, here.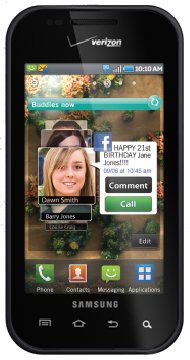 The Fascinate (pictured at left) is squarish, with a four-inch screen. The Continuum is rounded, and the main distinguishing feature of this device is that instead of one big screen, you get two: a main 3.4-inch display and a smaller 1.8-inch ticker screen.
In an earlier eWEEK review, Cameron Sturdevant noted that the ticker screen is geared to extend battery life because it streams news, sports, and social media feeds without lighting up the main display. Content displayed on the ticker is customizable.
This didn't make a difference for me; the battery still ran down fairly quickly. If there was some battery life saved, I didn't see it.
Both the Fascinate and Continuum have five-megapixel cameras, with 720p HD video recording, and both have talk times of 420 minutes and standby times of 312 hours. Both phones are preloaded with Bing search and Bing Maps and all of those fun Verizon applications, including VZ Navigator, VZ Music, VZ Videos and other apps. They also share the same virtual keyboard with Swype for gesture input.
Both have 3G mobile hotspot capability, connecting up to five devices for an extra $20 a month for 1GB. The Continuum also has a widget for the Twidroyd Twitter app, which I thought was cool.
Both the Fascinate and the Continuum began retailing for $200 with a two-year contract, but Verizon dropped the Continuum to $99. Make of that what you will.
In short, the biggest difference between the Continuum and Fascinate is the ticker screen. I can't say the ticker is a distraction, but it's not very helpful. I tend to ignore it, so it feels like wasted space. I say skip it and give me a bigger screen like the Fascinate, the Samsung Captivate, Epic 4G, Vibrant, and Mesmerize.
The Continuum with its split screen feels like a device that Samsung made because it could. Will it sell well? I'm not sure. Verizon is marketing it — and slashed the price to the sub-$100 mark — so that will help after Black Friday.
But that's not the point. The point is that while Android's iteration rate is good, the phone makers and carriers are getting carried away by making the same phones, with a few odd differences.
Not every new phone has to be a special, one-of-a-kind build as each iPhone is intended to be. But they should at least be as different as, say, the Motorola Droid X is from the HTC Droid Incredible, or perhaps the difference between the Fascinate and the Samsung Epic 4G, which has a slide-out screen.
Right now, Samsung seems to be making too many of the same phones, and Verizon is enabling the company. There's too much hair splitting going on, and too much choice will lead to failure of several phones. In short, you don't need a Continuum when you have a Fascinate.
Clint Boulton is a writer for our sister publication eWEEK.
---
This article was originally published on LinuxDevices.com and has been donated to the open source community by QuinStreet Inc. Please visit LinuxToday.com for up-to-date news and articles about Linux and open source.