May 25, 2011 — by LinuxDevices Staff — from the LinuxDevices Archive — 8 views
Cray's latest supercomputer will run Cray's modified version of SUSE Linux on AMD's upcoming 16-core "Interlagos" Opteron chip and Nvidia's Tesla 20-Series GPU (graphics processing unit). The XK6 system should deliver up to 50 petaflops of performance when it ships later this year, claims Cray.
Cray is unveiling the latest of its hybrid supercomputers, which will combine the latest chip technologies from Advanced Micro Devices (AMD) and Nvidia with Cray's own Gemini interconnect technology. The result is a system that offers up to 50 petaflops of compute power, according to the company.
Cray officials introduced the XK6 supercomputer May 24 at the company's user group meeting in Fairbanks, Alaska. The system uses AMD's soon-to-be-announced Opteron 6200 "Interlagos" chips — which offer up to 16 cores per chip and a discrete-level graphics technology integrated onto the same piece of silicon with the CPU. The XK6 also integrates Nvidia's Tesla 20-Series GPUs.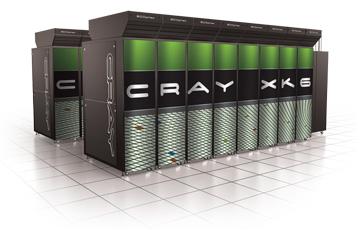 Cray XK6
A unified XK6 programming environment includes AMD's x86-based chips, Nvidia's GPUs, and Cray's Linux Environment, targeting HPC (high-performance computing) environments.
"Cray has a long history of working with accelerators in our vector technologies," stated Barry Bolding, vice president of Cray's product division. "We are leveraging this expertise to create a scalable hybrid supercomputer — and the associated first-generation of a unified x86/GPU programming environment — that will allow the system to more productively meet the scientific challenges of today and tomorrow."


XK6 compute blade (left) with four nodes, each containing AMD and Nvidia technology; at right, an I/O blade
(Click to enlarge)
The accelerator-based XK6 system is the latest step forward in Cray's efforts to meet the needs of HPC environment, added Bolding. "We built the world's first production petaflops system with the Cray XT5 supercomputer, reinvented high performance networking with the Gemini interconnect, and we are now redefining accelerator-based supercomputing with the unified GPU and scalar technologies built into the Cray XK6 system," Bolding said.
Organizations will be able to configure the XK6 in a single cabinet with tens of compute nodes, or set up a multiple-cabinet system with tens of thousands of compute nodes, says Cray. The system should deliver up to 50 petaflops (or 50 quadrillion floating point operations per second) of performance, claims the company.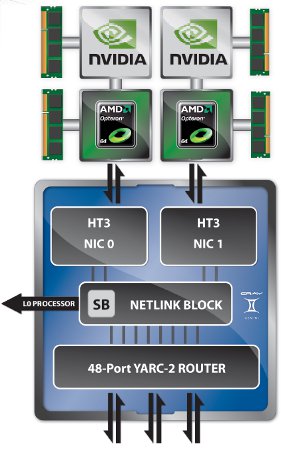 Simplified XK6 blade block diagram
(Click to enlarge)
The XK6 is expected to be available later this year with a unified x86/GPU programming environment. The development environment will include tools, libraries, compilers and third-party software, according to the company.
GPUs to the rescue
HPC organizations are increasingly turning to systems that include GPU technologies as a way of ramping up performance and parallel-processing capabilities while keeping down power and space costs. AMD is rolling out chips under its Fusion banner, in which the graphics, compute and interconnect capabilities are integrated onto the same die. A growing number of systems vendors, including IBM and Appro, are offering hybrid servers to HPC organizations that run both x86 chips and Nvidia's Tesla 20-Series GPUs.
Cray already has a customer for the XK6 system — the Swiss National Supercomputing Center, which is upgrading its Cray XE6m system, nicknamed "Piz Palu," to a multi-cabinet XK6 supercomputer. The center's systems support a wide range of work by the Swiss research community in such areas as weather forecasting, chemistry, physics, genetics, experimental medicine, astronomy, and computer sciences.
According to UC Berkeley's 2010 Top500 survey, Linux runs on 91 percent of the world's 500 fastest supercomputers.
Availability
The Cray XK6 will be available in the second half of 2011, says Cray. More information may be found at Cray's XK6 page.
---
This article was originally published on LinuxDevices.com and has been donated to the open source community by QuinStreet Inc. Please visit LinuxToday.com for up-to-date news and articles about Linux and open source.