Jul 13, 2007 — by LinuxDevices Staff — from the LinuxDevices Archive — views

This is not a hoax. A Silicon Valley company has started shipping an FPGA-based coprocessor designed to plug right into an open "socket 940" location on a standard multiprocessor AMD Opteron motherboard running Linux.
DRC Computer, of Sunnyvale, says its RPU ("reconfigurable processing unit") eliminates bandwidth and latency bottlenecks typically associated with co-processors in super-computing applications. The unit connects an FPGA (field-programmable gate array) directly to the main system HyperTransport processor bus, for claimed processor bandwidth of 3.2Gbps — a big jump compared to PCI, Ethernet, and other common co-processor system interfaces, not to mention a big drop in latency.
Additionally, each RPU can be configured with up to three HT connections, for a claimed aggregate processor bandwidth of 9.6Gbps.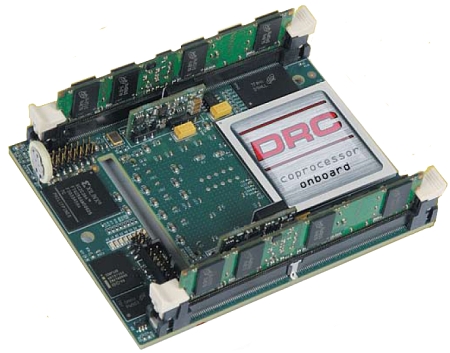 The DRC RPU plugs into an Opteron socket
Depending on the application, FPGAs can execute routines 10-20 times faster than software running on a general-purpose processor. Coupling an FPGA tightly to a general purpose processor and main system memory means that only processor-intensive subroutines have to be synthesized onto the FPGA, DRC said. Other touted benefits include lower power, cooling, and footprint requirements, compared to off-board coprocessors.
In addition to 1-3 HyperTransport logic units, each RPU integrates a pair of DDR2 memory controllers. One tightly couples the RPU to main system memory, while the other interfaces with 1GB or 2GB of DDR2 RAM built right into the RPU itself. With 8GB of system memory, and 2GB of RPU memory, system memory bandwidth can reach 17GB/second, DRC claims.
The initial RPU model, the RPU110, is available with a choice of three FPGAs, including Xilinx's Virtex LX 100, LX 160, or LX 200. The FPGAs clock up to about 400MHz, according to DRC spokesperson Giang Le, and are the largest FPGAs available.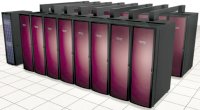 One early RPU advocate is supercomputer vendor Cray, which offers the co-processor as an option on its XT3 line. DRC senior VP Jan Silverman told LinuxDevices that Cray can deliver an XT3 rack with 96 RPUs, together with 48 Opteron processors. He said, "There is definitely interest, in oil and gas, financial, and government organizations that do a lot of secret analysis. In the past, they used one small FPGA machine dedicated to one thing. Now, you can have a general purpose machine that provides FPGA support through a broader set of applications."
Clay Marr, VP of marketing at DRC, stated, "Markets such as financial services, oil and gas, and life sciences are demanding more powerful computing from their standards-compliant systems but also want to conserve energy."
Availability
The RPU110 is shipping in quantity now, priced at $19,000 in quantities of 1-4, according to the company. It is supplied with Linux drivers.
Two-way development systems based on qualified Tyan motherboards start at $20,500, and are optionally available with tools such as Impulse's CoDeveloper FPGA compiler for Xilinx.
---

This article was originally published on LinuxDevices.com and has been donated to the open source community by QuinStreet Inc. Please visit LinuxToday.com for up-to-date news and articles about Linux and open source.