Oct 7, 2009 — by LinuxDevices Staff — from the LinuxDevices Archive — 1 views
IC Nexus announced a Linux-compatible development kit that includes a RISC processor and a choice of touchscreen displays. The "NXC2620 DVK" version 4.0 comes with a SODIMM-sized CPU module, a compact baseboard, and a free BSP (board support package), the company says.
IC Nexus has built its development kit (DVK) around a MIPS32 processor that is apparently of the company's own devising. Compatible with either Linux or Windows CE, the NXC2620 is a 32-bit RISC processor that measures 15 x 15mm, has a 1.8V core and 3.3V I/O, and runs at up to 380MHz, according to the company.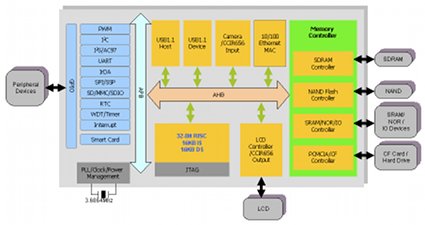 A block diagram of the NXC2620
(Click to enlarge)
The NXP2620 includes an external memory controller, a MMC/SD/SDIO interface, a CompactFlash/IDE controller, a Smart Card interface, a PS/2 interface, and additional facilities indicated by the block diagram above. An integrated LCD controller supports TFT displays with resolutions up to 800 x 600 pixels, according to the company.
To create the complete NXP2620 DVK, IC Nexus puts the NXP2620 onto a SODIMM-sized processor card (approximately 2.6 x 1.8 inches), clocks the processor at 336MHz, and adds 128MB of soldered-on RAM and 1GB of flash memory. The PB260A processor card (block diagram below left) uses the NXP2620's native LCD controller, while the alternative PB260B card (below right) adds a Silicon Motion SM502 GPU (graphics processing unit), boosting potential video resolution to 1280 x 1024 pixels, the company says.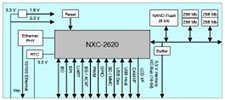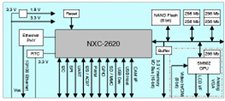 Block diagrams of the PB260A (left) and PB260B (right) processor cards
(Click either to enlarge)
The PB260A or PB260B are then connected to the NXC2620-PB32-BDA baseboard, which measures 6.5 x 4.1 inches and adds a variety of "real-world interfaces." Touting the newly released version 4.0 of the DVK, IC Nexus notes that its processor cards previously featured only 128MB of flash storage, but doesn't say what changes, if any, have been made to the baseboard.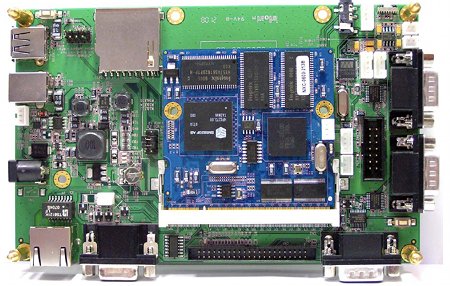 Baseboard for the NXC2620 DVK
(Click to enlarge)
As pictured (above) in the manual for the DVK version 3.2, where it was termed the NXC2620-DVB32-DBA, the baseboard was said to have four serial ports, three with DB9 connectors and one wired to an IrDA header. The board also offered USB 1.1 host and device ports, a USB 2.0 hub that adds up to four more ports via headers, a 3.5mm jack for line audio output, and an SD expansion slot. Additionally included are a digital LCD interface and a VGA port, the latter only usable when the processor card is the PB260B, according to IC Nexus.
Designed for creation of home automation, navigation, or data acquisition devices, the NXC2620 DVK is available with a choice of three different touchscreen displays. A 4.3-inch screen offers a resolution of 480 x 272 pixels, while 5.7-inch and 7-inch versions offer resolutions of 640 x 480 and 800 x 480 pixels, respectively, according to the company.
Features and specifications listed by IC Nexus for the NXC2620 DVK include the following:
Processor — IC Nexus NXC2620 clocked at 336MHz
Memory — 128MB of RAM and 1GB of flash storage
Display:

4.3-inch touchscreen with 480 x 272 pixels
5.7-inch touchscreen with 640 x 480 pixels
7-inch touchscreen with 800 x 480 pixels
Also supports external VGA displays up to 1280 x 1024 pixels (only with PB260B processor module)

Networking — 10/100 Ethernet
Other I/O:

4 x UARTs (3 DB9 connectors, 1 via header for IrDA)
1 x USB 1.1 host
1 x USB 1.1 device
USB 2.0 hub (up to 4 ports, via headers)
Line out via 3.5mm connector
1 x VGA
DC input jack

Power consumption — n/s
Operating temperature — n/s
Dimensions:

Processor card — 2.6 x 1.8 inches
Baseboard — 6.5 x 4.1 inches
Availability
IC Nexus did not cite pricing or availability for the NXC2620 DVK. However, the reseller MicroController Pros lists the DVK for $540 with a 5.7-inch touchscreen display, and $555 including the display and the SM502 GPU upgrade.
For further information, see the IC Nexus website, here, and the MicroController Pros site, here.
---
This article was originally published on LinuxDevices.com and has been donated to the open source community by QuinStreet Inc. Please visit LinuxToday.com for up-to-date news and articles about Linux and open source.