Mar 16, 2006 — by LinuxDevices Staff — from the LinuxDevices Archive — 99 views

Intel has embedded a 2.6 Linux kernel in a compact NAS (network-attached storage) server that aims to bring enterprise storage management features such as hot-swap SATA drives and enclosure management to the entry-level SMB/SOHO market. The SE4000-E stores up to 2TB, and is available now.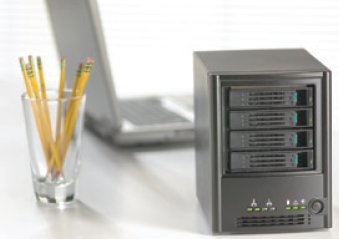 The SS4000-E is a bookshelf-sized NAS server

The market for Linux-based SMB/SOHO storage devices with enterprise features is fairly well-proven by vendors such as Buffalo, whose PowerPC-based
TeraStation
(shown at right) and
LinkStation
have been widely available for about a year. Street prices for a TeraStation with "1TB" (actually four 250GB ATA drives) appear to run about $750.
The SS4000-E costs more — just over $600 with a single 250GB drive installed. However, it does offer several enterprise-like features not found in the TeraServer. It supports faster SATA drives, allows drives to be changed without powering the device down (hot-swapping), and has an enclosure management system aimed at protecting the system from thermal overload, power supply over-voltaging, and backplane short-circuiting.
What'll she do?
The SS4000-E supports up to four 3.5-inch SATA drives, sized from 80GB to 400GB. It also supports external drives attached via USB 2.0. Maximum supported capacity is 2TB, Intel says.
The SS4000-E connects via two gigabit-Ethernet LAN ports, and also offers an internal miniPCI slot, supporting the addition of a wireless radio. Supported network protocols include NFS, FTP, CIFS, and SMB.
Another interesting feature is the ability to boot from the network, when used with a client NIC that supports PXE boot.
The SS4000-E has a browser-based admin interface supporting user- and group-based permissions and quotas, support for linear storage, as well as RAID configurations 10, 5, 1, or 0. An automated backup and recovery utility works with Windows clients.
What's under the hood?
The SS4000-E is based on an Intel IOP80219 processor, clocked at 400MHz or 600MHz. Datasheets suggest the SS4000-E's SBC (single-board computer) also supports Intel's IOP80321 processor.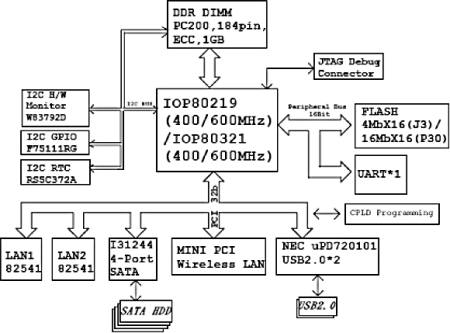 SS4000-E block diagram
(Click to enlarge)
Additionally, the design incorporates a Lattice ispMACH 4064V, a CPLD (complex programmable logic device) programmed to serve as an enclosure management controller that, in conjunction with Winbond W83792AD sensors, regulates fan speed. The two-speed, 42mm fan is bumped to high speed when backplane temperatures eclipse 42 degrees C, returning to low when they reach 37 degrees. At temperatures over 55 degrees, a thermal event log entry is created, and the system shuts down. The CPLD additionally protects against power supply over-voltaging, and short-circuiting.
The SS4000-E boots and runs Linux from 32MB of NOR flash, and has 256MB of RAM, installed in a normal 184-pin DIMM slot supporting a max of 1GB of DDR200 RAM, with ECC. The 4-port hot-swap SATA backplane is run by a SATA controller connected via PCI-X to a SATA host bus adapter.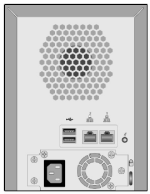 Rear view
(Click to enlarge)
I/O ports include dual gigabit Ethernet, dual USB 2.0, and a miniPCI slot.
The SS4000-E has a 200W power supply. It measures 8.4 x 6.3 x 9.6 inches (214 x 160 x 243 mm), and weighs 7 pounds without drives, or 12 pounds with all drive bays full (3.5 or 5.45 Kgm).
Availability
The SS4000-E is available now, through a variety of Intel resellers.
Other Linux-based NAS appliances for the SMB/SOHO market are available from a variety of vendors — see the "Related Stories" section below.
---

This article was originally published on LinuxDevices.com and has been donated to the open source community by QuinStreet Inc. Please visit LinuxToday.com for up-to-date news and articles about Linux and open source.