May 27, 2004 — by LinuxDevices Staff — from the LinuxDevices Archive — 19 views
Embedded Linux powers the first "emotional lamp," a WiFi-connected device that can be programmed to respond to real-world events by emanating sequences of gentle color. The Violet Dal has been available at prestigious Paris department store Galeries Lafayette since March, and is available direct for 790 Euros (about $937).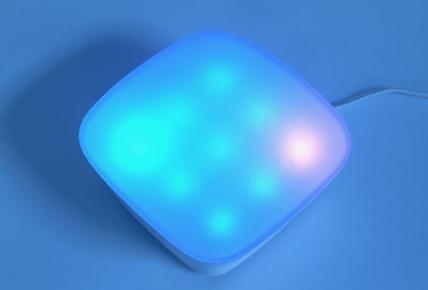 According to Violet Co-founder Olivier Mével, the Dal lamp epitomizes "calm technology" that, unlike a telephone or television, presents information without making intrusive or extensive time demands. Messages and information are diffused subtly into the general ambiance, communicated through "color changes and their rate/rhythm of posting."
Customizable, built-in functions include multi-day weather forecasts, stock market monitoring, traffic conditions on a daily commute route, receipt of a large number of emails or email from an important person, or Web site updates containing specified key words. Additional built-in functions are planned.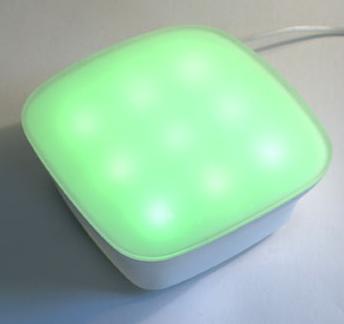 Personalization features enable the creation of "bouquets" of friends authorized to interact with the Dal lamp through email, SMS, a Dal lamp of their own, or a telephone gateway service maintained by Violet. From the Violet Website: "The messages are colored animations that can be created for each type of emotion you want to show. A personal language and grammar can be created between two persons: only they know what the lamp is expressing."
The Violet Web site adds, "Contrary to other medias, Dal is not intrusive and does not monopolize the attention of a person in the room (unless you are waiting desperately for a love message…)."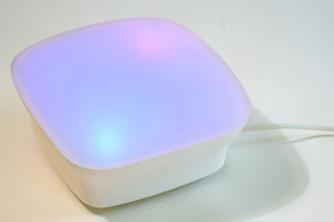 Additionally, the Dal lamp can be programmed to respond to ambient noise in the room, or to display color and rhythm sequences created by digital artists.
The Dal lamp has been exhibited at some of the world's most prestigious museums, including the Centre Pompidou in Paris and The City of Science and Industry in Seoul, Korea. It received the "Star of the Observeur de design, 2004," a design award from the French Agency for the Promotion of Industrial Creations.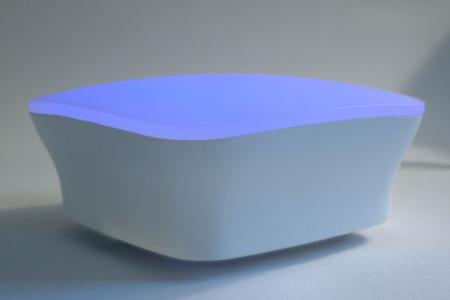 What's under the hood?
The Dal lamp is based on an ICOP single board computer (SBC) powered by a DM&P (SiS) Vortex86 System-on-chip (SoC) clocked at 166MHz. It boots from 32MB of DiskOnModule, and runs in 64MB of RAM. Interfaces include serial, USB, Parallel, and a USB WLAN (wireless LAN) interface.
The Dal's graphical user interface comprises a number of RGB light-emitting diodes (LEDs). A web server and telnet daemon provide auxillary interfaces for administration and customization. "It's very cool to do a telnet to a lamp!" notes Mével.
The Dal lamp runs a 2.4.20 Linux kernel on a custom Debian Linux build, along with custom application software written in C and compiled with gcc-2.95-4. Violet performed the Linux port itself, inhouse, "with the help of a guru," according to Electronic Design Manager Mikael Salaun and Software Development Manager Sylvain Huet.
Violet was able to stabilize the Linux operating system early on, and just three months of development, according to Mével, and then focus on developing the application software. "We had no need of support: we did not change anything (except the application) since August 2003!" said Salaun and Huet.
Why Linux?
Huet and Salaun say they chose Linux because of its royalty free nature, and because "We think it's more customizable and more stable than other alternatives."
The Violet engineers add that device drivers posed the project's biggest challenge. "Challenges were linked to the WLAN card driver. At the beginning of the project, few cheap 802.11b USB adapters were supported. Now it's much better. Another challenge was the driver for the sound chipset."
Salaun and Huet predict a good future for embedded Linux. "We believe Linux will be in a lot of emdedded products. Linux may not succeed as an alternative to Windows, but like with Web servers, people will use [embedded] objects that are powered by Linux without even being aware of it."
"We think also think that Linux should be used — and maybe more covered, or more developed — with very cheap hardware such as microcontrollers," the Violet engineers added.
Huet and Salaun add that the success of their project can be traced not only to embedded Linux, but to simple human virtues. "This project was a very, very complex project, with multiple constraints and different cultures: hardware design, hardware manufacturing, embedded software, Web services (in Java), product design, a new kind of interface …. The success of it lies in the technical expertise, but also in the way people cooperated and were respectful of the constraints of the other."
---

This article was originally published on LinuxDevices.com and has been donated to the open source community by QuinStreet Inc. Please visit LinuxToday.com for up-to-date news and articles about Linux and open source.