Mar 11, 2010 — by Eric Brown — from the LinuxDevices Archive — 1 views
The CE Linux Forum (CELF) has opened registration and announced speakers for its Embedded Linux Conference on Apr. 12-14 in San Francisco. The event will feature keynote speakers Greg Kroah-Hartman and Matt Asay, and offer over 50 sessions on embedded Linux topics including flash file-systems, RT-Preempt, security, Moorestown, and Android.
The sixth annual North American edition of the CELF Embedded Linux Conference (ELC) event is once again being co-located with the Linux Foundation's Collaboration Summit, which is scheduled directly afterward on Apr. 14-16, also at the Hotel Kabuki in San Francisco. As with last year's ELC event, free passes to the invitation-only Summit will be available to all ELC participants.

Keynote speakers for the ELC event are:
Greg Kroah-Hartman (pictured at right) — The noted driver sub-system kernel maintainer, Linux author, kernel developer, and Novell employee will offer a speech entitled, "Android: a Case Study of an Embedded Linux Project." Kroah-Hartman will discuss why it was decided not to merge Android kernel code into the Linux kernel, and what might be done to accomplish this in the future.
Matt Asay — The new Canonical COO, open source strategist, and CNET blogger will offer an address entitled "Embedded in 2010: an End to the Entropy?" Asay will argue that what appears to be growing fragmentation in embedded Linux actually represents a gradual harmonization between the embedded and general PC markets.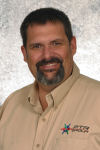 In addition to the keynotes, over 50 sessions, including tutorials and Bird-of-a-Feather sessions will be offered over the three-day event. A few session highlights include:
Strategies for migrating uniprocessor code to multi-core — Mike Anderson (pictured at right), CTO and Chief Scientist, The PTR Group
State of embedded Linux — Tim Bird, Senior Software Engineer for Sony Corp., and Chair of the CELF Architecture Group
Effective use of RT-Preempt — Kevin Dankwardt, K Computing
Understanding threat models for embedded devices — Jake Edge, LWN.net

Experiences in Android porting, lessons learned, tips and tricks — Mark Gross, Intel Corp.
DVFS for the embedded Linux — Yong Bon Koo and Youngbin Seo, ETRI
Case study — Embedded Linux in a digital television STB — Melanie Rhianna Lewis, consultant
Flattened Device Tree ARM support update — Grant Likely, device tree kernel maintainer

Embedded multi-core with Adeos — Dan Malek (pictured at right), founder of Embedded Alley (subsequently acquired by Mentor Graphics)
Wake-ups effect on idle power for Intel's Moorestown MID and smartphone platform — German Monroy, Intel Corp.
Linux without a boot loader? — Greg Ungerer, MMU-less systems kernel maintainer
Ftrace — Embedded Edition — Steven Rostedt, Ftrace kernel maintainer
Further information
Registration for CELF's ELC 2010 event, held Apr. 12-14, at the Hotel Kabuki in San Francisco, is now open. Registrants will receive an early-bird discount through Mar. 20. The registration page may be found here, and a list of sessions should be here. In addition to the sessions, there will be an evening reception at ELC on Wednesday night.
All registrants will receive free registration for the Collaboration Summit, available here.
---
This article was originally published on LinuxDevices.com and has been donated to the open source community by QuinStreet Inc. Please visit LinuxToday.com for up-to-date news and articles about Linux and open source.