Apr 18, 2008 — by LinuxDevices Staff — from the LinuxDevices Archive — 4 views

The maintainer of Linux 2.6 has called for a full-time, architecture-independent "embedded maintainer." Speaking at a CELF's fourth annual Embedded Linux Conference, Morton also told embedded developers how to select a kernel, get support from the kernel community, and decide whether to submit code to mainline.
(Click for uncropped view of Andrew Morton at ELC 2008)
Morton delivered the talk at the fourth annual Embedded Linux Conference in Mountain View this week. In introducing Morton, conference organizer Tim Bird described him as "one of our own," noting that earlier in his career, Morton had worked as an embedded systems engineer for digital set-top box supplier Digeo. Bird directs the Consumer Electronics Linux Forum, which hosts the annual event, attended by about 150 this year.
Much of the talk was substantively the same as Morton's keynote at MontaVista's VisionSummit event in the Silicon Valley last fall. For example, Morton discussed how companies and project teams might wish to go about picking a kernel version, deciding whether to their merge code into mainline, and getting support from the kernel community. The gist of that material should be fairly apparent from Morton's detailed slides, linked at the bottom of the page.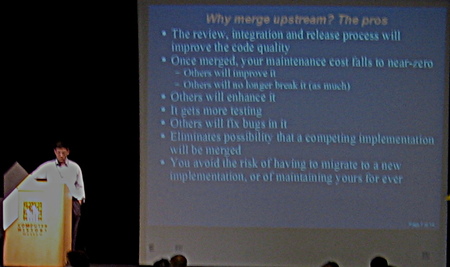 Morton gives the "Pro" side of merging up
(Click to enlarge)
Yet, Morton seemed more eager than he had six months ago to use the forum to call for an "embedded maintainer." The call comes at a time when the number of kernel developers is increasing, along with the number of code lines changed in each release. Not shown on the graph below, yesterday's 2.6.25 release carried a change-log weighing in at 7.5M.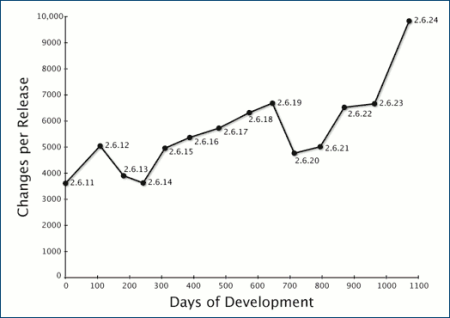 The number of changes per Linux kernel release has grown considerably
[Source: The Linux Foundation]
(Click to enlarge)
Morton said that currently, Linux kernel developers do their best not to break things for embedded Linux users, because, "we think [embedded Linux is] cool." Still, things "can and do break," and a dedicated person might be able to limit the damage, he reckons.
Morton sounded resigned to the economic realities of the embedded market, however. He suggested that software companies in the device market have traditionally not prospered as well as those in more mainstream computing segments, despite the gargantuan economic importance of the embedded and device markets overall. He said that currently, "by far" the bulk of kernel.org work is funded by server companies.
Characterized by Bird as "the adult in the room," Morton has been vocal in the past about the need for Linux to maintain high quality standards. For example, he called for a "bug-fix only" release last year. Morton is among the top five contributors to the kernel by lines of code. Yet, he is also visible in the community, speaking at several Linux conferences every year. His ELC 2008 presentation is available as a downloadable PDF, here.
Embedded developers typically understand that kernel.org Linux is not ready for production deployment in devices, because it has not been tested enough. "Linux is a go-fast technology project," MontaVista Founder Jim Ready likes to say, "Not a finished product."
For that reason, device builders often purchase commercial versions of Linux, or else work hard to test and patch for stability. Most device customers have a high expectation of reliability.
---

This article was originally published on LinuxDevices.com and has been donated to the open source community by QuinStreet Inc. Please visit LinuxToday.com for up-to-date news and articles about Linux and open source.