Apr 20, 2011 — by Eric Brown — from the LinuxDevices Archive — 4 views
Enea announced a major upgrade to its embedded Linux development environment, incorporating Timesys' LinuxLink development software. The newly renamed Enea Linux PlatformBuilder is initially available in a "ELPB-NE" version for NetLogic Microsystems' MIPS-based multicore XLP, XLR, and XLS processors and combines Enea's former Eclipse-based framework with the LinuxLink configuration and build system, says the company.
In early February, Swedish telecom software vendor Enea and Pittsburgh-based Linux tools provider Timesys announced a partnership on embedded Linux solutions for multicore processors. The agreement called for Enea to distribute Timesys' LinuxLink Linux platform worldwide, and for both companies to collaborate on Linux development tools for multicore applications.
At the time, it was unclear whether LinuxLink would replace Enea's homegrown Eclipse-based Enea Linux Project Framework (ELPF), which formed the basis of a Linux configuration and build environment for NetLogic Microsystems' multicore processors announced in September.
Now, Enea has clarified the situation, announcing that LinuxLink and ELPF have been integrated for the Enea Linux PlatformBuilder — NetLogic Microsystems Edition (ELPB-NE) solution. Aside from using ELPF's IDE, however, this appears to be primarily a NetLogic-optimized version of the full LinuxLink offering (see farther below). The package is offered free to customers using NetLogic's eight-core XLP system-on-chip (see diagram below), as well as its lower-end XLR and XLS SoCs, all of which are based on 64-bit MIPS cores.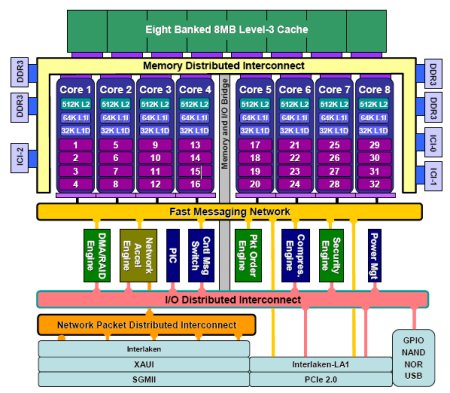 NetLogic Microsystems XLP832 block diagram
(Click to enlarge)
While the announcement mentions only the NetLogic Microsystems Edition (ELPB-NE) version, Enea's Enea Linux PlatformBuilder web-page says that the generic solution supports ARM and PowerPC processors, as well as MIPS. Indeed, those two platforms for the basis of Timesys' customer base, although the company has supported some MIPS processors in the past. Last year, Timesys announced
LinuxLink support
for NetLogic's MIPS32-based, single-core Alchemy Au1250 and Alchemy Au1300 SoCs, but not for NetLogic's multicore SoCs, led by the XLP.
ELPB-NE "takes the developer from jumpstarting their project, into development and through to deployment," says Enea. The company's Eclipse-based framework based on its Optima IDE (integrated development environment) offers a C/C++ development tool and GDB source level debugging tools, whereas the LinuxLink portion is primarily devoted to the configuring and building the embedded Linux root file system. As before, the product integrates a pre-built SDK from NetLogic.
ELPB-NE includes Timesys' new free online-only version of LinuxLink, which can be used for trial builds and configurations, and also offers the mainstream desktop/online versions. Both versions offer collections of Linux sources, gathered and updated from thousands of community sources, and patched and configured for a variety of processors and development kits.
LinuxLink also offers Linux kernels, toolchains, debuggers, and the Web Factory build system, among other features. Presumably, the solution's own TimeStorm Eclipse IDE has been swapped out for Enea's version.
In addition, ELPB-NE is available with an optional, annual subscription with support from Enea's global technical support team. Enea sells a telecom-oriented Enea Accelerator Platform, which is designed for IP-based services built on carrier-grade infrastructure. The soup-to-nuts Accelerator integrates a variety of telecom-oriented software, and is built on MontaVista or Wind River Linux distributions. The major component is Enea's high-availability Element middleware, which is designed for heterogeneous telecom environments that mix Linux with Enea's OSE real-time operating system.
Timesys provides LinuxLink support for other multicore platforms as well, such as Freescale Semiconductor's QorIQ. In April, Enea signed a strategic agreement with Freescale to support its multicore QorIQ and PowerQUICC processors, but that deal only applied to Enea's OSE. Freescale separately hooked up with Mentor Graphics to offer Linux support for the platforms.
Stated Marcus Hjortsberg, vice president of marketing at Enea, "We are pleased to offer this enhanced development toolset for NetLogic Microsystems' industry-leading, multi-core, multi-threaded processors. The addition of Timesys LinuxLink demonstrates the value and scope of the strategic agreement we have recently entered into."
Stated Chris O'Reilly, vice president of marketing at NetLogic Microsystems, "The latest version of the Enea Linux PlatformBuilder — NetLogic Microsystems Edition is truly a full-featured development environment that will enable customers to initiate system development quickly."
Availability
Enea Linux PlatformBuilder — NetLogic Microsystems Edition is now available for free to NetLogic XLP, XLR, and XLS developers. More information may be found on the Enea Linux PlatformBuilder page.
---
This article was originally published on LinuxDevices.com and has been donated to the open source community by QuinStreet Inc. Please visit LinuxToday.com for up-to-date news and articles about Linux and open source.