Mar 17, 2010 — by Eric Brown — from the LinuxDevices Archive — 76 views
Timesys announced that its LinuxLink commercial software development framework for building custom embedded Linux based products now supports the latest networking processor from Wintegra. Now shipping in volume, the dual MIPS 34K core "WinPath 3" IP packet processor is designed for 2G, 3G, and 4G mobile and fixed wireless base stations, says the company.
Timesys says it is now a preferred commercial Linux solutions provider for the WinPath3 network processor from Wintegra, whose previous WinPath2 processor is already supported by LinuxLink. LinuxLink support for WinPath3 will enable engineers to build custom Linux-based products for a variety of applications in the communications market, as well as migrate existing WinPath2-based designs to WinPath3, says Timesys.
Wintegra announced the WinPath3 processor in Feb. 2009, and began sampling in November. Designed for wireless networks migrating to all-IP traffic, the IP packet processors can be deployed as an overlay to existing networks or as part of next generation base station architectures, says the company. The WinPath3 is said to be capable of processing both the radio baseband and network interface protocols, thereby reducing system development costs and power consumption.
The processor is built on a foundation of dual multi-threaded MIPS 34K cores, and supplies up to twelve multi-threaded data path cores, as well as an integrated 20Gbps hardware packet classifier, says Wintegra. The "heterogeneous" design offers five times the peak performance of the WinPath2, and can help reduce power consumption for data path protocol processing by up to 70 percent over conventional multi-core processing solutions, claims the company.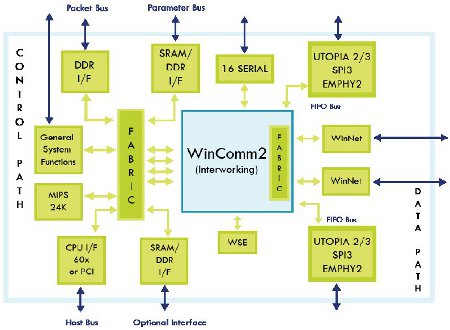 Block diagram for earlier WinPath2 processor, which is still supported by Timesys along with the WinPath3


(Click to enlarge)
The WinPath3 provides hardware acceleration and software support for all GSM, HSPA+, WiMAX, and LTE data path protocols, while also supporting legacy interfaces such as TDM and UTOPIA, says Wintegra. The processor is said to support protocols including the LTE Media Access Control (MAC) layer, Packet Data Convergence Protocol (PDCP), Robust Header Compression (RoHC) GTP tunneling, and Ethernet OAM. Support for security and encryption standards is said to include Snow3G, Kasumi, SHA, AES, and IPSec.
The WinPath3 provides up to 16 gigabit Ethernet interfaces, 72 Fast Ethernet interfaces, PCI Express expansion, and multiple lanes of Serial RapidIO (SRIO) for baseband connectivity, says Wintegra. The still available WinPath2, meanwhile, is built around a single MIPS 24K core clocked to 600MHz, offers four gigabit Ethernet interfaces and 24 fast Ethernet interfaces, and lacks SRIO support (see block diagram above).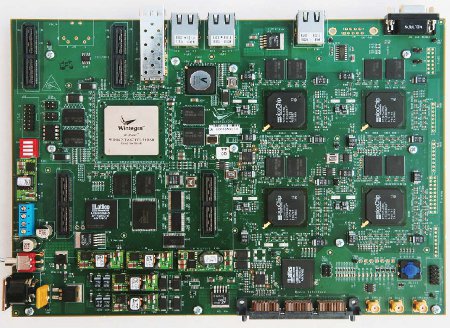 Wintegra WinHPT2 reference board for WiMAX/LTE
(Click to enlarge)
Wintegra offers a WiMAX and LTE reference platform for the WinPath3 developed with PicoChip (which supplies four PC203 PHY processors) called the WinHDP2 (pictured above). Other WinPath-based reference platforms include a Xilinx collaboration called Targeted Design Platform for LTE, as well as a Deep Packet Inspection (DPI) reference platform designed with NetLogic Microsystems, says the company.
LinuxLink for WinPath
Subscribers to the LinuxLink for WinPath development service can choose from the latest GNU-based toolchains enabled with uClibc and glibc libraries, optimized for the MIPS32R2 instruction set, says Timesys. The initial release for WinPath3 is based on the 2.6.29 Linux kernel, which integrates drivers for the reference board peripherals, says the company.
Hundreds of available packages and middleware are said to be available with LinuxLink to help assemble a custom root filesystem. Newer versions of Linux components, including the Linux kernel, toolchain, packages, and middleware, will become available from Wintegra and the open-source community over time, says the company.
As usual, LinuxLink offers the option of choosing either online or desktop-hosted build tools. The online version of the LinuxLink build "Factory" lets customers assemble custom Linux starting points with their selected application APIs, says Timesys. The online option lets users integrate Wintegra and third-party packages, custom applications, and proprietary software. The desktop version of the Factory, meanwhile, offers more flexibility, says the company.
LinuxLink's update service automatically notifies customers of changes to selected components. Also provided are debugging tools within the Eclipse-based TimeStorm IDE, as well as technical support, and documentation. In addition, Timesys provides optional professional services for customers.
Stated Arnon Mordoh, VP of Software Development at Wintegra, "The popularity of Linux on our boards is growing, and our strategic relationship with Timesys assures our customers' success when designing with Linux on WinPath processors."
Stated Maciej Halasz, director of Product Management at Timesys, "LinuxLink is a very effective development environment that simplifies the process of implementing custom Linux based solutions on WinPath processors. Our framework is very flexible, and it has been verified to work with Wintegra's proprietary software components."
Availability
LinuxLink for Wintegra's WinPath3 is available now, says Timesys. For a limited time, developers can obtain free trial access to LinuxLink by registering here. (Developers should enter promotion code PRWNPTH3.)
More information about LinuxLink subscriptions for the Wintegra platform may be found at Timesys, here, and more on WinPath3 should eventually appear on Wintegra's processor page, here, where there is extensive information on WinPath2.
---
This article was originally published on LinuxDevices.com and has been donated to the open source community by QuinStreet Inc. Please visit LinuxToday.com for up-to-date news and articles about Linux and open source.