Jun 9, 2011 — by LinuxDevices Staff — from the LinuxDevices Archive — 1 views
Samsung's Infuse 4G on AT&T is a speedy Android 2.2 "Froyo" smartphone that offers a lot for its $200 price, including a 1.2GHz Hummingbird processor, an eight-megapixel camera, and a big 4.5-inch screen with Super AMOLED Plus display technology. The Infuse 4G's delights make it clear why Samsung is quickly dominating the Android smartphone market, this eWEEK review says.
For the longest time, AT&T was a dog when it came to Android smartphones. Of course, the carrier had bet early on Apple's iPhone, offering it exclusively in the U.S. until it landed on Verizon Wireless' network to scrum with the Droids. I didn't enjoy a Google-flavored phone from AT&T until the Motorola Atrix 4G.
I honestly didn't know what to think about the Samsung Infuse 4G until it showed up at my door a week ago. The smartphone was first tipped in January, and then went on sale May 15 for $200 with a two-year contract.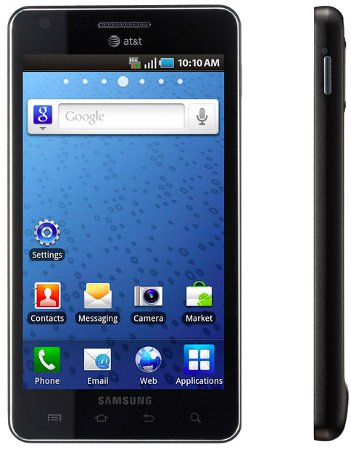 Samsung Infuse 4G
It's been a joy using the slim, "caviar black" device despite the fact that it's running Android 2.2 ("Froyo"), which, though solid, feels dated after using Android 2.3 ("Gingerbread"). Indeed, I thought, how could I judge the Infuse 4G only weeks after using the Gingerbread-powered Samsung Nexus S 4G from Sprint?
The Infuse 4G has several attributes that differentiate it from its Samsung Android brethren. Start with the lush, 4.5-inch Super AMOLED Plus screen, which offers 800 x 480 resolution and boasts 50 percent more subpixels over Super AMOLED phones. The display offers great clarity whether you're in daylight or darkness.
I like the idea of the 4.5-inch screen. To my mind, a larger phone is more comfortable. There's something soothing about a device that covers more real estate from ear to mouth. On the other hand, it does make the Infuse 4G feel wide in my average-size hand. Any more screen size and I think a phone ventures into tablet territory, where the Kyocera Echo hovers.
Unlike most Samsung Galaxy S smartphones, which feel slick, the back of this thin handheld is coarsely granulated for a nice, easy grip. The device is also among the slimmest Android smartphones you'll find to date, measuring only 0.35 inches thick, 5.2 inches long, and 2.8 inches wide. At 4.9 ounces, the device is light compared with some of the larger-screen phones such as the HTC ThunderBolt 4G, which weighs more than six ounces.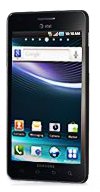 The 1.2GHz Samsung Hummingbird processor provides noticeable performance boosts over standard 1GHz Android handsets, proving especially useful for YouTube videos, games, and movies offered via the Samsung Media Hub. The phone is equipped with a generous 18GB of internal memory, with a 2GB microSD card, expandable to 32GB.
The larger screen real estate makes Froyo's dialer and virtual keyboard keys feel big and inviting — just the kind of device you won't mind typing on. The Infuse 4G's claim to fame is that it comes preloaded with a special edition of Rovio Mobile's Angry Birds. Players can unlock a special "Golden Egg" level of the game, and once the special level is completed, users can register to win Samsung prizes exclusive to Infuse 4G users.
There is a lot of AT&T bloatware, such as AT&T Navigator, AT&T FamilyMap, and AT&T Code Scanner, but you can ignore these apps or jettison them from the phone. AT&T and Samsung also offer the Samsung Hub application, which employs progressive downloading to let users watch movie content almost immediately while the rest of the file downloads to the device. This service is well-played.
The Infuse 4G's rear-facing camera (pictured below) is a nice eight-megapixel model that shoots 720p video when toggled for that task. A 1.3-megapixel front-facing camera enables unspectacular video chat.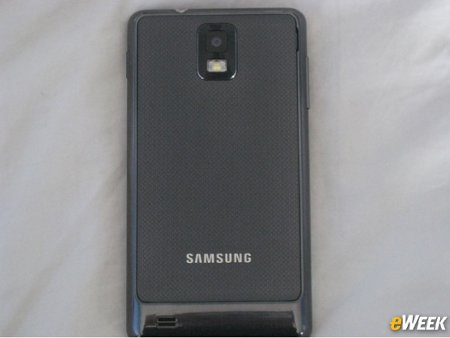 Rear view of Infuse 4G, showing eight-megapixel camera and easy to grip backing
AT&T offers fine coverage in Fairfield County, Conn., and calls were clear on the Infuse 4G. Drops came in normal places like bridge tunnels. Battery life on this device, always a concern with a larger screen designed for media consumption and especially 4G, is surprisingly great thanks to the 1750mAh lithium ion battery.
Overall, I enjoyed using this speedy device, which should only get faster when AT&T moves beyond its current HSPA+, boosted with enhanced backhaul, to real LTE-based 4G. I can recommend the Infuse 4G knowing that at some point it is destined to get the Gingerbread bump.
In 2010, I felt Motorola made the best Android smartphones. After testing Verizon's Samsung Droid Charge and the Infuse 4G this year, I'm starting to sing a different tune. The Infuse 4G has me looking forward to the Samsung Galaxy S II handset this summer.
An eWEEK slide show on the Infuse 4G may be found here.
Plenty of competition in a growing market
According to Samsung, that Galaxy S II has already sold more than a million units in Korea alone in its first month. It's expected to hit the U.S. this summer, apparently under a variety of silly names such as the Verizon Function, the AT&T Attain, and the Sprint Within.
Even these monikers may not be enough to stop the recent Galaxy onslaught. Motorola is fighting back, however, with the Droid X2, which went on sale at Verizon May 26. Unfortunately, it did not fare too well in a recent eWEEK review.
Motorola may have more luck with its delayed, but soon to be revamped Droid Bionic 4G. Meanwhile, a video surfaced this week on the web showing an upcoming Motorola Droid 3.
The original Android handset vendor HTC, meanwhile, continues to roll out impressive phones, such as the dual-core, 1.2GHz Snapdragon-based HTC Sensation 4G, which is going on sale June 15 on T-Mobile. Sprint, meanwhile, will ship HTC's Evo 3D 4G on June 24.
Despite Google's ongoing legal problems with Android, including Oracle demanding 50 percent of Google's Android royalties, there appears to be enough Android demand to satisfy a boatload of handset vendors. Last week, ComScore released its April U.S. smartphone study, which estimated that Android edged up to 36.4 percent market share in April, while Apple iOS rose slightly to 26 percent. RIM Blackberry slid to 25.7 percent, however, while Microsoft Windows Mobile slipped to 6.7 percent, says ComScore.
Clint Boulton reviewed the Infuse 4G for eWEEK, and LinuxDevices editor Eric Brown added competitive analysis.
---
This article was originally published on LinuxDevices.com and has been donated to the open source community by QuinStreet Inc. Please visit LinuxToday.com for up-to-date news and articles about Linux and open source.