Mar 14, 2011 — by Eric Brown — from the LinuxDevices Archive — 4 views
The World Wide Web Consortium (W3C) has introduced a compression standard for XML designed to bring the web data exchange standard to more smartphones and other mobile and embedded devices. Efficient XML Interchange (EXI) Format 1.0 improves the performance and power consumption of XML-enabled apps on device and device networks, says the consortium.
The W3C has been working for years on various schemes for making XML more compact, and therefore more suitable for power and performance constrained mobile and embedded devices. With the release of the W3C Efficient XML Interchange (EXI) Format 1.0 Recommendation, it has finally settled on one.
Developed by AgileDelta, EXI is a very compact representation of structured XML information, thereby improving the performance, network efficiency, and power consumption of applications that use XML, says the W3C. The MIT-based web standards organization says it has reviewed the use of EXI over "a broad set of use cases," and found it performs well.
W3C's testing shows that EXI performs consistently better than previous XML formats, or when using other data compression or packed binary data formats, claims the standards group.
EXI is built on "a widely adopted, standard compression algorithm," says the W3C, but is optimized for XML data. EXI compression splits a sequence of EXI events into contiguous blocks of events, says the group.
Events that belong to the same event block are transformed into lower entropy groups of similar values called channels, which are said to be "individually well suited" for standard compression algorithms. To reduce overhead, smaller channels are combined before compressing them, while larger channels are compressed independently (see diagram below).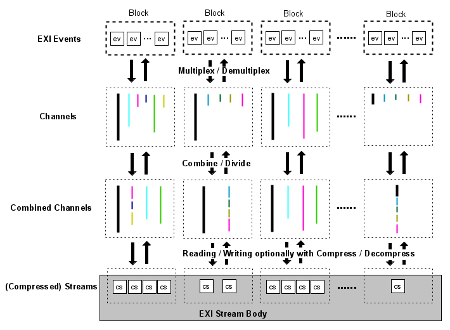 EXI compression in action


(Click to enlarge)
Suitable EXI targets include smartphones, cameras, and other devices with memory or bandwidth constraints, says the W3C. EXI is also said to support performance-sensitive applications such as sensor networks, automobiles, defense applications, and real-time trading systems, says the consortium.
EXI is already being adopted in "smart energy" standards to support rapid communication across networks of smart meters, smart appliances, and electric vehicles, says the W3C. In addition to reducing power draw on XML applications running on smartphones, EXI can be also be used from JavaScript in desktop web browsers for a "faster user experience," says the standards group.
Canon, Fujitsu, and Siemens vow support
The W3C has posted testimonials from a number of technology companies and wireless carriers vowing support for the standard. The principal hardware manufacturers among them include Canon, Fujitsu, Intel, Nokia, and Siemens (see list farther below).
Canon aims to use EXI to "provide compelling web services on consumer devices like printers and digital cameras," according to the company. "The use of XML on resource-constrained devices has always been an issue due to its processing overhead," stated Shigeki Shibayama, deputy group executive of Digital Platform Technology Development at Canon.
Siemens has contributed to the EXI standardization process, and says it has launched its own "open EXIficient implementation" of the standard. "We believe that the Efficient XML Interchange format will open the scope of XML to restricted domains such as embedded networks of micro controllers," stated Jorg Heuer, Siemens program manager.
"[EXI] brings the key attributes of XML such as openness, flexibility and continuity to the embedded domain," continued Heuer. "By means of EXI, embedded controller networks will become a new citizen of the Web."
Fujitsu, meanwhile, supports EXI 1.0 with its OpenEXI project, another open source implementation developed in conjunction with NPS (Naval Postgraduate School) and OptimaLogic.
A number of scientific research institutions have announced support for EXI, as well. Stanford University, for example, will use it in its physics projects in lab instruments that deal in structured data.
EXI's seven-year journey to standardization
According to John Schneider, CTO of AgileDelta and editor of the EXI specification, his company has provided versions of EXI to its customers for seven years now. EXI has enabled AgileDelta's customers to achieve "over 100-fold performance improvements" and expand their data networks to include high speed aircraft, automobiles, mobile devices, and sensor networks, claims the company.
In addition, AgileDelta's customers have used EXI to "achieve dramatic cost savings by using open Web standards and off-the-shelf products in place of the custom protocols, gateways and applications previously required by these applications," stated Schneider.
The company's XML 4.0 compliant product line includes secure EXI processors and rapid EXI integration solutions, stated Schneider. AgileDelta's EXI solutions are said to support web services, mobile devices, embedded systems, and applications running Java, Java ME, .NET, .NET CF [Compact Framework] and C/C++.
The W3C noted that the following organizations assisted in the EXI standardization process: Adobe, AgileDelta, BEA, Boeing, Canon, Chevron, DataPower, Expway, France Telecom, Fujitsu, High Performance Technologies, IBM, Intel, KDDI, MITRE, Objective Systems, Oracle, OSS Nokalva, Nokia, Siemens, Stanford University, Tarari, University of Helsinki, and the Web3D Consortium.
Availability
More information on EXI Format 1.0 may be found in the W3C's announcement, as well as at the W3C's EXI page.
More information on AgileDelta's technology may be found on its web-site.
---
This article was originally published on LinuxDevices.com and has been donated to the open source community by QuinStreet Inc. Please visit LinuxToday.com for up-to-date news and articles about Linux and open source.