Oct 8, 2010 — by Eric Brown — from the LinuxDevices Archive — 1 views
Mozilla announced a beta release of the Firefox 4 for Mobile ("Fennec") web browser, initially supporting Android and Maemo Linux (Nokia N900). The Firefox 4 Beta for Mobile aims to increase performance, adding a new "Layers" technology claimed to streamline scrolling, zooming and animations, but an early review says it still needs to get faster.
Firefox for Mobile arrived in an alpha version in late August, following a number of earlier releases for Maemo, Android, or both platforms (see farther below). In addition to supporting Android 2.0 and later builds, the beta release supports the Maemo Linux mobile OS running on the Nokia N900 smartphone.
The alpha version showcased an "Electrolysis" feature said to allow the browser interface to run in a separate process from the one rendering Web content. The beta release debuts the Layers technology, claimed to boost overall performance while also improving responsiveness in scrolling, zooming, and animations, says the Mozilla project. According to one quickie review, however, results are mixed (see farther below.)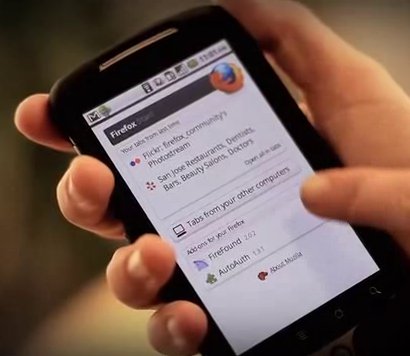 Firefox 4 Beta for Mobile on Android
The feature that should set Firefox 4 apart from other browsers available for Android, such as the native WebKit browser or
Opera Mini 5
, is Firefox Sync, an encryption-enabled feature borrowed from the desktop version of Firefox. Firefox Sync lets users securely share browsing history, bookmarks, tabs, passwords, and form-fill data between desktop and mobile browsers, says Mozilla.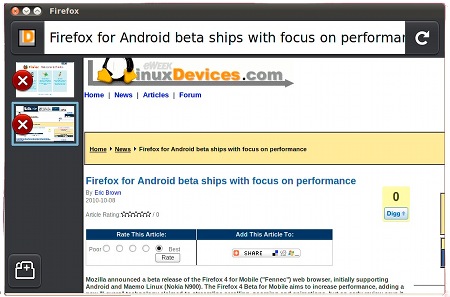 Firefox 4 for Mobile running on a Ubuntu desktop
(Click to enlarge)
Also adapted from the desktop Firefox 4 is support for Add-ons, as well as the Awesome Screen. The latter is said to provide fast access to recent history, bookmarks, and tabs. Firefox 4 Beta also fully enables pinch-to-zoom multitouch support, says the project
Fennec Beta impresses, but is still too slow, says reviewer
According to a CNET blog posting by Stephen Shankland, the new Firefox for Mobile beta release worked just fine on a Google Nexus One phone. Shankland was "impressed overall," especially compared to his experiences with the earlier releases, which he had found to be slow and unstable.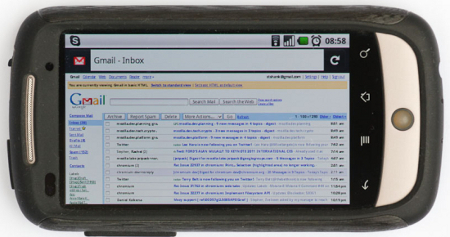 Firefox 4 Beta on Android-based Google Nexus One


Source: CNET
The review lauds Firefox 4 Beta for its advanced desktop-like features, including Canvas and Scalable Vector Graphics (SVG) for 2D graphics. Other nice carry-overs are said to include "web workers" for background processing, and HTML5's built-in audio and video support. Shankland also likes its Add-ons support, as well as the new JaegerMonkey JavaScript engine.
According to Shankland, Firefox Sync is a welcome time-saver that further differentiates the browser, and its window management is superior to other Android browsers he's tested. He also lauds the welcome screen, which "shows a nicely formatted list of recently visited windows."
While the Beta version is faster than earlier releases, and the touted scrolling and panning improvements are real enough, the browser is still too slow, says Shankland. No benchmarks were supplied, but the browser "just wasn't peppy," writes Shankland.
He also criticized the release for its poor use of fonts, as well as a flawed text zoom feature, which Mozilla is said to be working on. Another problem that Mozilla claims to be addressing is Fennec's over 30MB footprint.
Shankland notes that unlike most Android apps, Firefox is native software that runs on the underlying Linux operating system rather than Android's higher-level Java-like foundation. This makes compatibility "iffy," he writes. Currently, tested devices include the Nokia N900, as well as four Android phones: the HTC Desire, HTC Evo 4G, and HTC/Google Nexus One, as well as the Motorola Droid 2.
Shankland did encounter a few crashes on the Nexus One, but nothing apparently that was deemed out of the ordinary for a beta release.
Background

Mozilla announced its fifth beta for the Linux version of the "Fennec" mobile web browser in April 2009. In early January of this year, the open source group released the final release candidate for the Maemo Linux version, which was made available in final form at the end of January. A pre-alpha for Android arrived in April, followed by an alpha version for both platforms in late August.
Availability
Firefox 4 Beta for mobile is available for free download for Android 2.0 and later, as well as for the Nokia N900 running Maemo. Versions are also available that allow testing on Linux, Macintosh, or Windows desktops, though Mozilla warns that these are not quite feature-complete.
The Mozilla announcement, including a video demo, may be found here, and the release notes, with links to downloads, may be found here.
The CNET review should be here.
---
This article was originally published on LinuxDevices.com and has been donated to the open source community by QuinStreet Inc. Please visit LinuxToday.com for up-to-date news and articles about Linux and open source.