Mar 3, 2010 — by Eric Brown — from the LinuxDevices Archive — views
The LiMo (Linux Mobile) Foundation has endorsed a new Wholesale Applications Community (WAC) industry group established by mobile carriers to devise a common app format. The WAC format will build upon two web-based mobile widget standards: the Open Mobile Terminal Project's BONDI and the Joint Innovation Lab's JIL initiative.
Somewhat lost in the news overload at Barcelona's Mobile World Congress, the Wholesale Applications Community announced its formation on Feb. 15. The WAC was established by 24 telecom operators, including AT&T, China Mobile, Orange, Verizon, and Sprint, with access to over three billion customers. In addition, the organization launched with support from the GSMA organization, as well as LG Electronics, Samsung, and Sony Ericsson.
The group's goal is to "build an open platform that delivers applications to all mobile phone users." Within a year, the WAC hopes to develop a common application development standard that will enable applications that port across mobile device platforms, and in the future between fixed and mobile devices. A further goal is to offer mobile app developers a single point of access to a large number of operator storefronts.
The group plans to build its standard upon BONDI, a technology standard developed by another industry group backed by major mobile operators, called the Open Mobile Terminal Project (OMTP). Incorporated last year into the LiMo Foundation's LiMo Platform R2, BONDI standardizes a set of device interfaces for web applications and widgets, enabling developers to employ common web authoring tools to create rich-media apps and widgets. BONDI includes APIs that widgets can use to perform actions such as interface with peripherals, launch applications, and invoke messaging calls.
The WAC standard will also incorporate technology developed by the Joint Innovation Lab (JIL) industry group established in 2008 by Vodafone, China Mobile, and Softbank Mobile, and which was later joined by Verizon Wireless. JIL's first project is to develop a widget ecosystem that will provide developers with access to the combined customer base of the four JIL operators.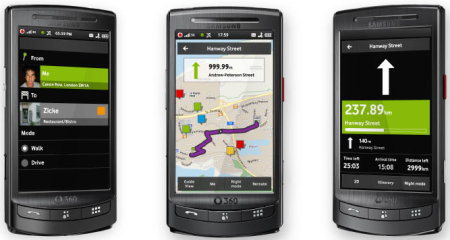 Vodafone 360 H1
On Feb 15, JIL announced support for the WAC, and said it would open its widget API specification to other wireless service providers and contribute them to the World Wide Web Consortium (W3C). JIL is initially supported on the LiMo-compatible, Samsung-manufactured
Vodafone 360 H1
smartphone (pictured above).
This week, LiMo executive director Morgan Gillis announced support for the Wholesale Applications Community in an open letter to the WAC offering its full support, committed participation, and "immediate practical assistance" in the group's efforts. More specifically, he volunteered support in the following areas: structuring dialogue among the signatories to the initial Memorandum of Understanding; engaging interested vendors; defining the governance model and articles of association; establishing legal entities in multiple jurisdictions as appropriate; preparing the Wholesale Applications Community roadmap; and organizing operationally to "engage the industry and deliver early practical outcomes."
Gillis notes that the LiMo Foundation has produced standardized white-label SDKs for the LiMo Platform in both native and BONDI-compliant forms, and has implemented an OMTP BONDI-compliant web runtime within LiMo. Additionally, he notes that a number of LiMo's key stakeholders are performing substantial leadership roles within the JIL initiative.

The LiMo Foundation has developed a still evolving open source middleware specification for mobile phones that has been progressing steadily (although perhaps too slowly to make a major dent in the Android invasion). The group recently announced a major coup, however, by getting Adobe to join the foundation, with a promise to develop a LiMo-optimized Flash implementation. In addition, Israeli-based Else Ltd.'s upcoming LiMo-based smartphone, the First Else (pictured), continued to win rave reviews in Barcelona.
At Mobile World Congress, LiMo's Gillis responded somewhat positively to a reporter's suggestion that LiMo might join forces with the Intel/Nokia MeeGo project, which combines Moblin and Maemo Linux. Yet, he also suggested that differences in governance might prove to be an obstacle. In his WAC letter, by contrast, Gillis notes the two organizations' "highly complementary areas of focus," and "shared belief in true openness and common industry vision."
In a statement supplied by the WAC at its announcement, IDC analyst Jonathan Arber wrote, "Attracting and retaining developers is vital for any application store offering to succeed. However, mobile application developers currently face a high level of fragmentation in the industry, in terms of both technology platforms and individual operators' working practices." Arber went on to note that the WAC will help to solve these problems by providing "a simple, single point of access to a large number of operator storefronts."
The WAC gets whacked
The WAC received a less encouraging welcome, however, from TechCrunch's Jason Kincaid who wrote on the same day the organization was announced that the effort was "a pipe dream from carriers looking to loosen Apple's stranglehold over mobile applications and there's very little chance that it's going to work."
Kincaid noted that fragmentation is a big enough problem on single platforms such as Android — to try to get all the mobile OSes to support a common app format that works well across an expanding universe of phones, would be difficult, he added. In addition, wrote Kincaid, if the WAC format were to gain traction, it would likely take longer for apps to be released, and apps would likely need to "sacrifice some horsepower" to fit a lowest common denominator profile. In conclusion, he noted that HTML5 itself will go a long way to helping mobile app developers address multiple platforms without requiring additional standardization.
WAC members are said to include America Movil, AT&T, Bharti Airtel, China Mobile, China Unicom, Deutsche Telekom, KT, Mobilkom Austria Group, MTN Group, NTT DoCoMo, Orange, Orascom Telecom, Softbank Mobile, Telecom Italia, Telefonica, Telenor Group, TeliaSonera, SingTel, SK Telecom, Sprint, Verizon Wireless, VimpelCom, Vodafone, and Wind.
Availability
The Wholesale Applications Community site may be found here. The LiMo Foundation's letter of support for the WAC may be found here.
The TechCrunch critique of the WAC effort should be here.
A story on the original WAC announcement in our sister publication eWEEK may be found here.
---
This article was originally published on LinuxDevices.com and has been donated to the open source community by QuinStreet Inc. Please visit LinuxToday.com for up-to-date news and articles about Linux and open source.