Oct 7, 2010 — by LinuxDevices Staff — from the LinuxDevices Archive — 4 views
Axiomtek announced a fanless embedded computer that uses Intel's Atom Z5xx CPUs and operates over a wide range of DC inputs. The eBOX531-820-FL employs hard disk or CompactFlash storage, includes two serial ports and four USB 2.0 ports, and uses less than 10 Watts, the company says.
If we said that Taiwan-based Axiomtek announces a new embedded device daily, it would only be a slight exaggeration. The "new" in these products is relative, however, since the company typically remixes existing ingredients in a manner befitting a bartender, chef, or sound engineer.
The company's long-running series of "eBOX" embedded PCs, for example, typically combine a previously released motherboard with a heat sink-equipped case. Today's offering, the eBOX531-820-FL (below), is no exception.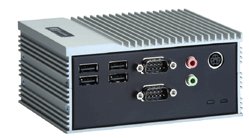 Axiomtek's eBOX531-820-FL
Our understanding of Axiomtek's numbering system, plus the eBOX531-820-FL's technical specifications, leaves us in no doubt that the device is based on a pico-ITX format motherboard, Axiomtek's PICO820. When it was first released in September 2008, the PICO820 — about which we provide further details later in this story — was claimed to be the world's first pico-ITX SBC (single board computer) packing an Atom CPU.
Axiomtek has released at least two previous mini-PCs using this board, the eBOX510-820-FL of July 2009 and the eBOX511-820-FL from July of this year. The new — there's that word again — eBOX531-820-FL has the same 5.19 x 3.75-inch footprint of these devices, but it's taller, at 2.34 inches.
The carry-over main board provided no opportunity for a CPU switch, so the eBOX531-820-FL again uses Intel's 1.1GHz Atom Z510 or 1.6GHz Atom Z530 CPUs. Measuring just 14 x 13mm, with two-Watt TDPs, the processors are, as ever, paired with the chipmaker's comparatively huge SCH US15W northbridge/southbridge.
According to Axiomtek, the eBOX531-820-FL accepts up to 2GB of memory via a single SODIMM slot, and has both a CompactFlash slot and a 2.5-inch drive bay for mass storage. The front of the device, as pictured earlier in this story, has four USB ports, two serial port, audio jacks (mic in and line out), and a PS/2 connector for a keyboard and/or mouse. The rear, as shown below, has a power switch, a VGA output, and a gigabit Ethernet port.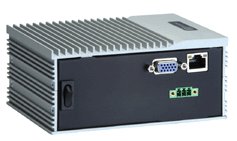 The back of Axiomtek's eBOX531-820-FL
Power terminals, also on the rear panel, accept DC inputs that can range from 10V to 30V. This makes the device suitable for in-flight infotainment, car use, medical care, and "other power-sensitive embedded applications," Axiomtek says.
Power consumption is always under 10 Watts, according to the company. Meanwhile, it's said, operating range can be from 32 to 113. deg. F.
Features and specifications listed by Axiomtek for the eBOX531-820-FL include:
Processor — Intel Atom Z510 (1.1GHz) or Z530 (1.6GHz)
Chipset — SCH US15W
Memory — Up to 2GB of DDR2 RAM, via single SODIMM slot
Storage — CompactFlash slot and bay for 2.5-inch SATA hard disk drive
Networking — 1 x gigabit Ethernet
Other I/O:

1 x VGA port
2 x RS232 (COM 1 and 2)
4 x USB
PS/2 (keyboard/mouse)
power input connector (10VDC to 30VDC)
audio (line out/mic in)

Operating temperature — 32 to 113 deg. F (0 to 45 deg. C)
Dimensions — 5.19 x 3.75 x 2.34 inches (132 x 95.4 x 59.5mm)
Weight — 1.67 pounds (0.76 kg)
Axiomtek's PICO820
As noted, Axiomtek's PICO820 was claimed to be the first pico-ITX SBC with an Atom processor when it was released. Prior to that, all pico-ITX boards had featured Via CPUs — not too surprising since Via originated the form factor. However, Via transferred ownership of the spec to the Small Form Factor SIG (special interest group), which now maintains it as an open, vendor-neutral standard.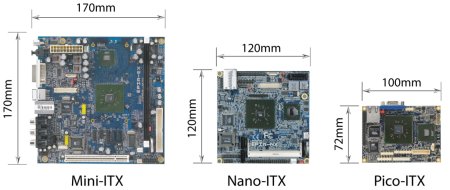 Via's incredible shrinking motherboard
(Click for details)
Measuring 3.9 x 2.8 inches (10 x 7.2cm), pico-ITX — which first broke cover at the beginning of January 2007 — has approximately half the surface area of Via's already small 4.7 x 4.7-inch (12 x 12cm)
Nano-ITX
standard, and is considerably smaller than the original 6.7-inch square (17 x 17cm)
mini-ITX standard
.
As the photo below shows, the PICO820 squeezes in a RJ45 connector for gigabit Ethernet, a 5VDC power input, and a SATA port. Additional interfaces, supplied via pin headers, include four USB ports, SDIO, PS/2 style keyboard/mouse, audio I/O, and two serial ports.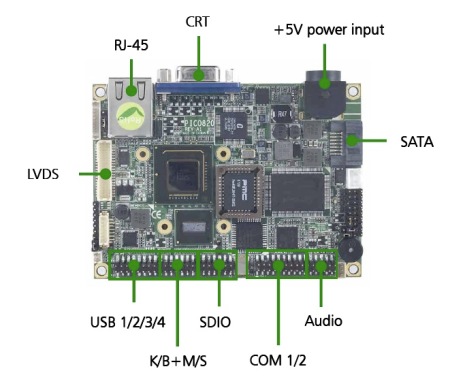 Axiomtek's PICO820 has real-world RJ45, VGA, and SATA connectors
The PICO820 includes both an actual VGA connector, for CRT displays, and a pin header for LVDS-interfaced LCDs. The reverse of the board, shown below, provides room for memory in the form of a single 200-pin SODIMM socket and a Type II CompactFlash slot.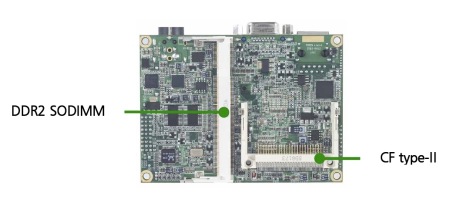 The reverse of the PICO820 has SO-DIMM and CompactFlash connectors
Further information
Axiomtek did not release pricing, but said the RoHS-compliant eBOX530-820-FL is available now, with support for Linux, Windows XP Embedded, and Windows CE. More information on the eBOX531-820-FL may be found on the Axiomtek website, here.
---
This article was originally published on LinuxDevices.com and has been donated to the open source community by QuinStreet Inc. Please visit LinuxToday.com for up-to-date news and articles about Linux and open source.