Nov 30, 2010 — by Eric Brown — from the LinuxDevices Archive — 85 views
Splashtop Inc. (formerly DeviceVM) released the first downloadable version of its Linux-based Splashtop instant-on companion operating system for Windows, and also signed a deal with Microsoft to make Bing the default search engine on all Splashtop products. Based on the Google Chromium browser, Splashtop OS (beta) is billed as a lightweight, web-centric OS optimized for notebooks and netbooks.
Like the existing Splashtop (see farther below), Splashtop OS is based on Linux and is designed as a fast-boot companion install for Windows, promising five-second access to the web. Yet whereas Splashtop is pre-installed in OEM arrangements, Splashtop OS is available for free download by consumers.
This new stripped-down version offers web access only, however. As with Google's Chrome OS, there are no native applications such as the traditional Splashtop's photo viewer, Skype, and other apps.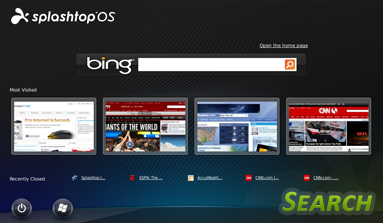 Splashtop OS with integrated Bing search
Furthering the Chrome OS comparison, Splashtop calls its version a "browser-centric OS." In addition, Splashtop OS has switched from Firefox to a browser based on Chromium, the open source project behind the Google Chrome browser found in Chrome OS.
For search, however, Splashtop OS skips over Google for Microsoft's Bing, booting "directly to a Bing-powered search box in just seconds," says the company. Splashtop also puts in a plug for Microsoft by saying, "In contrast to Google's Chrome OS, Splashtop OS is intended to complement — not replace — Windows as the primary desktop operating system."
Splashtop OS features a locked-down Linux core running a Chromium-based browser called Convenient, says the company. It pre-installs all core plug-ins, including Adobe Flash, and automatically imports settings such as region, language, time/date, Wi-Fi networks, and browser bookmarks from Windows. Bing pops up first before the browser fully loads, offering near instant searches, says the company.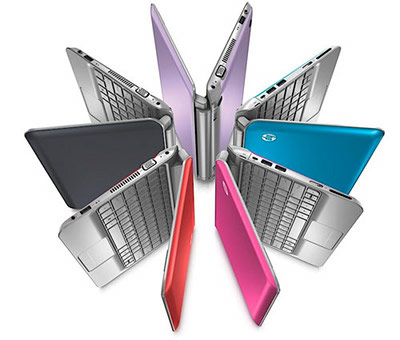 HP's Splashtop- and Splashtop OS-ready Mini 210
The beta version is currently optimized for only a limited number of HP netbooks and notebooks. Supported netbooks include the HP Mini 110, Compaq Mini CQ10, and HP
Mini 210
(pictured above). HP Pavilion notebook models include the Pavilion dm4, dv4, dv5, dv6, and dv7, says the company.
Splashtop OS will also run on other devices that already offer the traditional Splashtop, and will be officially supported in the coming weeks, says the company. Additional platforms that have not previously bundled Splasthop will be announced in the coming months.
Splashtop background
The Linux-based Splashtop quick-boot distribution is claimed to be the industry leader, available on more than 40 million PCs from vendors including Acer, Asus, Dell, HP, Lenovo, LG, and Sony. Asus offers the technology under its "Express Gate" brand as an alternative fast-boot install on many of its Windows-based systems, such as its recent Eee PC 1215N notebook. HP, meanwhile, sells it as "QuickWeb" on computers such as its recently revamped Mini 210.
In September, Splashtop, Inc., which was still called DeviceVM at the time, announced a preview MeeGo version of Splashtop.
The traditional Splashtop stores a lightweight Linux environment in flash ROM, enabling PC users to instantly and securely browse the web without booting Windows, says DeviceVM. It is said to boot up a prompt within seconds, letting users either continue booting Windows or instead load a stripped-down Linux environment. The latter features the Firefox web browser, Adobe Flash, Skype, a photo viewer, and some other apps.
A Chrome OS with Windows?
Assuming Splashtop OS can be brought quickly up to speed for use on the majority of netbooks and notebooks on the market, Splashtop OS could emerge as a competitor to Chrome OS. By comparison, Chrome OS will start out, at least, as a strictly OEM OS, and is expected to launch with only a handful of netbooks.
Splashtop OS should appeal to users who want quick access to the Internet, but who also want access to native applications, and either want or don't mind Windows.
If Microsoft chooses to push the technology as a way to promote Bing, the downloadable Splashtop could reach a far greater audience. Ironically, this would also mean Microsoft would be promoting Linux — albeit a limited version of it — throughout the Windows market.
For many potential Chrome OS users, of course, the Microsoft/Bing connection will be a major turnoff. Meanwhile, despite its web-centric, browser focus, Chrome OS will likely offer a far more robust, full-fledged OS environment with related cloud services. It will also provide an open source development platform for developing web-centric Chrome OS optimized apps. Splashtop OS, meanwhile, is literally just a browser.
Chrome OS in flux
With the tablet revolution starting to impact the spread of netbooks, Chrome OS appears to be in flux, if not in serious trouble. Earlier this month, Google CEO Eric Schmidt revealed that the first notebooks to run the company's still-in-beta Chrome OS have been delayed for the next several months.
A New York Times story that ran last week, however, says that Google will indeed unveil Google-branded prototype netbook running Chrome OS by the end of the year.
The Times story, which interviewed Linus Upson, Google's vice president for engineering in charge of Chrome OS, also further muddied the waters by suggesting the platform could overlap with Android.
Google has previously been careful to state that Chrome OS is for netbooks, with a possible future role on some notebooks and desktops, and the search giant made it clear that tablets and other handhelds belonged to Android. This was later amended to point to a future version of Android optimized for tablets, widely speculated to be Android 3.0 "Honeycomb."
Upson, however, told the Times that Chrome OS would expand to handheld devices, tablets, and TVs. "We are starting with laptops and we will expand in both directions," he was quoted as saying.
Thirty-second Splashtop OS demo/commercial on YouTube


Source: Splashtop
(Click to play)
Stated Mark Lee, CEO and co-founder of Splashtop Inc., "Through our OEM-branded instant-on products, we've already got millions of PC users hooked on Splashtop speed. With our downloadable product, we're aiming to reach the rest of the population."
Stated Jon Tinter, General Manager at Bing, "We are excited to be working with Splashtop on giving our mutual customers easy access to Bing's powerful tools that help customers make more informed decisions."
Availability
Splashtop OS (beta) is available now for free download onto Windows-based PCs. The beta has been optimized to install and run on HP Mini netbooks and Pavilion notebooks (see list above). Platforms from other PC makers that have bundled Splashtop will also be supported in the coming weeks, and support for additional Splashtop-based platforms will be made available in the coming months, says Splashtop.
Splashtop OS information and downloads may be found here.
---
This article was originally published on LinuxDevices.com and has been donated to the open source community by QuinStreet Inc. Please visit LinuxToday.com for up-to-date news and articles about Linux and open source.