Nov 22, 2010 — by LinuxDevices Staff — from the LinuxDevices Archive — 8 views
Google CEO Eric Schmidt revealed that the company's cloud-oriented Chrome Operating System for netbooks has been delayed for several months. Google won't say why, but analysts speculate that the Linux-based Chrome OS may have been delayed due to the huge success of the search giant's own Android OS as well as the Apple iPad.
Google's Chrome Operating System launch has been delayed, and the platform won't be available to launch on netbooks for at least the "next few months." Google CEO Eric Schmidt revealed as much to reporters in a Q&A session at the Web 2.0 Summit last week, adding that the platform continues to be targeted at devices with a keyboard.
Though Schmidt didn't provide a reason for the delay, he certainly shredded the rumor that there would be netbooks based on Chrome OS launching this month. He reaffirmed that Chrome OS will support applications running in Google's Chrome web browser, which now has more than 70 million users.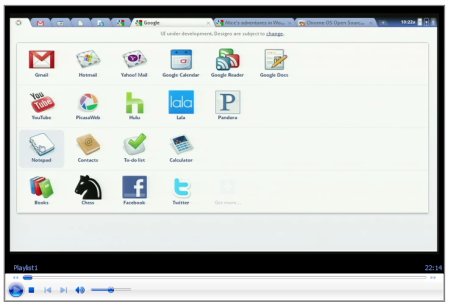 Early prototype of Chrome OS interface
Chrome OS is a web operating system that Google is building to run on netbooks as an alternative to computers running traditional operating systems, such as Microsoft's Windows and Apple's Mac. Google
released Chrome OS
to open source a year ago, claiming that netbooks from partners including Acer, Asus, Hewlett-Packard, Lenovo, and Toshiba would launch by November or December 2010.
That's not happening, even though as recently as September spokespeople for Google told eWEEK Chrome OS remained on track. Now a Google spokesperson said the company will provide an update later this year. "We are very happy with the progress of Google Chrome OS, and we'll have more details to share later this year," the spokesperson told eWEEK.
eWEEK asked several computer makers about their plans for Chrome OS netbooks. HP declined to discuss future products, and Acer said there are "no imminent plans to launch Chrome OS netbooks in the U.S. at this time." Dell said it had no updates.
And so the guessing game begins: Why the delay?
Gartner analyst Ray Valdes surmised Google is recalibrating its Chrome OS strategy due to the tablet phenomenon Apple launched with its iPad in April. Combine that with Android's surge in the smartphone market, which has spilled over into the tablet sector with the Samsung Galaxy Tab, and a rethinking of Chrome OS might be inevitable.

In February, Google published some prototype tablet-oriented incarnations of Chrome OS (pictured at left), but in April was rumored to instead be working on an Android-based tablet design. By May, the company had begun downplaying expectations for a fast start for Chrome OS, and seemed to be suggesting that Android would be its primary platform for tablets. In April, however, Google stated that Android 2.2, at least, was not a good match for tablets.
While there were certainly plenty of Windows-bas

ed netbooks and laptop computers at the Web 2.0 Summit, there was also a shocking number of iPad and Galaxy Tab users among the attendees. The iPad is its own success story, selling 4.19 million units in the last quarter, while IMS Research said the Galaxy Tab (pictured at right) will lead Android to garner 15 percent of the tablet market next year.
That means fewer people buying netbooks and laptops and more people buying tablets, said IDC analyst Al Hilwa. "Something happened on the way to birth Chrome OS, and it is called Android," Hilwa said. "Android has taught Google that maybe the cloud is not everything and there are ways to change the OS market dynamics without a pure cloud approach."
Hilwa added that Chrome OS may evolve, but perhaps as a testbed of ideas that might make their way in Google Apps or Android. "I believe an incremental approach which integrates mobile devices with cloud capabilities is more likely to succeed in the long run."
In the short term, there will be no Chrome OS tablets for Christmas. But there will be plenty of tablets to choose from, from Apple, Samsung, Archos, ViewSonic, and others.
Clint Boulton is a writer for our sister publication eWEEK.
---
This article was originally published on LinuxDevices.com and has been donated to the open source community by QuinStreet Inc. Please visit LinuxToday.com for up-to-date news and articles about Linux and open source.