Jun 1, 2009 — by Eric Brown — from the LinuxDevices Archive — 1 views

RealNetworks has extended the Moblin version of its RealPlayer streaming media player to support a variety of netbook-oriented processors and Linux distributions. RealPlayer for Mobile Devices will be offered with Ubuntu, as well as fast-boot "instant-on" distributions from Xandros, Phoenix Technologies, and DeviceVM… (pictured), says Real.
RealPlayer for Mobile Devices is based on the RealPlayer for Intel Atom player announced last August for netbooks and nettops running the Linux-based Moblin distribution on Atom processors, as well as on the mobile RealPlayer versions said to be available on some 430 million smartphones today. The player is proprietary, but like the Moblin-only version, was developed using Real's Helix DNA technology, which the company says is available in source code form for development via free community source licenses. The licenses are available at the Helix Community, which helped develop the players.
Real has now signed licensing agreements for the commercial version with several Linux OS vendors (OSVs), and has extended the player beyond its support for Intel's Atom "to ensure tight integration and optimization" with ARM-based processors for netbooks. These include ARM-based offerings from Qualcomm, Texas Instruments, Broadcom, and Freescale, says the company.
The player is said to offer similar features as the existing desktop Linux version of RealPlayer, which has been available for years, but is optimized for the smaller screen and more limited resources of a netbook. Like the Moblin version, RealPlayer for Mobile Devices supports RealMedia, Windows Media, MP3, MPEG4, H.264, AAC, AAC+, VC-1 and Ogg, says the company. HD video is said to be supported as long as the netbooks themselves support it. The player does not offer support for DVD, which is rare on netbooks, nor does it include support for Flash video, which must be separately licensed from Adobe.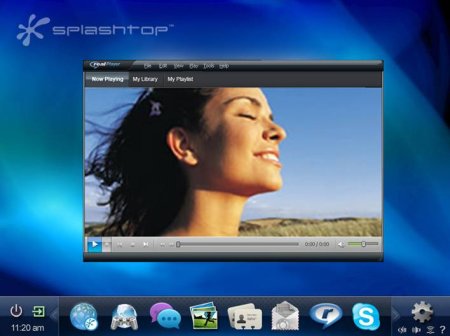 RealPlayer for Mobile Devices on Splashtop
(Click to enlarge)
The initial list of licensees shows a special emphasis on Linux-based instant-on technologies that load in conjunction with Windows distributions to offer fast access to the web, streaming media, and other frequently used applications. Netbook vendors can load both the optimized Linux netbook version of RealPlayer for the instant-on operating system (OS), as well as the traditional RealPlayer for use within Windows.
"Consuming media is one of the top use cases of instant-on," said Rishi Mathew, Real's Director for RealPlayer mobile devices, in an interview. "Vendors have asked us to supply a RealPlayer that works on Linux, that brings a familiar brand, and which enhances the value of instant-on environments." (See farther below for more comments from Mathew.)
The initial list of RealPlayer for Mobile Devices licensees are said to include:
According to Real, licensees will receive a one-stop-shop license to all the codecs that are included in RealPlayer for Mobile Devices. Content providers can build a single content-delivery infrastructure platform that can be leveraged across all hardware types, says the company, whether it's a PC, Macintosh, mobile phone, netbook, or "other emerging device."
The company also revealed that last year, it signed agreements to license RealPlayer for Mobile to BenQ for a "JoyBook Lite Netbook." In addition, Real says it signed agreements with Lenovo and Compal for their respective mobile Internet devices (MIDs) using Real's similar, Moblin-based RealPlayer for MID software.
Instant-on: An end-around play for Linux?
Like Jim Zemlin of the Linux Foundation, RealNetworks's Mathew appears to believe that fast-booting instant-on firmware is the best short-term bet for Linux to break into Macintosh-like PC desktop share.
"Windows may have taken over market share on netbooks, but boot times are really long," said Mathew. "On a Windows XP-based netbook, it can take 50 seconds or so just to start checking email. With Linux-based instant on environments, consumers can quickly access applications, and that's why there are tens of millions of deployments on Windows-based notebooks. They don't really advertise the fact that it's Linux, but this is where Linux has finally turned the corner on the desktop."
When asked whether Microsoft would continue to sit idly by as Linux instant-on deployments grow, Mathew suggested that Redmond might eventually respond, but had bigger fish to fry for the time being. "Despite its vast resources, Microsoft is limited by the number of challenges it can address at any point at time," he said. "Right now, they are just trying to get Windows 7 out the door, but there are rumors that they will try to eventually reduce the time it takes to boot up Windows 7."
As long as the "L" word is not used in marketing, Microsoft appears to be willing to look the other way while its "Windows" netbooks are miraculously provided with faster boots. Yet the company has clearly taken the threat of Linux-based netbooks seriously, despite the measly 1 percent overall market share for Linux as a desktop OS. After Linux jumped to an early lead of perhaps 30 percent market share on netbooks, Microsoft cut costs on Windows XP, and according to some, has pressured vendors and retailers to push Linux to the periphery. As a result Microsoft now says its owns 96 percent share of netbooks. Although many believe that figure is exaggerated, Windows XP has clearly increased its market share in the segment.
Familiarity, but no contempt
Whatever the boot time, Microsoft has a huge advantage over Linux in terms of the familiarity of its interface. Although a longtime rival of Microsoft in the streaming media game, RealNetworks enjoys the same sort of familiarity when it comes to media players, and its brand recognition may be marginalizing capable open source playback technologies such as MPlayer.
As Linux reaches out into broader consumer products like netbooks, the manufacturers, vendors, and users of Linux-based consumer devices increasingly seem to want RealPlayer, Adobe Flash, and other well-known brands even if the technologies are not fully open source. Yet, Adobe and Real, with its Helix community, have both reached out to open source communities of late, helping to grease the skids of acceptance.
"Familiarity is important for consumers," said Mathew. "With OSVs and OEMs we're seeing a movement toward bringing the same applications that users are accustomed to on Windows to Linux distributions, which makes the choice of OS less relevant."
Mathew also makes a case of RealPlayer being more cost effective than other media playback solutions. "We make it economically viable to get licenses for codecs, and we offer a universal media player that can play back many different codecs," he said. "We offer them a one-stop-shop solution at a lower cost than they would spend licensing them from third parties."
Android on the back burner
According to Mathew, RealPlayer for Mobile Devices will appear on ARM-based netbooks this year, but it is not yet optimized for the Linux-based Android distribution. "We are working on getting RealPlayer on Android smartphones, but we're not there yet on netbooks," he said. "So far we have not seen a stable enough platform for netbooks."
Stated Chris Kenyon, director of OEM Services, Canonical, "RealNetworks' RealPlayer was an obvious choice for us because it provides our customers with one complete media solution for all platforms and our users will appreciate the media experience it delivers on their Ubuntu netbook, notebook or desktop."
Stated Andreas Typaldos, CEO of Xandros, "RealPlayer is a key component of both our Presto 'instant on' utility and our mobile netbook solutions."
Stated Gaurav Banga, CTO and SVP of Products at Phoenix Technologies, "Optimizing RealPlayer in the HyperSpace environment enhances user enjoyment by enabling an 'instant-on' experience for RealPlayer applications and at the same time, by extending battery life on a netbook or laptop by as much as 25 percent."
Stated Mark Lee, CEO and co-founder of DeviceVM, "We are pleased to be working with RealNetworks to enrich the media experience of Splashtop users. Splashtop is already shipping on tens of millions of PCs and netbooks from major manufacturers such as Asus, HP, Lenovo, and LG, and is the only instant-on platform pre-installed on netbooks today."
Availability
RealPlayer for Mobile Devices is already available on Xandros and Xandros' Presto instant-on utility, and should be available on distributions from Canonical (Ubuntu), DeviceVM (Splashtop), and Phoenix Technologies (HyperSpace) later this year.
---

This article was originally published on LinuxDevices.com and has been donated to the open source community by QuinStreet Inc. Please visit LinuxToday.com for up-to-date news and articles about Linux and open source.