May 11, 2010 — by Eric Brown — from the LinuxDevices Archive — 2 views
Canonical demonstrated its first fast-boot version of Ubuntu, said to launch a running browser in less than 10 seconds. The Ubuntu Light distro employs a new netbook- and tablet-oriented desktop environment called Unity that will also drive the Ubuntu 10.10 Netbook Edition, due in October.
Canonical unveiled Unity and Ubuntu Light at the Ubuntu Developer Summit in La Hulpe, Belgium yesterday, announcing that an early version of Unity is available for public download. The Ubuntu Light "instant-on" distribution, meanwhile, is now available to OEMs in a netbook-targeted version, and a desktop version is said to be in the works for a future release.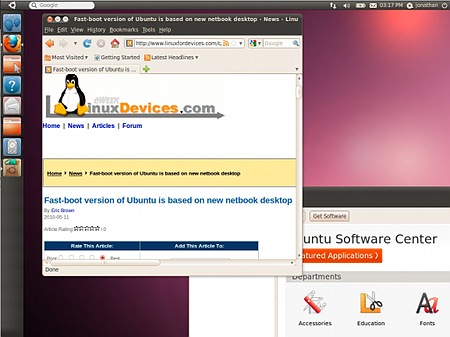 Ubuntu Light
(Click to enlarge)
Designed for netbooks and "related touch-based devices," Unity includes a new panel and application launcher for fast access to commonly used applications, says Canonical. The new interface also removes screen elements that are rarely used in mobile and netbook computing, says the company.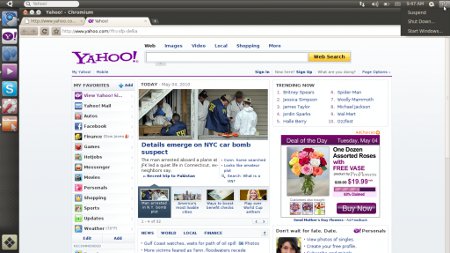 Ubuntu Light is claimed to boot to browser screens in less than 10 seconds
(Click to enlarge)
While Canonical does not specifically refer to tablet computers as a target device, the touch emphasis would seem to suggest it. A number of tablets have emerged running Ubuntu, including, most recently, the
Sharp Netwalker PC-T1
.
Ubuntu Light
Based on Unity and Ubuntu, which recently shipped in an Ubuntu 10.04 "Lucid Lynx" release, Ubuntu Light pares down Ubuntu even more than does Unity. Like similar fast-boot technologies like DeviceVM's Splashtop, Phoenix Technologies' HyperSpace, MontaVista's Montebello, and Xandros' Presto, it is primarily designed as an alternative install for Windows computers. Still, it could also be used without Windows for those who could live with a bare-bones, web-oriented OS, says Canonical.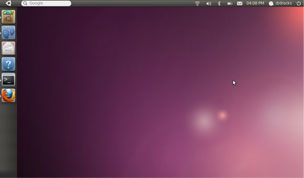 Ubuntu Light desktop
Unlike some fast-boot environments, Ubuntu Light launches users directly to the web, and can do so in less than 10 seconds, claims Canonical. Featuring the web browser, chat, IM, and media player applications, Ubuntu Light also offers access to personal content, says the company. Tools are said to be available to integrate with Windows in order to assist in the management of the dual-boot experience, offering access to photos, music, and documents.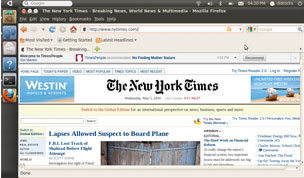 Ubuntu Light icons and browser
According to a blog by Canonical founder and former CEO Mark Shuttleworth, Ubuntu Light also lets users connect to local devices like printers, cameras, and pluggable media. However, "instant-on environments" based on Unity "are locked down," he notes, presumably referring to Ubuntu Light. This would suggest that no new applications can be loaded by the user.
It is conceivable that Ubuntu Light could even be used as a fast-boot environment for Ubuntu itself, although Canonical may frown on marketing it for such purposes. While Ubuntu is faster to boot than the much improved Windows 7, there's still time to take a brief catnap.
In our own tests of the final desktop version of Ubuntu 10.04, a notebook computer with a 2.4GHz Intel Core 2 Duo T8300 CPU booted to the login prompt in 30 seconds, and to a usable desktop in 42 seconds overall. The same machine took 54 seconds to boot Windows 7 to its login prompt, and, again, required just over ten seconds more (64 seconds total) for a usable desktop.
Unity
Unity was developed after an analysis of several hundred Ubuntu and Kubuntu desktop configurations, according to Shuttleworth. From this research, Canonical targeted the most commonly used applications. To make the most of the limited display space on a netbook, Canonical focused on maximizing the available vertical pixels for web browsing, adds the Canonical founder.
In addition, the Unity design pushes the bottom panel found on Ubuntu Netbook Edition (UNE) to the left of the screen, freeing up the space for launching and switching between applications. The panel's trash and Show Desktop options, meanwhile, have been removed.
"Netbooks have screens which are wide, but shallow," writes Shuttleworth. "Notebooks in general are moving to wide screen formats. So vertical space is more precious than horizontal space."
Getting in touch with your inner Ubuntu
Another key focus for Unity is touch input. The left-hand launcher panel has been expanded with larger icons to make it more "touch-friendly," writes Shuttleworth. The panel is also said to support fast switching and drag-and-drop between applications.
It is possible that additional changes will be made to the top panel in later versions, with an option being considered to integrate "a single global menu, which would be rendered by the panel," according to Shuttleworth. He also notes that the initial version of Unity "doesn't really support traditional file management."
Two key steps are needed in order to integrate Unity for the UNE version of Ubuntu 10.10 ("Maverick Meerkat"), writes Shuttleworth. The first is to increase application support, enabling users to load or remove whatever they want. (As noted farther above, the exception here is Ubuntu Light and other instant-on versions of Unity.)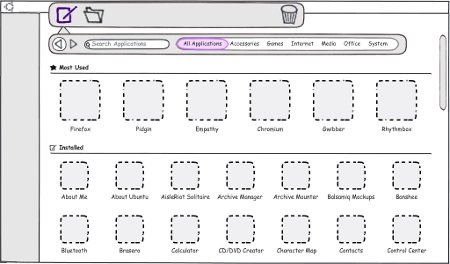 Prototype of Unity's "Dash" file manager


(Click to enlarge)
Shuttleworth also notes that Canonical will work on building file management capabilities. One prototype, shown above, is called the Unity Dash, which presents files and applications as an overlay. Inspired by consoles and devices, the Dash is intended "to feel device-like, and use the capabilities of modern hardware," writes Shuttleworth.
Unity's impact on Gnome, KDE, Moblin, and MeeGo
By offering its own desktop environment, Canonical throws into question the role to be played by Ubuntu's default desktop, Gnome, as well as the optional KDE. Shuttleworth addresses both Gnome and KDE issues, but not whether Moblin or the next-generation, Moblin-based MeeGo will play a future role on UNE.
Shuttleworth is quick to note that Unity and the Gnome Shell technology, which is part of the upcoming Gnome 3 desktop, are complementary. The Gnome Shell will focus on complex environments while Unity aims to streamline simple desktops, he adds.
Although Unity was developed independently of Gnome Shell, "Unity does embrace the key technologies of Gnome 3," writes Shuttleworth. These are said to include the Mutter window manager, and the Zeitgeist technology for file management. "The interface itself is built in Clutter," he adds.
The link to KDE appears to be more ephemeral. Unity complies with the freedesktop.org standards that drive KDE, writes Shuttleworth, and it also uses Ayatana indicators in the panel. As a result, "KDE applications which use AppIndicators will Just Work," he writes. "And to the extent that those applications take advantage of the Messaging Menu, Sound Indicator and Me Menu, they will be fully integrated into the Unity environment."
Shuttleworth says nothing about Moblin, parts of which are integrated into the Karmic Koala and Lucid Lynx (10.04) versions of UNE. It seems, however, that Canonical may have moved on from the Intel-backed netbook OS for UNE 10.10. In part, this may be because Moblin, too, has moved on, and is being merged with Maemo to create the new MeeGo OS, which will range from netbooks down to smartphones.
Canonical was a notable no-show recently when the Intel- and Nokia-backed MeeGo project announced supporters. Among other Linux netbook vendors announcing MeeGo support were Mandriva, Novell, TurboLinux, Xandros, and Linpus.
Availability
Ubuntu Light is available now to PC OEMs, says Canonical. An early version of Unity is available for Ubuntu 10.04 LTS, here. Mark Shuttleworth's blog on the products may be found here.
---
This article was originally published on LinuxDevices.com and has been donated to the open source community by QuinStreet Inc. Please visit LinuxToday.com for up-to-date news and articles about Linux and open source.