Sep 24, 2010 — by Eric Brown — from the LinuxDevices Archive — views
Neofonie-owned WeTab GmbH has shipped what appears to be the first MeeGo-based tablet, the 11.6-inch, Intel Atom N450-based WeTab, which is also said to be compatible with Android. Meanwhile, a super-light NFS N-Pad tablet prototype has popped up running Android on an Intel Atom N6xx ("Moorestown") processor.
When startup WeTab GmbH announced its e-reader oriented, 11.6-inch WeTab tablet in March, it was billed as running Linux on an Intel Atom N450, but with Android extensions. Earlier this month, WeTab, a subsidiary of Berlin-based software company Neofonie, revealed that its tablet would run MeeGo Linux, with promised extensions for Android and Adobe AIR applications.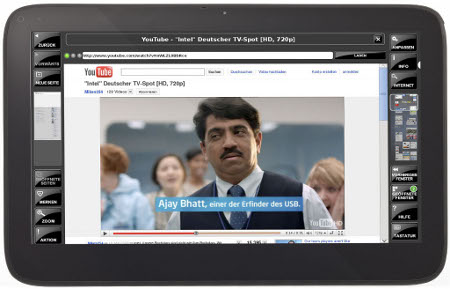 Shipping version of the WeTab
(Click to enlarge)
According to
CarryPad,
the tablet shipped in Germany this week, making it the first commercially available MeeGo tablet. Intel also called it the first MeeGo tablet in the joint WeTab announcement earlier this month.
The WeTab does not yet offer the Android virtual machine or access to the MeeGo-targeted Intel AppUp application store, says the story. A WePad AppStore, however, does provide a selection of available MeeGo apps, and these will be soon joined by Android, Adobe AIR, and Java apps, says WeTab.
Numerous MeeGo tablet designs were demonstrated or shown at Computex in early June, with most running on the small-footprint, low-power Atom Z6xx processor ("Moorestown") processor, which was announced in May. These include devices from Wistron, Compal, Quanta, CZC, and others, while Acer also announced it would offer MeeGo on both netbooks and tablets.
These MeeGo tablets were later joined by an "NPad" tablet shown by Red Flag Software later, which appears to be the same device shown at the Intel Developer Forum (IDF) earlier this month running Android under the NFS N-Pad name (see farther below).
Intel has been working on its Android port to the Atom this summer, and it appears to be more or less complete, but not yet ready for commercial implementation.
WeTab stands out with 11.6-inch display
The first shipping MeeGo tablet runs the netbook-oriented Atom N450 "Pineview" instead of the Z6xx Moorestown processor. The specs posted on the WeTab site appear to be the same as those announced in March, revealing it to be one of the largest, most netbook-like of the new wave of consumer media tablets.
The WePad offers 16GB of flash storage, expandable to 32GB, with an option to fill the standard SD card slot with an additional 32GB. The tablet provides an 11.6-inch, 1366 x 768 pixel touchscreen, along with a 1.3-megapixel webcam, 802.11n, Bluetooth 2.1, and dual USB ports, says Neofonie.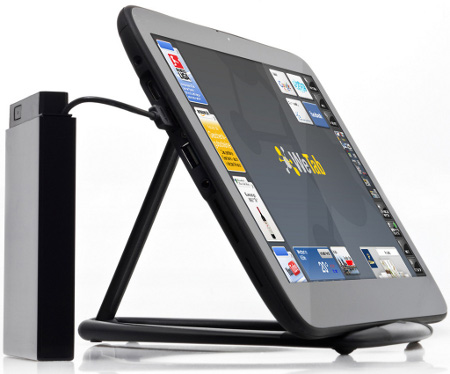 WeTab on stand with charger
(Click to enlarge)
The WePad provides speakers, a microphone, and audio out, as well as motion and light sensors. Options are said to include GPS and 3G, the latter offered via a standard SIM card slot, says Neofonie.
The dimensions have grown slightly since March in all directions, while the weight has jumped significantly. Measuring 11.57 x 7.64 x 0.55 inches (294 x 194 x 14mm), the WePad now weighs 35.1 ounces (995 grams), up from the previous 28.1 ounces (798 grams), and the 3G version jumps to 1020 grams. In March, the company said the lithium-ion battery would last six hours, but this claim no longer appears to be in evidence.
In a CarryPad hands-on report posted on Wednesday by Steve "Chippy" Paine, the WePad is criticized for its heavy weight. According to Paine, WeTab was claiming an 800 gram weight for the tablet, but he estimates it to be more like one kilogram which is almost identical to the weight listed on WeTab's spec sheet.
Indeed, he notes that the device is best used propped up on the supplied stand, and says that with the tablet's built-in backlight, he expects battery life to be in the four hour range.
The review praises the device and its UI overall, saying it "shows what's possible with the core system and QT-based user interface." However, the lack of apps will leave reviewers "less than impressed," adds Paine. Although OpenOffice, a browser (WebKit), a media player, and an email client are available, says the review, there is not much else.
"The WeTab needs more than just a flashy user interface and it highlights the issues that all MeeGo devices are going to have until the AppUp or Ovi store appears to fill the gap," writes Paine. "When AppUp and Android arrive on the device, you'll be looking at a different picture."
According to the review, a company called AndroidPIT will customize Android apps for the device.
WePad says the tablet is designed for rebranding by publishers on their own terms. The WeTab supports "all" open e-book formats, plus a premium format, which appear to be based on Neofonie's WeMagazine e-publishing platform for PCs and mobile phones. Both WeFind and WeMagazine are preinstalled on the device, as is a customizable daily newspaper based on both technologies, says the company.
Stated Stephan Odorfer, managing director of 4tiitoo AG, a company involved in developing the tablet with WeTab GmbH, "Working intensively with Intel, we have developed the WeTab OS with MeeGo to meet the requirements of a tablet user in the best way possible. The tablet runs extremely fast and, in addition to native apps, also provides direct access to countless Web-based apps."
N-pad reappears with Android
In June, Red Flag Software showed off a 10.1-inch, N6xx-based NPad tablet prototype that appeared similar to the NFS N-Pad tablet shown at IDF earlier this month (see farther below). This time, however, it was running Android instead of MeeGo.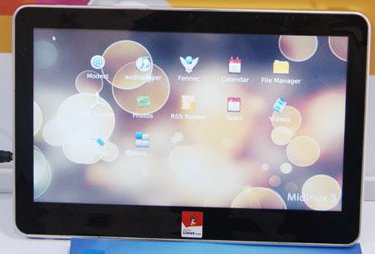 NPad prototype shown in June running Red Flag Software's MeeGo version of Midinux 3.0
According to another report by Steve Paine on
Carrypad,
the N-Pad is likely the same as Red Flag's Npad. No information was provided on NFS, however, and it was not even clear if any company was actively demonstrating the tablet aside from Intel. The tablet shows an Android UI, but it was apparently locked on a single screen.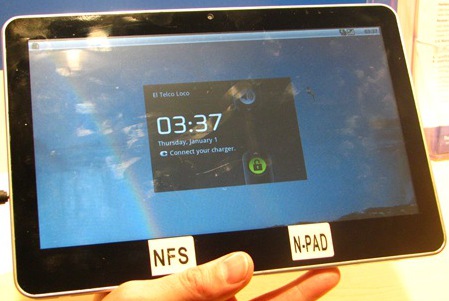 NFS N-Pad, shown at IDF 2010
Source: Carrypad
As can be seen in the screenshot and the video farther below, the N-Pad is quite thin. Paine estimates that the N-Pad weighs about 450 grams, which would be about half the weight of the WePad. It was not clear, however, whether the NFS N-Pad has the same 10.1-inchs screen as the Red Flag NPad. No other details were offered on the tablet.


Side view of NFS N-Pad, shown at IDF 2010
Source: Carrypad
According to Intel, the
Atom Z6xx
processor will enable considerable lighter and thinner smartphones, tablets, and other mobile devices. The Moorestown processor not only offers 1/50th the idle power consumption of the original Z5xx Atoms, but also 1/20th the power consumption for audio playback.
Power usage during web browsing and video playback has been cut by one half to two thirds, Intel says. Mobile devices will be able to offer more than ten days of standby, up to two days of audio playback, and from four to five hours of intensive usage, claims Intel.
Carrypad

video of NFS N-Pad on YouTube
Source: Carrypad
(Click to play)
Availability
The WeTab is available in Germany for 449 Euros ($600) with 16GB of memory, or 569 Euros ($760) for the 3G/GPS version with 32GB. More information may be found at Neofonie's WeTab site, here.
The Carrypad hands-on look at the WePad may be found here.
The Carrypad hands-on story on the NFS N-Pad may be found here.
---
This article was originally published on LinuxDevices.com and has been donated to the open source community by QuinStreet Inc. Please visit LinuxToday.com for up-to-date news and articles about Linux and open source.