Nov 9, 2011 — by Eric Brown — from the LinuxDevices Archive — 4 views
The Red Hat-sponsored Fedora Project released Fedora 16 ("Verne"), featuring the GNOME 3.2 desktop environment and virtualization and cloud enhancements — including support for the Aeolus and OpenStack Infrastructure-as-a-Service (IaaS) platforms. Version 16 upgrades the techie-focused Linux distribution to Linux 3.1, and moves up to the GRUB2 bootloader and Firefox 7.0.1, while offering enhanced contact and document management apps.
As we noted when the Fedora Project released its first beta of Fedora 16 in early October, the release is notable to desktop end users primarily for its upgrade to the GNOME 3.2 desktop. Fedora first tried out GNOME 3.0 in Fedora 15, a more significant release that also added a dynamic firewall, the SystemD configuration utility, and major new applications.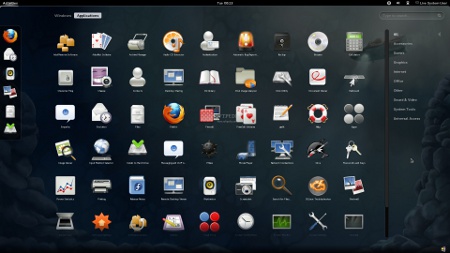 Fedora 16, showing GNOME 3.2 desktop interface
Source: Softpedia
Like Fedora, which acts as the cutting-edge, Red Hat-backed upstream contributor to
Red Hat Enterprise Linux
(RHEL), SUSE's OpenSUSE also moved to GNOME 3.2 in its 12.1 beta. And on Nov. 4, the Linux Mint team succumbed to the wheels of "progress," announcing that the upcoming
Linux Mint 12 will offer GNOME 3
.
Mint, however, will also keep a full-fledged GNOME 2.32 alternative to the controversial GNOME 3. By comparison, Fedora 16 and OpenSUSE 12.1 will block users from booting into GNOME 2.x except for a simplified fallback mode for low-end systems.
GNOME 3.2 is said to have squashed many of the bugs of the original, while fixing a few of the most unpopular changes. Yet, GNOME has not backtracked much from its radical UI makeover. Fortunately, Fedora 16 also offers KDE Plasma Workspace 4.7 as an alternative.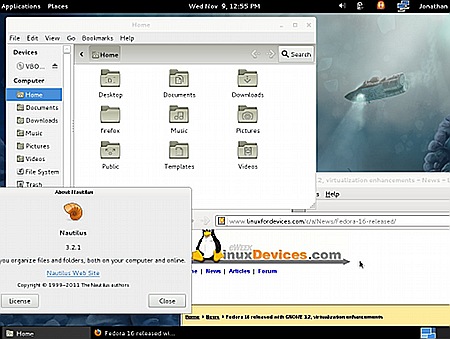 Fedora 16's Nautilus file manager, as well as its namesake floating in the new Jules Verne aquatic theme
Fedora 16 also adopts the latest
Linux 3.1
kernel and moves from the GRUB bootloader to the up-to-date GRUB2. The latter is said to allow better configuration options and improved support for non-x86 architectures. Fedora also removed the HAL daemon, and replaced it with udisks, upower, and libudev.
More noticeable is a new Jules Verne-inspired aquatic theme (see image above). Application updates include Firefox 7.0.1 and Thunderbird (7.0.1). Other apps are said to include the latest versions of Rhythmbox, Evolution, Shotwell, Totem Movie Player, Cheese, and Empathy.
Major Fedora 16 features said to be notable to end users include:
system settings — new "Online Accounts" panel for managing online accounts like Google and Facebook
contact management — new app integrated with Empathy, Evolution, and the new "Online Accounts" panel
document management — simpler alternative to traditional file management for both local and "in-cloud" documents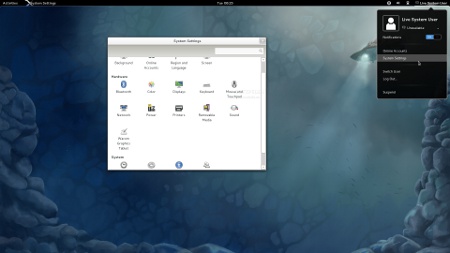 Fedora 16's improved system settings menu
Source: Softpedia
Features of interest to developers are said to include:
Perl 5.14 — now featuring Unicode 6.0 support
GCC Python plugins — extend GCC with Python 2 and 3, without tweaking C internals
D2 — latest version of D systems programming language, said to be making debut here among Linux distros
Features of interest to system administrators are said to include:
Grub2 — see farther above
system account ID numbering — new scheme, starting ID numbering at 1000, thereby "providing more room for system accounts and making it easier for administrators not have services run as root."
Chrony — network time protocol (NTP) client and server components noted for being more tolerant of unstable clocks and disabled Internet connections
ext4 driver mounts update — enables ext4 driver to mount ext2 and ext3 file systems, reducing size of kernel code
virtual networking improvements — designed to more easily enable large deployments
Virt-manager guest inspection — Fedora-only tool allowing read-only access to guest file systems, applications, and Windows registry
locking of virtual disks — prevents use by multiple virtual machines simultaneously
Aeolus — cross-cloud Infrastructure-as-a-Service (IaaS) platform, featuring web-based UI and tools for managing cloud instances across heterogenous clouds
OpenStack — IaaS platform featuring collection of services for setting up and running a cloud compute and storage infrastructure
Pacemaker-cloud — enables application service high availability in cloud environments
HekaFS — cloud-ready version of GlusterFS, adding stronger authentication, authorization, encryption, and multi-tenancy
Availability
Fedora 16 is available now for free download at the Fedora Project. More information may be found in the Fedora 16 announcement, and the Fedora 16 feature list.
---
This article was originally published on LinuxDevices.com and has been donated to the open source community by QuinStreet Inc. Please visit LinuxToday.com for up-to-date news and articles about Linux and open source.