Apr 8, 2011 — by Eric Brown — from the LinuxDevices Archive — 8 views
The GNOME Desktop project released a vastly overhauled version of the leading desktop Linux environment, said to be its biggest update in nine years. GNOME 3.0 features a new, streamlined GNOME Shell desktop, as well as improvements to search, user messaging, system settings, and the GTK+ libraries, plus a major revision of the Nautilus file manager, says the project.
GNOME 3.0 is a fairly radical departure from previous GNOME versions, offering a stripped-down GNOME Shell interface that enables Linux users to "focus on tasks while minimizing distractions such as notifications, extra workspaces, and background windows," says the GNOME project.
The long-awaited release, said to be three years in the making and five in the planning, comes at a somewhat tenuous time for the Linux mainstay. Although GNOME is available as the default desktop environment on most major Linux distributions, and as an option on most others, it was just demoted from a starring role in the 11.04 ("Natty Narwhal") beta release of leading consumer desktop distro Ubuntu in favor of Canonical's Unity UI layer.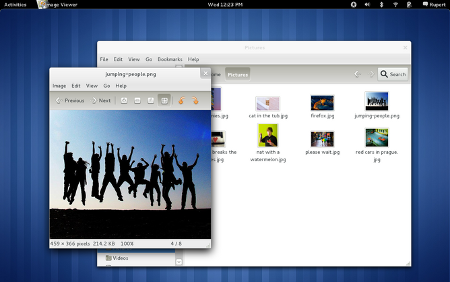 GNOME 3.0 desktop
(Click to enlarge)
Canonical said it shifted to Unity due to some disagreements with key elements of GNOME 3.0's design. Yet, the two environments share many of the same conceptual design principles, including the shedding of the usual window list and dock layout as a way to reduce screen clutter and interruptions.
This streamlining has been applied on both desktops in part to support smaller netbook and tablet screens. Like Unity, GNOME 3.0 is designed to run on small displays as well as large ones, and it offers multitouch foundations, although the full multitouch tablet support won't arrive until this fall's 3.2 release.
Canonical will offer GNOME 3.0 as a secondary option on Ubuntu, and supplied a testimonial by CTO Matt Zimmerman that appeared to act as a defense of Ubuntu for its Unity shift as much as applauding GNOME's bold moves.
"In the face of constant change, both in software technology itself and in people's attitudes toward it, long-term software projects need to reinvent themselves in order to stay relevant," stated Zimmerman. "I'm encouraged to see the GNOME community taking up this challenge, responding to the evolving needs of users and questioning the status quo."
Linux distros that have promised to put GNOME 3.0 front and center include Fedora Linux 15, now available in an alpha version, while many more will follow suit in the months to come. The other major Linux desktop environment — not counting lightweight desktops like Xfce — is KDE, which this week was released in a KDE 4.6.2 maintenance update.
GNOME and KDE have increasingly driven desktop Linux evolution, and for those who share the same environment, offer a modicum of standardization across various Linux distros. GNOME has generally been considered the more complex and techie-focused of the two, but with the new release the project is aiming for a more consumer friendly approach.
Shiny new desktop
The GNOME 3.0 development platform includes improvements in the display backend and a faster new API, as well as improvements in search, user messaging, system settings, and streamlined libraries. The biggest change is the most visible: The new GNOME desktop. The desktop is driven by a GNOME Shell layer that been largely rewritten in JavaScript and adopts the Clutter graphics/animation framework.
Preview versions of the Shell have appeared in Linux distros over the last year, but the final is here, and looks very spiffy indeed. The new desktop features redesigned icons and a new "Cantarell" default font. Additional touted features include improved, topic-oriented help, a "Dash" area for favorite apps, side-by-side window tiling, and new wallpaper options.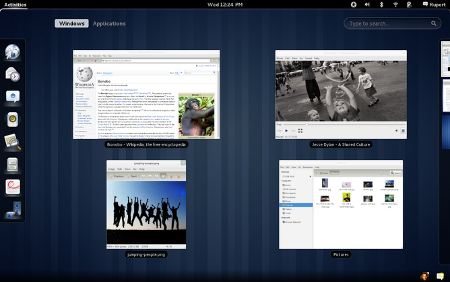 GNOME 3.0's new Activities Overview


(Click to enlarge)
The desktop debuts an Activities Overview (see image above), available via the top-left hot corner or windows key, enabling users to view all windows at once, as well as switch between tasks and launch applications.
As noted, notification handling has been made more unobtrusive, with most notifications now waiting in the Messaging Tray until users are ready. Notifications are also more interactive — clicking on them switches the user to the relevant window, at which point response buttons are sometimes offered for quick action. In addition, messaging has been integrated, so users can reply to a message directly from its notification, says the project.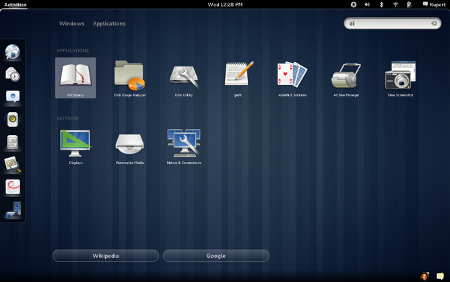 New desktop search feature in GNOME 3.0


(Click to enlarge)
GNOME 3.0 also offers an improved workspaces interface that makes it easier to group or add windows via drag and drop, with thumbnails available for moving between spaces, says the project. Meanwhile, a new integrated search facility can be used to launch applications, switch windows, and open recent documents and settings (see image above).
Other improvements to the desktop are said to include an improved settings browser that lets users explore system settings from the same window, as well as search for settings panels.
A number of applications have been enhanced or added to GNOME 3.0, including:
Nautilus file manager — This redesigned file manager adds a "places" sidebar that makes it easier to jump to important folders, and offers a redesigned Connect to Server dialog.
Epiphany web browser — GNOME's Epiphany web browser is touted as being faster, and adds geolocation support and a new downloads interface and status bar.
Gedit text editor — Updates include an intelligent spell checking, full support for compressed files, the ability to handle documents with invalid characters, and a new search interface.
Empathy messaging — Empathy now offers improved call handling, spelling assistance, password and certificate handling, and the ability to block incoming messages from unwanted contacts, and to search for contacts on remote servers.
Other apps — Additional enhanced applications include an improved "Cheese" webcam app, an Evince app with improved bookmarking, a faster "Eye of GNOME" image viewer, and the Totem 3.0 media player, offering improved streaming support for video and audio.
Developer-focused changes
Under the hood, the GTK+ graphical toolkit offers faster new APIs, and provides improved input device handling, including XInput2 support for enhanced tablet and multitouch support, says the GNOME project. In addition, GTK+ can more easily support multiple platforms, enabling easier migration to Wayland, which Ubuntu will be supporting in place of the previous X Window windowing system.
In addition, GNOME 3.0 provides a new visual theming system that is now human-readable. Additional developer-oriented enhancements are said to include easier application creation, improved bindings, and enhancements to the Anjuta, integrated development environment. GNOME 3.0 is also said to offer a greater foundation in D-Bus inter-process communication (IPC) technology.
The previous GNOME version, which shipped six months ago, was GNOME 2.23. Some former GNOME releases covered by our sister publication DesktopLinux include GNOME 2.26 in Mar. 2009, GNOME 2.24 in Sept. 2008, GNOME 2.20 in Sept. 2007, and GNOME 2.12 in Sept. 2005.
Stated Miguel de Icaza, the head of Novell's Mono project, and one of GNOME's founders along with Federico Mena Quintero back in 1997, "The new GNOME Shell is an entire new user experience that was designed from the ground up to improve the usability of the desktop and giving both designers and developers a quick way to improve the desktop and adapt the user interface to new needs. By tightly integrating Javascript with the GNOME platform, designers were able to create and quickly iterate on creating an interface that is both pleasant and exciting to use."
Jon McCann, one of GNOME Shell's designers, noted that over 3,500 people have contributed changes to GNOME 3.0's code repositories, including the employees of 106 companies. He stated, "Perhaps the most notable part of the design process is that everything has been done in the open. We've had full transparency for every decision (good and bad) and every change we've made. We strongly believe in this model. It is not only right in principle — it is just the best way in the long run to build great software sustainably in a large community."
Availability
The free, open source GNOME 3.0 is available now, and will be appearing in numerous Linux distros over the next few months. More information and links to downloads may be found on this GNOME 3.0 release page. More details and observations on GNOME 3.0 can be found at the GNOME Journal.
---
This article was originally published on LinuxDevices.com and has been donated to the open source community by QuinStreet Inc. Please visit LinuxToday.com for up-to-date news and articles about Linux and open source.