Oct 4, 2011 — by Eric Brown — from the LinuxDevices Archive — views
The Attachmate/SUSE-backed OpenSUSE and Red Hat-backed Fedora community Linux projects have been released in beta versions that include the GNOME 3.2 desktop environment. The Fedora 16 ("Verne") beta also adds support for the GRUB2 bootloader, as well as updates to applications including Firefox, Blender, Perl, and Python, while the OpenSUSE 12.1 ("Asparagus") beta adds SystemD and Btrfs file-system support.
The completely revamped GNOME 3.0 got a rough reception when it was released on Fedora 15 ("Lovelock") in late May, and time has done little to make the tuxy hearts grow fonder. Since then, no other major Linux distro has yet made the switch to the radically altered desktop environment.
Canonical avoided it by gambling on its own controversial Unity UI layer in Ubuntu 11.04, and the Ubuntu-flavored Linux Mint 11 and several other distros have opted for the earlier GNOME 2.32. Reflecting the growing dissatisfaction with the leading Linux desktop, in August Linux overseer Linus Torvalds dubbed the GNOME 3 an "unholy mess," and called for a fork of the GNOME Foundation project.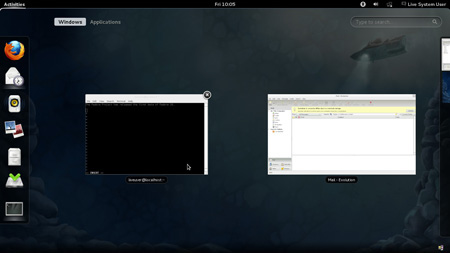 Fedora 16 beta, showing GNOME 3.2
Source: Register
The ever risk-taking Fedora Project, however, is sticking to its guns by keeping the environment as the default in Fedora 16. Fedora, which acts as the cutting-edge, Red Hat-backed upstream contributor to
Red Hat Enterprise Linux
(RHEL), has been joined by rival OpenSUSE, which is jumping to GNOME 3 in its 12.1 beta (see farther below).
Both projects have adopted the latest GNOME 3.2 release, which is said to have squashed many of the bugs of the original, while fixing a few of the most unpopular changes. Yet, GNOME has not backtracked much from its radical UI makeover.
This is important because both Fedora 16 and OpenSUSE 12.1 will block users from booting into GNOME 2.x except for a simplified fallback mode for low-end systems. On both distros, however, users always have the option of switching to the alternative KDE Plasma Workspace 4.7 desktop.
Fedora 16 beta
In addition to moving up to GNOME 3.2, Fedora 16 adopts the latest Linux 3.0 kernel and moves from the GRUB bootloader to the up-to-date GRUB2. Aside from those changes, however, the changes are not as major as with Fedora 15. That release not only debuted GNOME 3.0, but added a dynamic firewall, the SystemD configuration utility, and major new applications including LibreOffice and Firefox 4.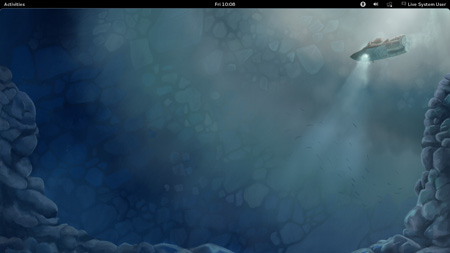 New Jules Verne theme in Fedora 16 beta
Source: Register
Visually, one will notice the new nautical theme to match the release's "Verne" nickname. The desktop art shows Jules Verne's Nautilus submarine from
20,000 Leagues Under the Sea
(see image above).
Other changes in Fedora 16 include a new "Aeolus Conductor" web UI toolset designed to create and manage cloud instances across a different cloud types, according to the Fedora 16 feature list page. Other cloud-oriented enhancements include an IaaS "Condor Cloud" implementation using Condor and the Deltacloud API, as well as an enhanced OpenStack implementation.
Staying in the cloud, Fedora provides a "cloud ready" HekaFS version of GlusterFS. Today, Red Hat announced plans to acquire Gluster later this month for $136 million, giving it access to Gluster's open source storage file-system for virtual appliances.
Under the hood, there are some new libvert networking enhancements, as well as the Mathari API set for remote system monitoring, says the Fedora Project. A USB network redirection feature is also said to be available, among other enhancements.
Application updates include a bump to version 2.5 of the Blender 3D graphics toolsuite. In addition, there are new versions of Firefox, Blender, Perl, Python, and other apps. We'll await the final release to see what versions are finally included.
Inside GNOME 3.2
According to the Register's Scott Gilbertson, who gave the Fedora 16 beta a close examination, the project is still discussing whether it will switch from Ext4 to Btrfs as the default file-system. However, Fedora is said to be sticking with Evolution as the email client instead of switching to Mozilla's Thunderbird, as did Ubuntu.
Gilbertson spends most of the article examining GNOME 3.2, and concludes that the updated environment has many fewer major bugs, and in fact "feels extremely stable on Fedora 16, even as a beta build." He also notes, however, however, that it's "still a long way from comfortable" for GNOME 2.x fans.
In addition to squashing bugs, the GNOME Foundation has addressed some of the environment's "early pain points," according to Gilbertson. For example, there's now a more permanent way to display the workspace switcher in overview mode, enabling users to "get to the workspace switcher on the correct side of the screen," he writes.
Meanwhile, status bar notifications are said to be newly available for external storage devices, and status bar messages can now display a counter to show the number of unread emails or new chat messages. In addition, a "do not disturb" toggle switch is said to have been added to make this feature more accessable.
Gilberston notes that GNOME 3.2 "marks the second incremental update for GNOME and it is clear that there will be no new major features coming for some time."
OpenSUSE 12.1 beta
We were confused when we saw that the Attachmate/SUSE-backed OpenSUSE project had announced a beta release of OpenSUSE 12.1 ("Asparagus"), but without much more detail than usually accompanies an alpha announcement. Not being true OpenSUSEians, we also wondered why the numbers 11.5 or 12.0, either of which seemingly would have made more sense to designate an upgrade to the March release of OpenSUSE 11.4.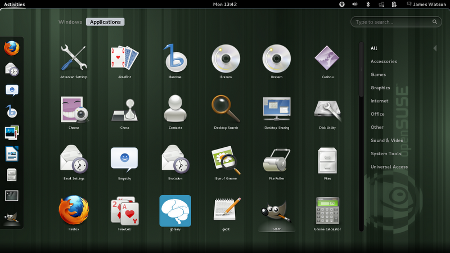 GNOME 3.2 on OpenSUSE 12.1 beta
Source: ZDNet
The H, however, explained
that the delayed release was originally supposed to be called Milestone 6. However, it was reclassified as a beta last month in order to get more developers, testers, and early adopters on board for bug-testing, says the story.
Meanwhile, a Sept. 15 feature in The H covering the OpenSUSE conference in Nuremberg — the new home of Attachmate's SUSE business unit (formerly Novell) — explained how "12.1" was arrived at. After much debate, the OpenSUSE team decided that the new release had "too few new features for a zero release" such as 12.0, wrote Andrea Muller. In any case, in version 11.4, the team also debuted an optional Tumbleweed-based rolling release system, so at least some users will not really care what the number is.
According to Muller's story, major enhancements aside from the GNOME 3.2 move include Systemd replacing SysVInit, as well as support for the Btrfs file system. The 12.1 release is sticking with legacy GRUB, however, as the bootloader. By supporting Btrfs, OpenSUSE "is laying the foundations for the second service pack for Attachmate's SUSE Linux Enterprise Server 11 (SLES), which will then be the first enterprise distribution to support Btrfs," Muller added.
Finally, on ZDNet, J.A. Watson takes a closer look at the beta and its implementation of GNOME 3.2,which he calls "still quite rough around the edges."
---
This article was originally published on LinuxDevices.com and has been donated to the open source community by QuinStreet Inc. Please visit LinuxToday.com for up-to-date news and articles about Linux and open source.