Oct 13, 2011 — by Eric Brown — from the LinuxDevices Archive — 1 views
Ubuntu 11.10 ("Oneiric Ocelot") was released, featuring makeovers for its Unity desktop and Ubuntu Software Center, plus a switch to the Thunderbird email client and a new backup tool called Deja Dup. On the server side, Ubuntu 11.10 adds ARM support, as well as a new "Juju" cloud management framework, and the integration of OpenStack within Ubuntu Cloud Infrastructure.
Most of the desktop and UI changes to the Ubuntu 11.10 ("Oneiric Ocelot") Linux distribution were revealed in the alpha and beta releases, the latter coming in September. However, a few new wrinkles have popped up, and there's also plenty of server news, including new cloud features and the first support for ARM-based servers (see farther below).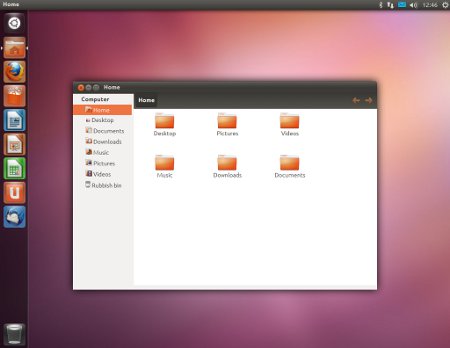 Ubuntu 11.10, showing Unity desktop
(Click to enlarge)

The ARM support has also been enhanced for desktop and "Ubuntu Core" embedded Ubuntu releases. According to Ubuntu sponsor Canonical, which formally announced the final release Oct. 10 in anticipation of the Oct. 13 release date, "Unity is now fully supported on ARM, making extremely low-power and low-cost thin clients possible for large-scale institutional deployments."
One version of the Ubuntu Core technology that will build on ARM processors is the Ubuntu IVI Remix, one of five Linux distros said to be compliant with the Genivi Alliance in-vehicle infotainment (IVI) spec.
As Canonical notes, 11.10 is not the "final" final, as Oneiric Ocelot will actually be set in stone in the Long Term Support version due in April 2012. But the desktop is ready to roll on to desktops, servers, and a small but growing number of tablets and other devices.
The home-grown Unity desktop was introduced as the default in the last release — April's Ubuntu 11.04 ("Natty Narwhal") — replacing GNOME 2.x. Unity is intended to move Ubuntu toward tablets and touch-enabled notebooks with a radically revised, touch-ready Dash user interface optimized for smaller screens.
Although Unity received some good reviews by the general press, the environment was given a rough greeting by the Ubuntu faithful, the vast majority of whom use non touch-enabled desktop PCs. Unity's main advantage may be that it's widely seen as being superior to, and a tad less alien than, the new GNOME 3.0.
The GNOME Foundation has addressed some concerns with the new GNOME 3.2, which recently appeared in early betas of Fedora 16 and OpenSUSE 12.1 and is also offered in Ubuntu 11.10 as an alternative desktop. GNOME Classic is no longer installed by default, but can be enabled after installation completes by installing "gnome-panel," says the Ubuntu project.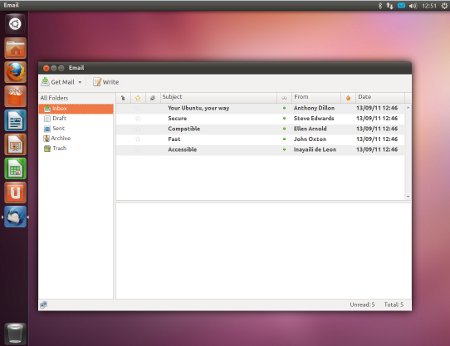 Mozilla's Thunderbird 7.0 replaces Evolution for email
(Click to enlarge)

In Ubuntu 11.10, Unity has been revamped as well. As with GNOME 3.2, however, the desktop has not so much backtracked as simply removed bugs and refined the interface. Ubuntu 11.10 also introduces a "2D" version of Unity that targets low-end desktop computers.
As we reviewed in more detail in our earlier alpha coverage, the key changes have been to Unity's Dash UI, including new windows controls and transparency effects, and the swapping out of the "Places" concept with more search-savvy "Scopes and Lenses."
Scopes are data sources that can access both online or offline data with improved search filtering options, including user ratings and app categories. Lenses present the data derived from Scopes in different views.
As Scott Merrill notes on TechCrunch, the Ubuntu project has released a music lens that will search local music files, and query the Ubuntu Music Store for titles that fit one's filter. He also points to an early third-party lens from AskUbuntu.com, called the Ask Ubuntu lens, which integrates AskUbuntu.com's tech support query system on the Ubuntu desktop.
At ArsTechnica, meanwhile, Ryan Paul writes that the Dash UI is "a bit cleaner," and the top right-corner menus have been "streamlined and reorganized so that they are easier to navigate." Paul dubs the application launcher as "eccentric," however, and calls it "a sore spot in an otherwise elegant desktop."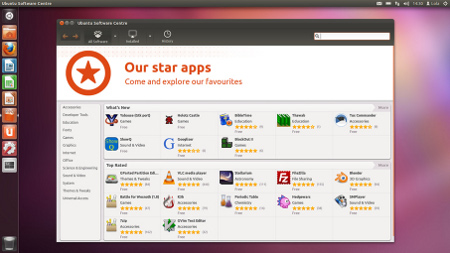 Ubuntu 11.10 Software Center
(Click to enlarge)

Oneiric Ocelot also upgrades the Ubuntu Software Center, improving performance and giving it a streamlined look and feel to make it fit in better with Unity. The new look is somewhat similar to that of the Mac App Store.
The Software Center has also greatly boosted the number and variety of applications available, including, somewhat controversially, more commercial applications. New apps are said to include The World of Goo and Oil Rush.
Both Merrill and Paul note that the Software Center has also been revamped to be friendlier to app developers. In addition, Canonical has been courting application developers through a new "developer.ubuntu.com" portal, which "explains how to build and submit an application to the Software Center," according to Merrill.
Other Ubuntu interface changes include a redesigned Alt+Tab application switching interface. There's also an improvement in performance for the launchers and panel, thanks to a port to GTK 3 and a GTK 3-based indicator stack, says the Ubuntu project.
Package updates include Linux 3.0.3, Python 3.2.2, and GCC 4.6.1. Mozilla's Firefox 7 browser (below) is now standard issue, as is a beta of its Thunderbird 7.0 email client (pictured earlier), now established for the first time as the default in place of Evolution.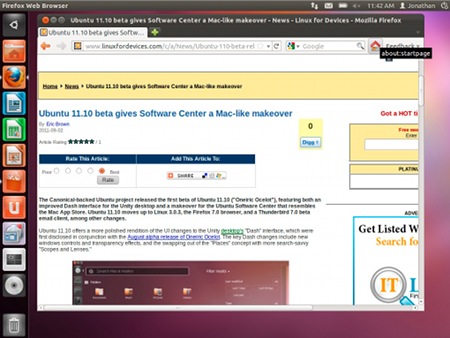 Firefox 7.0 is now standard issue
(Click to enlarge)
Ubuntu upgrades to version 3.4.2 of the popular LibreOffice office suite. In addition, it advances to the Banshee 2.1.3 music player, although the latter does not work on ARM systems. (Rhythmbox is offered as a backup.)
One major new package is the Deja Dup backup tool, which Tech Crunch's Merrill says is similar to Apple's Time Machine. Deja Dup supports local or external hard drives, as well as the UbuntuOne personal cloud storage site, a feature that lets users easily restore a system to different hardware, according to Merrill.
Ubuntu Server: ARM support comes to servers
One major new feature in the Ubuntu Server version of Oneiric Ocelot is the addition of ARM processor support, released here as a technology preview. Ubuntu Server 11.10 "sees Ubuntu become the first general-purpose, server-focused operating system that supports the ARM architecture," says Canonical.
In addition to offering core support for ARM, joining its its existing x86 support, the company has upgraded high-volume server applications such as the LAMP stack for ARM.
Both ARM Ltd. and Canonical see servers as a growth area for ARM processors. ARM CEO Warren East declared late last year that ARM-based chips would begin eating into Intel's sizable server processor market share by 2014. Earlier this year, Canonical joined an ARM server initiative from Calxeda called Trailblazer.
Calxeda is building ARM-based chips for low-power data center servers that will offer 120 quad-core ARM nodes — or 480 cores — in a 2U (3.5-inch) form factor. The average power consumption will be about 5 watts per node, and such a system will consume about 600 watts, claims Calxeda.
An Inquirer story this week quotes Mark Baker, server product manager at Canonical, as saying, "As you move into large-scale distributed systems power and density become challenges […] we anticipate [ARM] will become more relevant for people over the coming years in effect."
Juju and OpenStack integration paves way for HP cloud win
In addition to adding ARM support, Ubuntu 11.10 Server once again pushes the distro forward in cloud computing. With the beta release, we heard about a new DevOps-based Ensemble platform for handling service deployment and orchestration for both cloud and bare metal. Ensemble has now been formally dubbed Juju, and is said to let infrastructure and service developers describe the deployment and scaling requirements of their cloud applications.
Juju improves communications between developers and ops teams, says Canonical. The platform also simplifies deployment across multiple cloud providers and farms of physical servers running cloud-style workloads such as Hadoop, adds the company.
There's also been further integration of the OpenStack cloud platform, which was initially supported in the previous Ubuntu 11.04 release. Ubuntu Cloud Infrastructure now includes OpenStack as the core infrastructure-as-a-service (IaaS) element, says Canonical.
In addition, Ubuntu 11.10 advances Canonical's lightweight LXC container technology as an alternative to the supported KVM and Xen virtualization technologies. Canonical has improved LXC integration, and added LXC support to OpenStack as a technology preview, says the company, which notes the LXC is particularly well suited for ARM-based cloud services. Finally, the new release also offers "Orchestra" tools for provisioning and deploying Ubuntu across multiple physical servers.
Last week at the OpenStack cloud software conference, Canonical announced a major cloud customer win with HP, which has chosen Ubuntu as the lead host and guest operating system for its Public Cloud. According to ZDNet, this is Canonical's biggest enterprise win to date.
Stated Jane Silber, CEO of Canonical, "We're thrilled to deliver multiple firsts with this release: a technology preview for the ARM architecture on servers, cloud infrastructure and Juju service orchestration in the box."

Ubuntu 11.10 overview demo on YouTube
Source: Ubuntu project
(Click to play)

Availability
Ubuntu 11.10 is now available for free download. More information may be found on this Ubuntu 11.10 information page and this broader overview of the distro.
---
This article was originally published on LinuxDevices.com and has been donated to the open source community by QuinStreet Inc. Please visit LinuxToday.com for up-to-date news and articles about Linux and open source.