Apr 28, 2011 — by Eric Brown — from the LinuxDevices Archive — 1 views
Ubuntu 11.04 is available for free download, featuring a new touch-enabled Unity desktop environment, expected by Canonical to steer the popular Linux distro toward a tablet future while keeping the Ubuntu faithful happy. Other new features include LibreOffice 3.3.2, Firefox 4.0, and improvements to the Software Center.
Released in beta form a month ago, and officially announced by Ubuntu project sponsor Canonical last week, Ubuntu 11.04 ("Natty Narwhal") is now freely available. The release comes at a tumultuous time in the Ubuntu community, with some threatening to abandon Ubuntu over questionable open source practices, as well as radical changes in Natty Narwhal. More changes are coming in this fall's Oneiric Ocelot (Ubuntu 11.10), including a switch from X Window to the Wayland windowing interface.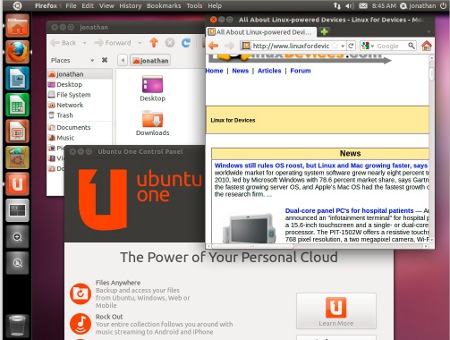 Ubuntu 11.04 with new Unity interface
(Click to enlarge)
The most notable change in Natty Narwhal is a new multitouch Unity desktop that replaces GNOME and adopts an icon-driven, left-column program launcher, among other more fundamental changes. Canonical intends Unity to propel Ubuntu onto tablets and touch-enabled notebooks and netbooks. Yet for now, very few Ubuntu users have touch technology, so Unity will have to live or die by the mouse.
It will be interesting to see how many users stick with Unity or revert to the "classic," GNOME-based option. Some may want to try out Unity first with Canonical's new online trial-based version, which offers 55 cloud-based minutes with the new operating system.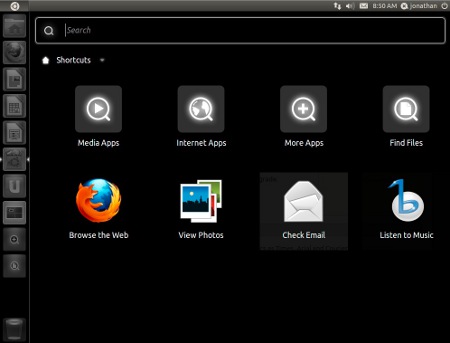 Ubuntu Dash shortcuts
(Click to enlarge)
Unity includes a left-hand side launcher that can be hidden away to provide more screen space — one of many features intended to make Ubuntu more usable on the smaller screens of netbooks and tablets. The other major new feature is the Dash screen, enabled from the upper left corner of the screen. This brings up a sizable display that provides access to shortcuts and search.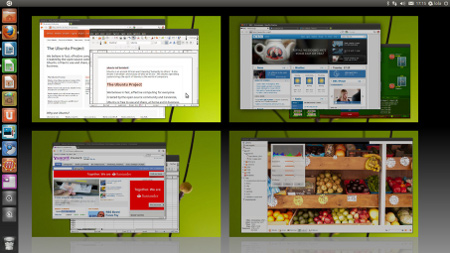 Ubuntu 11.04 Workspaces mode
(Click to enlarge)
Unity also debuts a new Workspaces mode for managing multiple windows and applications in a grid. The Workspaces feature is intended to enable easier switching between running applications. Other Unity features include drag-and-drop re-ordering of icons, full keyboard navigation support, keyboard shortcuts, and right-click context menu quick-lists, says the Ubuntu project.
LibreOffice and Software Center enhancements
Major Ubuntu 11.04 advances include the addition of LibreOffice 3.3.2 in place of OpenOffice.org, as well as updates to Firefox 4 and Banshee 2.0. Additional improvements are said to include ease-of-use enhancements to the Ubiquity installer, as well as an improved Network Manager.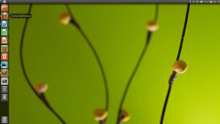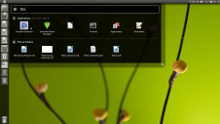 Launcher (left) and Dash
(Click on either to enlarge)
The Ubuntu One cloud storage and music service offers a new control panel that adds selective syncing, and displays sync progress, says the Ubuntu project. File syncing is also said to be faster.
Enhancements have also been made to the Software Center with "rate and review" features. The Center now offers the ability to share reviews on social networking services via new integration features in the updated Gwibber app.
As noted in our earlier coverage, the Software Center also debuts a new test drive feature that lets users sample selected applications before installing them. However, as we looked into it, we found this is not available out of the box, but requires some additional steps to get it running. The feature works by running the applications on a remote server using the NX protocol and requires an extra package called "qtnx" to be installed manually.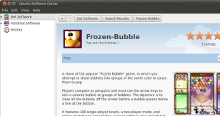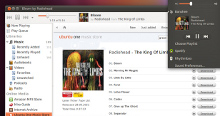 Software Center (left) and Ubuntu One's music service


(Click on either to enlarge)
Under the hood, updated components include X.org 1.10.0, Mesa 7.10.1, GNU gcc 4.5, Python 2.7, and Upstart 0.9.7-1. One major change in Ubuntu 11.04 is
the introduction of Qt libraries
as an alternative development environment to the GNOME project's Gtk+. (For more details, please see our
Ubuntu 11.04 beta coverage
.)
Linux 2.6.38, Natty power issues, and a server update
Over the last week, Phoronix has been publishing benchmark results from the latest beta build of Ubuntu 11.04 showing a serious power regression issue, resulting in an average 10 percent increase in power consumption. The problems appear to be linked to the new Linux kernel 2.6.38 underlying Ubuntu, so other distros will likely soon be in the same fix. The Ubuntu project, however, is looking into the issue.
Linux 2.6.38 has many positive aspects, however, bringing Natty Narwhal users features such as AppArmor security, support for Intel IPS (Intelligent Power Sharing), and removal of the Big Kernel Lock. There have also been file-system improvements to Btrfs, Ext4, and XFS.
AppArmor and many other Linux 2.6.38 features will primarily impact Ubuntu Server 11.04. which is also available today, featuring an updated Ubuntu Enterprise Cloud (UEC) platform based on Eucalyptus 2.02, as well as a technology preview of the open source cloud platform, OpenStack "Cactus."
Other new server features include easier server provisioning and new power management features. More on the server edition is available in our previous coverage, and Ubuntu Server 11.04 will also likely be examined more closely in the coming weeks by our enterprise-focused friends at eWEEK.
ARM Unity-2d desktop, plus headless versions for PandaBoard, BeagleBoard
As with most Linux distros, Ubuntu is primarily an x86 phenomenon, yet it has begun to support ARM platforms as well. Although on x86 systems Ubuntu Netbook Edition (UNE) has disappeared in this release — with its features being rolled into the mainstream desktop version — preinstalled Ubuntu Netbook images for ARM are available. These include a Unity-2d version of the Unity desktop designed for 2D graphics hardware, based on Enlightenment Foundation Libraries.
Headless developer reference images are also provided for two Texas Instruments (TI) OMAP/ARM open developer platforms distributed by Digi-key. The images support the PandaBoard, based on a Cortex-A9 dual-core, 1GHz OMAP4430 processor, and the BeagleBoard, which incorporates 1GHz ARM Cortex-A8 OMAP processors, including TI's latest 1GHz DM730 CPU.
Big Ubuntu win in Germany
A Gartner operating system study released this week showed that Linux was the fastest growing server OS in 2010. However, as a desktop client OS, Linux wasn't even mentioned. Clearly Ubuntu and desktop Linux still have a long way to even reach Mac-like numbers let alone kick that puppy called Microsoft.
However, Ubuntu Desktop and desktop Linux in general, appear to be doing well in large deployments by governments, schools, and large organizations. This was demonstrated earlier this week in the successful migration of 10,000 desktops to Ubuntu by German Insurance company LVM Versicherung.
Availability
Ubuntu was announced on LWN.net, with links available pointing to release notes, overviews, and downloads. Or go straight to the source at Ubuntu's download page, which offers a link to the online trial version, direct downloads, and USB/CD versions.
---
This article was originally published on LinuxDevices.com and has been donated to the open source community by QuinStreet Inc. Please visit LinuxToday.com for up-to-date news and articles about Linux and open source.