May 27, 2011 — by Eric Brown — from the LinuxDevices Archive — 4 views
The Mint project released the final Linux Mint 11, which is based on Ubuntu 11.04, but skips over the Unity and GNOME 3 desktops in favor of GNOME 2.32.1. Linux Mint 11 offers UI updates to the Software Manager and Update Manager, while also speeding the latter, and supplies new default apps in LibreOffice, Banshee, and gThumb, says the project.
Linux Mint 11 arrives just two week after the Release Candidate was made available. As with Linux Mint 10 and other minty offerings, this "Katya" release is based on Ubuntu and the GNOME desktop.
Although Mint 11 mimics the latest Ubuntu 11.04, the Mint project has taken a pass on Ubuntu's controversial new default Unity desktop environment. Instead, it offers GNOME, but it's the earlier GNOME 2.32.1, not the new, almost equally controversial GNOME 3.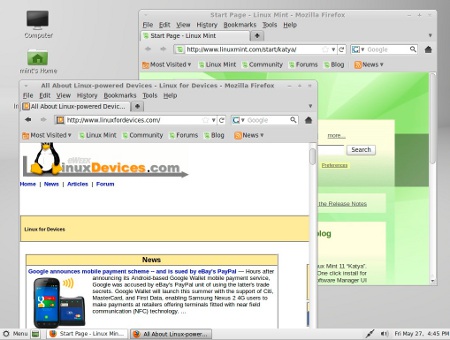 Linux Mint 11
(Click to enlarge)
The Mint project's retro move could attract some disgruntled Ubuntu users — and perhaps even a few
Fedora 15
users — who don't like the looks of Unity or GNOME 3, respectively. On the other hand, it also sticks Mint users with an aging desktop that will receive "no more upstream work from the GNOME project,"
writes Susan Linton in Ostatic
. It may be a popular move in the short-term, she argues, but it could just be a needless case of "slowing ripping off the band-aid" instead of making one clean break.
Then again, waiting one or two six-month release cycles will give time for the GNOME Foundation and the Ubuntu project to iron out some of the rough edges in their new environments, and perhaps reverse a few of the most unpopular UI "enhancements." And it also gives the Mint project and its users some time to choose between them.
Based on Linux kernel 2.6.38 and X.Org 7.6., Linux Mint 11 offers Live DVD and Live CD installation options, as well as easier installation of codecs, says the Mint project. The new release carries through structural improvements found in Ubuntu 11.04.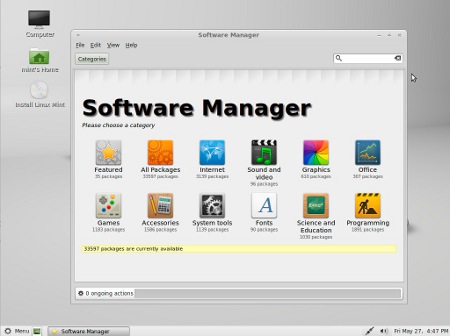 Mint 11's new-look Software Manager
(Click to enlarge)
For example, the Software Manager has an updated UI with a splash screen, bigger icons, and a new fonts category. A simulator shows which packages will be added or removed from the system prior to downloading, says the Mint project.
The Update Manager is said to be faster, and offers improved rules and "look for package" updates. It also provides enhanced dependency handling, and now shows updates, not their dependencies, which "makes it much clearer which updates are available," as well as the effects an installation will have on the system, says the project.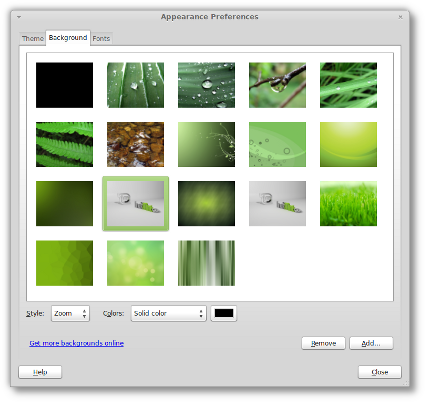 New Mint 11 backgrounds
Linux Mint 11 uses the same GTK and icon themes as the previous release, but offers a new 3D default background. There is also a greater choice of alternative backgrounds (see image above).
At the system level, a new "apt download" command is available that downloads a .deb package locally along with all its dependencies, says the Mint project. In addition, on 32-bit systems, the stable Flash 10.2 and Beta Flash 10.3 plugins can now be installed separately.
Mint 11 adds the new LibreOffice productivity suite in place of OpenOffice.org. In addition, gThumb replaces F-Spot for photos, Banshee replaces Rhythmbox for music, and Twitter alternative Gwibber is no longer a default install, says the project.
Availability
Linux Mint 11 is available now for free download. More information and links to downloads may be found in the Mint 11 blog announcement, as well as the Mint 11 release notes page.
---
This article was originally published on LinuxDevices.com and has been donated to the open source community by QuinStreet Inc. Please visit LinuxToday.com for up-to-date news and articles about Linux and open source.