Sep 16, 2008 — by Eric Brown — from the LinuxDevices Archive — views

T-Mobile, Google, and HTC have sent out invitations for next Tuesday's announcement of the first phone based on the Google Android mobile Linux stack. Meanwhile, leaked photos of the Android-based "HTC Dream" have popped up, revealing an unusual design feature.
LinuxDevices and other news organizations received the invitation from T-Mobile today for the Sept. 23 event in New York City, at which attendees will "witness the official unveiling of the first Android-powered phone from T-Mobile," according to the invite. Meanwhile, a Wall Street Journal story today cited "people familiar with the matter" as saying that Deutsche Telekom-owned T-Mobile will start selling the HTC Dream in late October.


Cab4Me, an Android Developer
Challenge winner
(Click for details)
Last month, it was revealed that the U.S. Federal Communications Commission (FCC) had approved the HTC Dream. According to the minimal specs listed in HTC's FCC application, as well as the tidbits dropped on the HTC Dream teaser site, the 5 x 3-inch smartphone sports a slide-or-swivel QWERTY keypad, touchscreen with haptic feedback, WiFi, and Bluetooth. It also offers GSM/GPRS/EDGE 850/1900Mhz cellular capability, and is equipped with a jog ball and a 3.7 V Li-ion battery. Considering that GPS is supported under the Android spec, and most of the recent Android Developer Challenge winners depend on GPS, it is also likely the Dream will keep in regular contact with satellites.
The leaked photos, which showed up on MobileRoar.com, appear to confirm many of these details, while revealing an interesting design feature. When the phone is turned on its side and the QWERTY keyboard is slid out, the menu panel of control buttons that was previously below the screen slides down to line up with the keyboard, providing additional button functionality as if it were a keyboard extension. On the HTC Dream forum, there is considerable debate as to whether this "quirky" feature, as one commenter called it, would be an ergonomic plus or minus.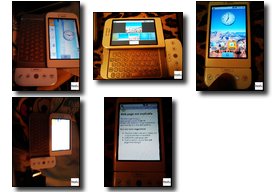 Leaked HTC Dream photos
(Source: MobileRoar. Click for originals)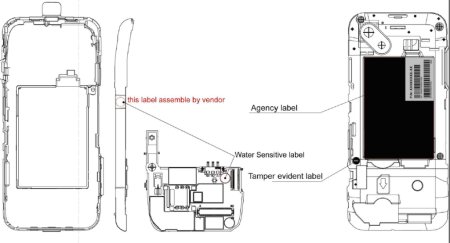 HTC Dream illustration submitted to FCC
(Source: Federal Communications Commission. (Click to enlarge)
The world's largest vendor of Windows Mobile smartphones, HTC is perhaps best known currently for its Windows Mobile 6.1-based
Touch
phones. This week the Taiwan-based vendor announced an upgraded
Touch HD
version boasting a higher-resolution 800 x 480 display. Aside from its similarly ample dimensions, however, the Dream appears to offer an entirely new design. HTC typically launches at least one new hardware design each month; for a listing, visit the WindowsForDevices
Guide to HTC's Windows Mobile phones
.
The WSJ story seems to suggest that most of the reported delays surrounding Android have occurred primarily due to wireless providers struggling with the Android software. However, T-Mobile, at least, appears to be coming out on schedule, the story says, and Sprint and Verizon Wireless are expected to announce Android phones later this year.
HTC expects to ship 600,000 to 700,000 units this year, says WSJ, whereas most analyst estimates range from 300,000 to 500,000. For the sake of comparison, Apple shipped 892,503 iPhones in Q2 of this year alone, according to a Gartner report from last week. HTC, meanwhile, shipped 1,330,825 units during Q2, according to the same study. The Dream will be heavier than the Apple iPhone, according to the WSJ story.
Meanwhile, in an August 25th Android developers blog entry, Dan Morrill discussed the recently released Android 0.9 beta software development kit (SDK). To ensure timely delivery, the team decided to remove exposed APIs for Bluetooth and GTalk (the Google Talk service originally called "XMPPService"). Neither technology will be supported in Android 1.0 when it is released this Fall, although both technologies should eventually appear in the stack, wrote Morrill. In addition, the first Bluetooth-enabled Android phones, such as the HTC Dream, will still be able to provide basic functionality such as connecting to Bluetooth-enabled headphones.
The Wall Street Journal story should be available here, and the MobileRoar gallery of leaked HTC Dream photos should be here. The HTC Dream site may be found here.
---

This article was originally published on LinuxDevices.com and has been donated to the open source community by QuinStreet Inc. Please visit LinuxToday.com for up-to-date news and articles about Linux and open source.