Mar 24, 2011 — by Eric Brown — from the LinuxDevices Archive — 2 views
Foremay is shipping a NAND solid state drive (SSD) claimed to be the world's smallest SSD "disk-on-chip." Its OC177 DOC chip measures only 0.87 x 0.87 x 0.07 inches (22 x 22 x 1.8mm), supports standard IDE or SATA host interfaces, and is available in 32GB capacities, with a read/write speed of up to 70/40MB/sec, says the company.
While Pasadena, Calif.-based Foremay claims to be one of the world's top 10 SSD OEMs, it has yet to appear in our frequent SSD coverage, which seems to feature companies outdoing each other in size (small), capacity (large), or speed (fast) seemingly every month.
The calling card for the OC177 DOC — the latest member of its OC177 SSD product family — is size. At 0.87 x 0.87 x 0.07 inches (22 x 22 x 1.8mm), it makes Intel's 2.0 x 1.18 x 0.2-inch (51 x 30 x 5mm) SSD 310 Series (to choose a recent example) look bloated by comparison. Indeed, as far as we can tell, this really is the world's smallest "disk-on-chip," as claimed by Foremay.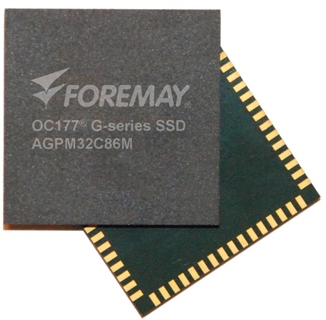 Foremay OC177 DOC
Read/write speeds for the DOC are said to range up to 70/40MB/sec., respectively. While the device is currently available only in a modest 32GB capacity, and only for IDE, a 64GB version that also supports SATA is expected in the third quarter, says Foremay. The DOC chips are said to comply with
ATA-7
standards.
Like Foremay's other OC177 SSDs, the DOC chip disk is designed for rugged embedded computing applications with need for ultra-high anti-shock or anti-vibration capability, says the company. Applications for DOC are said to include embedded industrial PCs, military/aerospace devices, and rugged laptops, notebooks, and handhelds. Other cited devices include PMPs, camcorders, and PoS terminals.
Foremay's OC177 SSDs are flash disk modules touted as providing high reliability, as well as high vibration, shock, temperature, and drop resistance and tolerance.
The OC177 devices are split into two series, which until now have ranged from 1.3 to 1.8 inches in size, and come in different form factors, including SATA, micro-SATA, IDE, ZIF, USB, and mini-PCI Express, says Foremay.
The DOC is a member of the general-purpose G-Series, which supports operating temperatures ranging from 32 to 158 deg. F (0 to 70 deg. C). G-Series devices offer capacities up to 256MB, with read/write speeds up to 270MB/sec, says Foremay.
The OC177 Hi-Rel Series is designed for industrial grade and/or military grade applications with -40 to 185 deg. F (-40 to 85 deg. C) temperature tolerance. Capacities are said to range up to 128GB, with up to 250MB/sec speeds.
Recent SSD entries from other companies have included Plextor's M2 Series devices, announced in February, offering 64GB, 128GB, or 256GB of storage, with reads of up to 480MB/sec.
Stated Jack Winters, CTO of Foremay, "Foremay's DOC drive eliminates the need to have a 'disk drive' attached to the computer motherboard. The DOC can be soldered directly onto the motherboard via its LGA or BGA pins, which also significantly enhances the anti-shock and anti-vibration performance from DOC equipped computers."
Availability
The OC177 DOC is now shipping in volume with IDE/PATA support in capacities up to 32GB. Models with 64GB supporting IDE and SATA are expected to be available in Q3 2011. More information should eventually appear on Foremay's OC177 page.
---
This article was originally published on LinuxDevices.com and has been donated to the open source community by QuinStreet Inc. Please visit LinuxToday.com for up-to-date news and articles about Linux and open source.