Jun 15, 2010 — by LinuxDevices Staff — from the LinuxDevices Archive — 54 views
Avnet announced a product bundle for those wanting to experiment with Xilinx's Spartan-6 FPGA (field programmable gate array). The "Xilinx Spartan-6 FPGA PCIe I/O Reference Design" includes an Intel Atom-powered module and baseboard from Kontron, a PCI Express-based Spartan-6 board, and a video output adapter, the company says.
According to Avnet, its Xilinx Spartan-6 FPGA PCIe I/O Reference Design is designed to facilitate "rapid prototyping and development of leading-edge industrial applications." The bundle is said to include Kontron's nanoETX-express-SP module, nanoETXexpress baseboard (see later in this story for background), a heat spreader, an LVDS-to-DVI video adapter, and the PCI Express-based Xilinx Spartan-6 SP605 development board.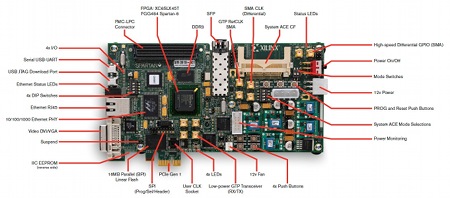 Xilinx's SP605 development board
(Click to enlarge)
The SP605 development board, pictured above, is built around Xilinx's XC6SLX45T FGG484 Spartan-6 FPGA. The PCI Express board is equipped with 16MB of flash memory, an unstated quantity of DDR3 RAM, and a CompactFlash slot, Xilinx adds.
According to Xilinx, the SP605 also includes four I/Os, a UART, a USB JTAG download port, a DVI video output, and a gigabit Ethernet port. A flash drive included with the device offers reference designs, documentation, demos, and a device-locked edition of the ISE Design Suite, the company says.
Kontron's nanoETX-express-SP and nanoETXexpress evaluation board
When it made its debut in April 2008, Kontron's original nanoETXexpress-SP was one of the very first Intel Atom-powered devices, sporting either the 1.1GHz Z510 or 1.6GHz Z530. The module employed the 3.3 x 2.2-inch form factor that was originally introduced by Kontron as nanoETXexpress, and was subsequently submitted to the PICMG (PCI Industrial Computer Manufacturers Group) under the proposed neutral name, COM Express Ultra.
A revised version of the nanoETXexpress-SP, introduced last December, added an optional SDVO connector, according to Kontron. Since LVDS signaling was already offered via the module's Type I COM Express pinout, the device now supports dual displays, the company announced at the time.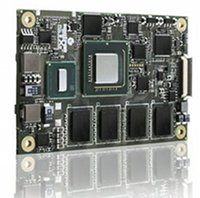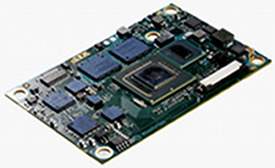 Kontron's nanoETXexpress-SP in its new (left) and old (right) versions
In another engineering change, the new module (above left) was redesigned to support eight memory chips instead of the four on the previous version (above right), according to Kontron. As a result, the maximum amount of available RAM — still soldered-on — doubled to 2GB, and so did available flash storage (up to 8GB).
The nanoETXexpress-SP uses the 1.1GHz Atom Z510 or 1.6GHz Atom Z530, with 400MHz or 533MHz frontside buses, respectively. Meanwhile, the SCH US15W (system controller hub) companion chip once again integrates northbridge and southbridge funtionality, giving the COM OpenGL 3D graphics, support for DirectX 9, plus hardware-accelerated 720p and 1080i video decoding, according to Kontron.
The nanoETXexpress-SP also includes a SATA port, eight USB ports, gigabit Ethernet, high-definition audio, and an SDIO port. Expansion potential is provided by a one-lane PCI Express interface, Kontron adds.
Features and specifications listed by Kontron for the nanoETXexpress-SP include:
Processor — Intel Atom Z510 (1.1GHz) or Z530 (1.6GHz)
Chipset — SCH US15W
Memory — 512MB to 2GB of soldered-on RAM
Storage — 512MB to 8GB of flash
Display — single-channel LVDS interface with resolutions up to 1366 x 768; optional SDVO interface with resolutions up to 1920 x 1080
Expansion:

SDIO port
1 x 1-lane PCI Express (2 x 1-lane PCI Express if Ethernet is not used)

Networking — 10/100/1000 Ethernet
Other I/O:
Operating range — 32 to 140 deg. F (0 to 60 deg. C)
Power requirements and consumption — 12VDC, 4.5 Watts typical consumption
Dimensions — 3.3 x 2.2 inches
Operating system support — Linux, Windows Embedded Standard Windows XP SP3, Windows XP Embedded, Windows CE, VxWorks, QNX
In addition to the nanoETXexpress-SP module, the Xilinx Spartan-6 FPGA PCIe I/O Reference Design also includes Kontron's nanoETXexpress evaluation board. Pictured below, the board measures 12 x 8.3 inches (305 x 210mm), and includes four SATA connectors, two PCI Express slots (one x1, 1 x4), two 32-bit PCI slots, and an SD slot, according to Kontron.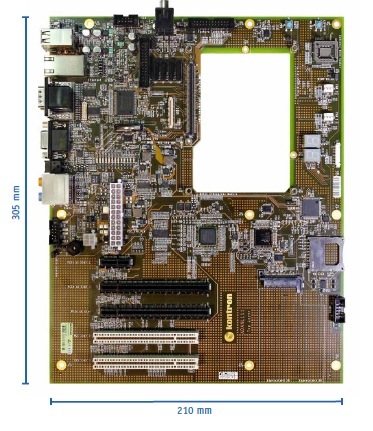 Kontron's nanoETXexpress evaluation board
Kontron says the nanoETXexpress evaluation board includes an LVDS panel connector and a VGA port, though the latter does not work with the nanoETXexpress-SP, according to the company. Other ports on the board's coastline, as pictured below, include four USB 2.0 ports, two serial ports, a FireWire port, and 7:1 audio output via analog jacks.


The coastline on Kontron's nanoETXexpress evaluation board
(Click to enlarge)
Statements
Tim Erjavec, senior director of platforms and services for Xilinx, stated, "The coupling of our low-cost Spartan-6 FPGA technology with the Atom processor for industrial applications is a direct result of the Xilinx targeted design platform strategy for making FPGA technology more accessible. By working from a scalable reference design, designers can easily extend the design and thus focus on their core competitive strengths."
Doug Follett, director of Microsoft OED channel sales for the Americas and EMEA, stated, "Avnet's end-to-end reference design adds considerable value to the design community. The preconfigured image of Microsoft's Windows Embedded Standard included within Avnet's reference design enables the design engineer with a flexible, speed-to-market platform that simplifies development, lowers total cost of ownership and further reduces the design cycle."
Availability
More information on the Xilinx Spartan-6 FPGA PCIe I/O Reference Design, whose pricing was not released, may be found on the Avnet website, here. More information on Kontron's nanoETXexpress-SP and nanoETXexpress evalation board may be found here and here, respectively.
---
This article was originally published on LinuxDevices.com and has been donated to the open source community by QuinStreet Inc. Please visit LinuxToday.com for up-to-date news and articles about Linux and open source.