Dec 17, 2010 — by Eric Brown — from the LinuxDevices Archive — views
Google released Google Maps 5.0 for Android, featuring dynamic 3D vector graphics and offline capabilities. Other Android app debuts this week include LinkedIn for Android, a Kindle for Android 2.0 release that adds periodical support, plus a Chumby app that brings the company's push-content service to Android.
Google Maps 5.0 was tipped two weeks ago by Google's Andy Rubin, who used it to show off a Motorola tablet prototype. Yesterday, the mapping application was released on Android Market, as reported by our sister publication eWEEK. The upgrade follows the release of Google Maps 4.7 only a month ago.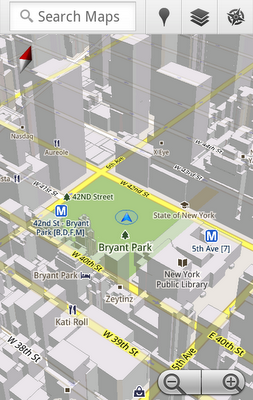 Google Maps 5.0
Google has added 3D vector graphics and offline capabilities to Maps 5.0 in a bid to make the app more interactive and reliable, writes
eWEEK
's Clint Boulton. Users can tilt the map by dragging down with two fingers, and when users zoom to street level, they may tilt around to see 3D buildings. These 3D views are said to be offered for more than 100 cities worldwide.
Users may also rotate the map to get a different view by twisting with two fingers on the touchscreen, writes Boulton. By sliding two fingers together or apart, users will see the map terrain and associated labels change on the fly to any place to which they are navigating. When users center the map on their location, they can tap the compass button in the top right corner to throw the map into 3D mode (see video demo below).
Google Maps 5.0 demo on YouTube


Source: Google
(Click to play)
In addition, Google is now caching maps on Android devices based on what areas users frequently search, thereby offering offline access to commonly used maps. This offline feature will also be rolling out in a modified version on the Google Maps Navigation turn-by-turn GPS navigation app, starting early next year, says the story. A wireless connection is required to begin a route, "but if the GPS falters along the way, the offline routing will keep them on track," writes Boulton.
LinkedIn links up to Android
In a separate eWEEK story, Boulton writes about a new beta version of a LinkedIn for Android app released by LinkedIn yesterday for Android 2.1 and higher users.
LinkedIn for Android (pictured) offers many of the same features avail
able to mobile users of LinkedIn's BlackBerry, iPhone, and Windows Mobile apps for accessing the 85 million member social networking site for professionals.
These include the ability to manage LinkedIn connections, view updates from a professional network, search for people, make connections, and respond to invitations. Users may also view connection updates, including changes to user profiles and important articles and information, says the story.
To get their hands on the beta, one must first be member of the LinkedIn Mobile parent group, and then join the new LinkedIn for Android subgroup, says the story.
"This is the sort of barrier to entry that might make LinkedIn and Android users think twice about trying the app, at least until it's finished and the stable version launches," writes Boulton.
Kindle for Android to 2.0 gets periodical
Today, Amazon.com announced the release of Kindle for Android 2.0, an app that offers key features of the Linux-based Kindle e-reader device. The most notable feature — newspaper and magazine support — is debuting first on Android. (The app is also available on iPad, iPod touch, iPhone, BlackBerry, as well as Windows and Mac desktop platforms.)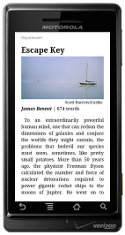 Users of Kindle for Android (pictured at left) can now buy, read, and sync over 100 Kindle newspapers and magazines, including The New York Times, Newsweek, and The Atlantic. Additional new features include "the ability to seamlessly buy and download Kindle books and periodicals within the Kindle for Android app" via an "in-app store optimized for the Android interface," says Amazon.
New social network integration features, meanwhile, enable customers to share their progress in a book using Google's built-in Share functionality, says the company. In addition, users can also now "zoom closer to images and other graphics," says Amazon. Kindle for Android 2.0 is available now for free on Android Market, and existing users will receive the update automatically, says the company.
Previous releases have included a September upgrade that enabled users to search within an ebook via typing or voice, add notes and highlights to text, and have those notations sync between devices.
Stated Russ Grandinetti, vice president, Amazon Kindle, "Kindle for Android is our fastest-growing application, and we're excited to launch over 100 newspapers and magazines for our Android customers."
Chumby gets chummy with Android
Chumby Industries' has released a tablet-oriented Android app version of its Linux-based Chumby software platform, which streams a personalized broadcast of web content to users. Chumby sells its own alarm-clock like device that hooks up to the service, as well as a newer version released in Nov. 2009 that is more like a digital picture frame (DPF).

The company has also co-developed several reference platforms with companies including Marvell and Samsung. The software appeared most recently on Sony's Dash tabletop touchscreen media player (pictured).
Chumby for Android sells for $5 on Android Market, and requires Android 2.2. The app is best viewed on tablets and docked devices, says the company. The software can be set up as a screensaver to continually stream content, or can be accessed on the fly, says the company.
The Chumby service now boasts some 1,500 applications in 30 categories, with content from "well-known media partners, social networking sites, and third party Flash developers from around the globe," says Chumby. Content is said to include slide shows, photo sharing sites, tweets, status updates, stock quotes, video clips, webcams, and horoscopes.
First time Chumby users need to register for a free Chumby account, where they can personalize their dashboard and compile apps into different channels for viewing, says the company.
Stated Derrick Oien, CEO of Chumby Industries, "As we are set to vastly expand our line-up of devices operating the chumby software platform, we felt it important to kick off with the Android community as they are an incredibly dedicated user group who embraces open platforms."
---
This article was originally published on LinuxDevices.com and has been donated to the open source community by QuinStreet Inc. Please visit LinuxToday.com for up-to-date news and articles about Linux and open source.