Jan 13, 2010 — by Eric Brown — from the LinuxDevices Archive — 14 views
Sony announced a $200 tabletop media player incorporating Chumby's Linux-based push-content stack. The Dash is equipped with a seven-inch touchscreen, WiFi, and offers content from Sony's Bravia Internet platform plus more than 1,000 free Chumby Internet apps, including news, calendars, weather, sports, and social networking, Sony says.
The Dash incorporates Chumby Industries' Linux-based Chumby software platform, which streams a personalized broadcast of web content over WiFi. Chumby sells its own alarm-clock like device, as well as a new version that, like the Dash, is more like a digital picture frame (DPF). However, the company has also co-developed several reference platforms with companies including Marvell and Samsung (see farther below for more background on Chumby.)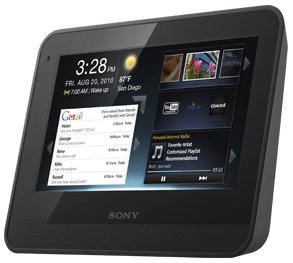 Sony Dash
The Dash's unnamed 500MHz processor is capable of multi-tasking, including the ability to play Chumby's Internet radio while browsing through online photo albums, says Sony. According to an
Engadget
story posted from CES, the Dash runs on a Marvell processor, although the writer was unable to get confirmation from Sony.
Given its 500MHz processor, the Dash does not appear to match Marvell's original Marvell Chumby reference design, which runs an ARM-based Marvell PXA168 system-on-chip (SoC) clocked to 1GHz on an 8-inch display system. However, now that Marvell has recast the PXA168 as the Armada 1000, and added less-powerful Armada processors such as a 500MHz Armada 500, Sony ma well have teamed its device's slightly smaller display with one of the latter.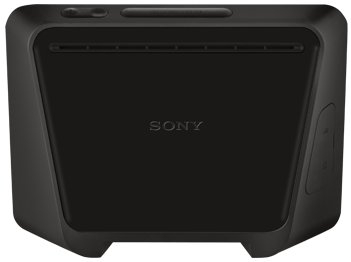 Sony Dash, rear view
Sony did not mention the presence of Linux, which is typical for the company, especially before ship date, despite the fact that Linux is found in most of its advanced consumer electronics equipment. A story in
TechRadar
, among others, suggests the Linux connection, and as far as we know, the Chumby software stack has never been ported to any other OS.
TechRadar's Dan Grabham, who played around with the device at CES, calls the Dash "one of the devices that has most impressed us at this year's CES."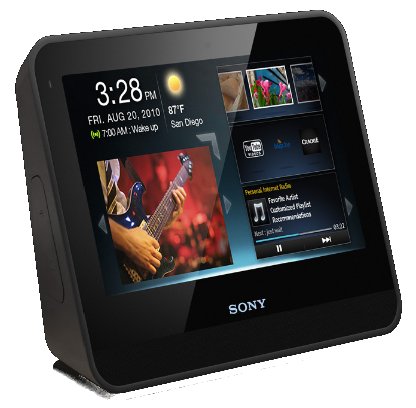 Sony Dash with Chumby apps
The Dash supplies 256MB of DDR2 DRAM, and presumably also includes flash, though Sony makes no mention of this. The Dash also provides 802.11b/g WiFi, a USB port for access to attached storage devices, built-in stereo speakers, and a headphone output jack, says the company. The device supports a variety of video and audio formats, including MPEG-4 and WMV (see spec list below).
The Dash does not appear to be a mobile tablet (there are no batteries as far as we can see). However, an accelerometer enables users to flip the device for two optional viewing angles: upright for a table or nightstand, or tilted for countertop use.
Like other Chumby-powered devices, the Dash lacks a traditional web browser that would enable users to freely cruise the Internet. Users can, however, select from over 1,000 apps on the Chumby service either directly via touch control, or via their PC;s web browser.
Once signed up, users continually receive updates for each app. Widgets are available for services such as Photobucket, Twitter, YouTube, Gmail, Facebook, the Weather Channel, ESPN, The New York Times, and more.
The Dash also provides an alarm clock, photo slide shows, and MP3 playback. Among other features, the device also enables users to configure the alarm clock to play selected online videos from music, sports, and other news feeds, says Sony. It also supports multiple user profiles and channels, allowing several members of the household to maintain their own customized content views.

In addition to delivering Chumby feeds over WiFi, the Dash can also play content from Sony's Linux-based Bravia Internet IP set-top box (pictured at right), including YouTube, Pandora Internet radio, Epicurious, Crackle, Livestrong, and Blip.tv audio and video, says Sony.
Additional content includes a Navteq app for "traffic updates on a customized route," a Cozi app for managing and syncing family calendars, and a new AccuWeather app offering weather forecasts. The device will also include exclusive Dash apps from Sony Music Entertainment and Sony Pictures Entertainment, including movie trailers, music videos, custom user themes, and an app from Dr. Oz offering daily health and exercise tips, says the company.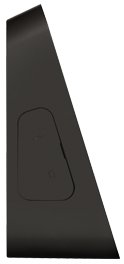 Specifications listed for the Dash include:
Processor — Unnamed 500MHz processor with 32KB I/D L2 Cache
Memory — 256MB DDR2 DRAM (667MHz)
Display — 7-inch, 800 x 480 capacitive touchscreen with gesture support; 24-bit color
WiFi — 802.11b/g with WPA, WPA2, WEP encryption
USB — 1 x USB port
Audio:

2 x speakers (8 Ohms)
Mic
Headphone jack
1 Watt x 2 audio output

Audio formats:

MPEG-1 Layers I, II, III/MP3 (up to 320Kbps)
MPEG-4 AAC-LC (up to 192Kbps)
Windows Media Audio 9 (up to 384Kbps)

Video formats:
Chumby background
The eponymous Chumby device was released in small quantities in November 2007, and shipped in volume in February 2008. By April of that year, Chumby had opened up its widget developers site and announced more content partnerships. In January of last year, Chumby announced two digital photo frame (DPF) reference designs based on its Chumby embedded stack and website. In addition to the aforementioned Marvell design, Chumby worked with Samsung on a design using a Samsung S3C6410 processor.
In November, Chumby announced an updated "Chumby One" version of its Chumby device with a lower price, faster processor, far more flash memory, an FM radio, and a battery option. The Chumby One moves up to an unnamed 454MHz processor, which like the previous chip, is also based on an ARM architecture. Like the Classic, the new version offers 64MB SDRAM, but in place of 64MB of NAND flash, it has advanced to a 2GB internal microSD card. The device stayed, however, with the original 3.5-inch, 320 x 240 touchscreen.
Stated Brennan Mullin, Sony Electronics' SVP of the personal imaging and audio business, "With [the] Dash, we're empowering consumers with a fun, interactive way to stay connected with their news, entertainment, interests and ultimately, their lives."
Availability
The Sony Dash will be available this April for about $200 at the Sony Style store, as well as via retail stores and authorized dealers. More information may be found at this Sony Style page, here.
The Engadget item on the Dash may be found here, and the TechRadar item should be here.
---
This article was originally published on LinuxDevices.com and has been donated to the open source community by QuinStreet Inc. Please visit LinuxToday.com for up-to-date news and articles about Linux and open source.