May 28, 2009 — by Eric Brown — from the LinuxDevices Archive — views

At the Google I/O Developer Conference yesterday, the company announced that it expects at least 18 Android phones to ship in 2009, according to an industry report. Google also announced that it will launch part two of its Android Developer Challenge contest in early August.
(Click for larger view of the Android loving Samsung I7500)
Google I/O wraps up today, touching upon a wide variety of development issues, such as the new "Google Web Elements" widgets that can be added to websites, and a "Google Wave" rich-media communication and collaboration technology that combines email, IM, and photo-sharing. (More on Google Wave is available in a story from our sister publication, eWEEK, here.)
Android developers, meanwhile, received their fair share of attention at the San Francisco event, with sessions available on Android design and speed-up tips, battery life issues, real-time games, debugging, the Android Media Framework, text-to-speech and other eyes-free interaction interfaces, and "supporting multiple devices with a single binary." They were further cheered when, according to The New York Times, Andy Rubin, Google's senior director for mobile platforms, announced the company's estimate that 18 to 20 Android phones would ship this year, from eight or nine different manufacturers.

Did they count
the Nomad/Android PDA?
(Click for details)
Many of these phones, no doubt, are minor variations on a theme, such as the several models expected apiece from Samsung and HTC this year. According to the story, however, the list does not include devices that use a basic Android system, "but have not apprised Google of its use." Nor would it seem to include Android based netbooks or portable media players (PMPs). Rubin was also said to have noted that carriers will be slower to release phones in the U.S. than in Europe, due to the desire to make distinctive modifications in the more competitive U.S. market.
According to the story, Rubin also outlined three different types of relationships offered to vendors of Android devices:
Obligation-free — Manufacturers and carriers download a free version of Android, and as many apps as they want, but cannot preload popular Google applications, like Gmail or Google Calendar.
Small strings — Selected by 12 to 14 of the manufacturers, according to Rubin, this deal is obligation free except that manufacturers and carriers agree to include Google applications on the phone.
Bigger strings or no-censorship — Five to six vendors have chosen this plan, dubbed "The Google Experience." Vendors can display the Google logo on the phone, and agree to load and not remove a wide range of selected Google applications. In addition, "the carrier and handset maker also agree not to censor access to the Android market," even if an app is found to be "distasteful," or receives "bad press."
A followup story in the Times by Saul Hansell quoted a range of opinions on how far Android will spread beyond smartphones. The speculation ranged from Sehat Sutardja, CEO of Marvell, who was quoted as saying that within five years Android would become pervasive, and available in everything from "digital picture frames to washing machines." (Presumably, it could start off by being ported to Marvell's own new Linux-based SheevaPlug plug-in computer design.)
According to Hansell, Android is likely to succeed because it marries the clout of a huge tech company with the benefits of open source. Some other quoted executives, however, suggested that Android was still way too buggy to be slated for world domination. Others noted that it uses up too much processing power and offers unnecessary features for many devices where smaller footprint Linux implementations make more sense.
Android Developer Challenge II
At Google I/O, round two of the popular Android Developer Challenge was announced, setting an early August date for developers to start submitting their latest, greatest Android apps for prizes ranging up to $250,000. In last year's inaugural challenge, 50 finalists were chosen from a field of a surprising 1,788 submissions in May, and then in September ten finalists were then each granted $275,000 awards, and ten others granted $100,000 awards apiece.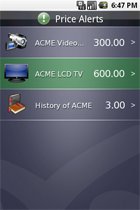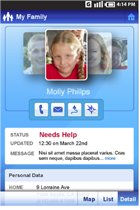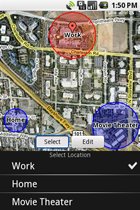 Some final round Android Developer Challenge winners from last year: GoCart, Life 360, and Locale (left to right)
For the new challenge, submissions will be accepted for a two-week period starting in early August, says Google. Submissions will be accepted in only one of the following categories:
Education/reference

Games: casual/puzzle

Games: arcade/action

Social networking

Lifestyle

Productivity/tools

Media

Entertainment

Travel

Miscellaneous
For each of the 10 categories, there will be awarded a first prize ($100,000), second prize, ($50,000), and a third prize ($25,000). From the first-place winners, there will be awarded three overall prizes across categories in the same amounts. As a result, the winning entry would receive $250,000 total.
In mid-August, users of Android handsets that can access the Android Market will be invited to judge applications, rating them along set criteria. The results of this judging, compiled in mid-October, will generate the top 20 applications in each of the ten categories. These 200 applications can then be rated in a second round by users, comprising 45 percent of the final judging score to be announced in November. A team of Google-selected judges will be responsible for the other 55 percent.
The contest is open only to applications that have not been published, says Google. Applications that were entered into to last year's challenge, or have been updated from those previously submitted applications, will not be accepted. All submitted applications must run on Android 1.5 and be in English.
Availability
The Android Developer Challenge II announcement may be found here.
The original story about Google I/O in The New York Times by Matt Richtel may be found here, and the follow-up by Saul Hansell may be found here.
---

This article was originally published on LinuxDevices.com and has been donated to the open source community by QuinStreet Inc. Please visit LinuxToday.com for up-to-date news and articles about Linux and open source.