May 26, 2009 — by Eric Brown — from the LinuxDevices Archive — 1 views
Canonical demonstrated a prototype version of an execution environment for Ubuntu that lets it run Android apps, says an industry report. The environment acts like a simulator, and is based on the Xorg X Window environment, says the story.
Ubuntu sponsor Canonical demonstrated the Android emulator at the Ubuntu Developer Summit in Barcelona, Spain, according to a Ryan Paul story in ArsTechnica. Based on the Xorg open source implementation of X Window, the execution environment functions like a simulator, enabling Android apps to run alongside conventional Linux applications, writes Paul.
The simulator is said to be compiled against Ubuntu's libc instead of Android's custom libc, and runs on a standard Ubuntu kernel. Canonical plans to excise Android-specific components that are unnecessary in order to make the software run on Ubuntu, says the story.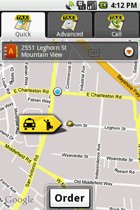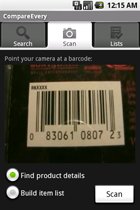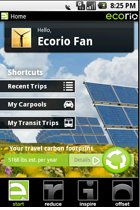 Coming soon to Ubuntu? Three Android Developer Challenge winners: Cab4me, Compare Everywhere, and Ecorio (left to right)
The developers are said to have fashioned a temporary workaround to bypass Android's "Binder" interprocess communication system, but the final version will instead depend upon a Binder-compatible patch to the Linux kernel that will be added to the next Ubuntu release. In addition, an interoperability "shim" is said to be under development "that will expose native platform services and hardware to the Android execution environment," says
ArsTechnica.
Open source code is expected to be released for the Android execution environment soon.
A netbook alternative to full Android install
While Android continues to develop, adding some key new features in version 1.5, it is still a smartphone distribution, and has a long way to go before it offers a complete solution for netbooks. And as ArsTechnica points out, despite being based on the Linux kernel, the open source Android stack is essentially a creation of Java, and quite distinct from Linux, making cross-platform application porting difficult.
Canonical appears to be presenting the Android-compatible Ubuntu to netbook vendors as a more mature alternative to a full Android port. The breadth of apps already available for Android (see images above), starting with the core Google Apps, is widely considered to be one of the greatest strengths of the platform.
Looked at purely in terms of smartphone-related features and interface, on the other hand, Palm's Linux-based WebOS, which will debut with the Palm Pre on June 6, appears to offer several advantages over Android. What's more, Android does not appear to match the netbook-friendly features of the new Moblin v2 or even desktop distributions such as Ubuntu 9.04, which have been modified to support the netbook format. If on the other hand, Android evolves quickly enough to fill in the gaps, the Ubuntu simulator will need to run very smoothly indeed in order to have any meaningful impact.


Skytone Alpha 680
(Click for details)
While Ubuntu and various Moblin-flavored distros, such as the upcoming Moblin v2 version of OpenSUSE, battle it out on Intel Atom-based netbooks, Android is expected to thrive on a new wave of ARM-based netbooks due to arrive starting later this year. In fact, next month Skytone plans to ship an ARM-based Alpha 680 netbook (pictured at left) that runs Android.
Yet Canonical, among others, is interested in ARM-based netbooks as well. Its Ubuntu ARM port was announced in November, and could play a significant role in the ARM netbook market. Adding to its previous support of 32- and and 64-bit x86 processors, Ubuntu 9.04 now natively integrates an ARM installation for mobile Internet devices (MIDs) and low-end netbooks that run ARMv5EL and ARMv6EL-VFP architectures. The ARMv7 port targets system-on-chips (SoCs) based on ARM's Cortex-A8 and -A9 processor cores, such as new SoCs from Texas Instruments, Freescale Semiconductor, and Qualcomm.
Availability
The ArsTechnica story on the Ubuntu Android simulator should be here.
---

This article was originally published on LinuxDevices.com and has been donated to the open source community by QuinStreet Inc. Please visit LinuxToday.com for up-to-date news and articles about Linux and open source.