Mar 16, 2010 — by Eric Brown — from the LinuxDevices Archive — views
Google has released an unlocked version of its Android-based Nexus One phone that's compatible with the 3G networks of AT&T and Roger Wireless. Meanwhile, a Flurry report claims that the Nexus One sold far fewer units in its first two months than the iPhone and the Motorola Droid did in theirs, says eWEEK.
The Nexus One was launched on the first week of January, available as both an unlocked phone sold by Google and as a cheaper, but contract-linked T-Mobile offering. The existing unlocked version of the HTC-manufactured phone "is compatible with most GSM 3G networks," according to a Google blog announcement today. The blog goes on to explain, that "there are some carriers that have different 3G frequencies, such as AT&T in the US and Rogers Wireless in Canada, so users with these SIM cards can only access 2G or EDGE networks on their Nexus One."

The new version appears to be identical to the current unlocked version of the Nexus One (pictured at right), and is priced the same at $529, but it is now claimed to be compatible with the 3G networks of both AT&T and Rogers. Like the original, the phone can be used with most GSM operators globally, says Google. The search giant also announced that Nexus One phones can now be shipped to Canada from Google's web store, and will work with a Rogers-supplied SIM.
According to a story in PC World, Google has said that it will also ship versions of the Nexus One that work on the Verizon and Vodafone networks. It is unclear whether these are specialized, unlocked versions or whether the carriers will actively sell the device with a SIM, as does T-Mobile.
The story quotes AT&T spokesman Mark Siegel as saying "We are treating this the way we would treat any other device that a customer buys elsewhere and brings to us." In other words, says the story, users who buys the AT&T version of the Nexus One must bring it into an AT&T store, where a worker will run a credit check, sell the user a SIM card for $25, and set them up with a voice and data plan. Neither AT&T nor Rogers Wireless appears to have posted an official announcement regarding the new Nexus One version.
Nexus One fails to beat fragmentation …
According to PC World, Google is running into snags with its vision of letting Nexus One consumers choose a phone before picking an operator from the company's new mobile web store. Due to slight differences in frequencies used by different U.S. carriers, Google is now forced to sell and support different versions of the phone, each designed to work on a different network. Meanwhile, aside from T-Mobile, no mobile provider has volunteered to sell the phones on its own, perhaps due to fears of losing control of the mobile phone market to the search giant.
The Nexus One was seen as Google's attempt to reign in the growing fragmentation of the Android platform. Instead, it seems, it may have only contributed to it.
… and sales pale compared to iPhone and Droid
Despite rave reviews, the Nexus One has enjoyed only modest sales to date, says eWEEK in a story covering a new report from research firm Flurry. Following up on last month's Flurry report estimating that Google sold only 80,000 units during the entire month of January, compared to 575,000 units for the Motorola Droid (pictured below at left) in its first month, Flurry now suggests that February's sales were even slower, writes eWEEK's Michelle Maisto.
Com

paring each device's first 74 days, the report is said to have estimated that the Android-based Motorola Droid (pictured at left), available only on Verizon Wireless, outsold the Apple iPhone by a hair, selling 1.05 million handsets compared to 1 million for the AT&T-delivered iPhone 1G handset back in 2007. Google trailed considerably, meanwhile, selling only 135,000 Nexus One handsets.
While the Nexus One numbers, which appear to include phones sold via T-Mobile, might be considered fairly respectable for a typical Android smartphone release, the Nexus One was expected to do better on the strength of its brand name, not to mention the many enthusiastic reviews published about the phone. Most of the difference between the performance of the two Android phones can be explained by Verizon Wireless' $100 million marketing campaign for the Droid, as well as the best-selling phone's pre-holiday, late October, launch date, suggests Maisto.
By comparison, the Nexus One came out after the holidays, with little promotion from Google or T-Mobile, and the unlocked version of the Google phone seemed prohibitively costly when purchased from Google. (In fact, it may not be much more expensive than the T-Mobile version when the cost of a service contract is factored in.) In addition, some well-publicized problems with spotty 3G service and slipshod customer support, both of which Google has since attempted to patch up, have no doubt added to the slow sales.
Flurry noted that in the iPhone/Droid match-up, the Droid had the benefit of entering an already established smartphone market with a fairly commonly known Android platform, writes Maisto. By comparison, Apple practically invented the smartphone segment and had to work to convince users they needed one. To be fair, however, the iPhone also benefited from the lack of competition at the time.
Oh ye BlackBerry users of little faith
Back in 2007, as well as today, the iPhone's chief smartphone rival was Research in Motion (RIM) with its BlackBerry phones, which still lead the U.S. smartphone market. However, another Maisto story filed yesterday in our sister publication, eWEEK, suggests that BlackBerry users are more fickle than iPhone or Android users. Citing new research from market research firm Crowd Science, the story says that nearly 40 percent of BlackBerry users said they'd like to make the Apple iPhone their next smartphone purchase.
When asked if they would swap their present phone for the Nexus One, 32 percent of BlackBerry users said yes, compared with 9 percent of iPhone users, writes Maisto. By comparison, Android and iPhone users were much more loyal, says the report, with 97 percent of iPhone users saying they'd recommend their phone and 100 percent of Android users saying they would recommend Android phones, according to Crowd Science. Among users with smartphones not made by RIM or Apple, 60 percent said they'd swap for the Nexus One, says the story.
The story did not suggest why BlackBerry users were less loyal, but two possible suggestions come to mind. First, RIM has not yet shipped any phone with the same high-end features or allure of the iPhone, Droid, or Nexus One, not to mention several other top Android phones. More to the point, BlackBerry phones are often either provided to employees by companies or strongly recommended by management. In other words, as the next item suggests, just because BlackBerry users "have a wandering eye," as Maisto puts it, doesn't mean they can necessarily jump ship.
Comscore: Android sales more than double over holidays
With almost every smartphone survey reporting on Android's fast rise over the last month, we almost skipped the most recent ComScore research, which reports U.S. smartphone sales with a similar story. However, the results published last week were so remarkable that we couldn't resist.
According to ComScore, Android more than doubled its U.S. smartphone market share in the three month period between October and January (which we're assuming means from November 1 through February 1). Android was by far the fastest growing smartphone operating system in the U.S. during the period, according to ComScore, showing a 4.3 percent increase from 2.8 percent to 7.1 percent share.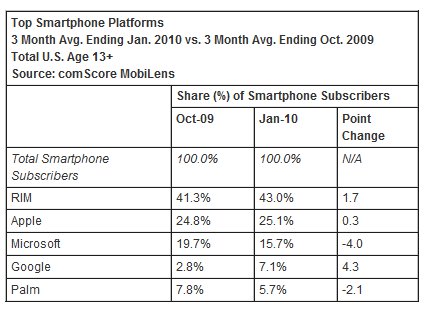 U.S. smartphone sales by OS, October through January
(Source: ComScore)
The report still places Android (listed "somewhat" incorrectly as "Google" in the chart above) as trailing considerably in fourth place, having supplanted Palm, which dropped from 7.8 percent to 5.7 percent during the period — a figure that appears to include Palm's Linux-based WebOS. Third-place Microsoft was the only other loser among the top five, with Windows Mobile phones dropping almost as much as Android gained, settling in at 15.7 percent.
With RIM cruising along with a 1.7 percent increase to maintain its lead at 43 percent of the market, and Apple still growing at a modest 0.3 percent increase for the period to a second-place 25.1 percent, it seems that Android is indeed growing primarily at the expense of Microsoft. Still, one can see why Apple, which only last year was showing iPhone sales increases as rapid as Android's, might be worried enough to go forward with its Android-targeted patent lawsuit against Nexus One manufacturer HTC.
The meteoric increase for Android can largely be attributed to the hot sales of the Motorola Droid, whose first three months appears to coincide almost exactly with the ComScore time period. Many other Android phones also shipped during the period, however. Clearly, the Droid is number one, but we would be interested to see how the other Android phones stack up, as well.
Availability
The Google blog announcing the new Nexus One phone for AT&T and Rogers Wireless networks may be found here. The PC World story on the new model may be found here.
The eWEEK story on the first 74-day sales of major smartphone brands may be found here, and its story on BlackBerry brand loyalty should be here.
The announcement of the latest ComScore smartphone report may be found here.
---
This article was originally published on LinuxDevices.com and has been donated to the open source community by QuinStreet Inc. Please visit LinuxToday.com for up-to-date news and articles about Linux and open source.